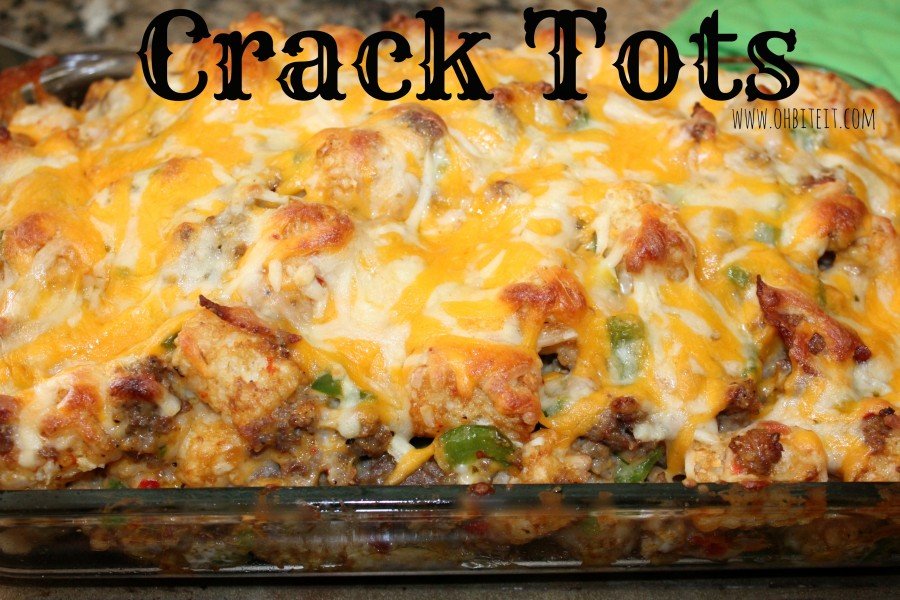 Here I go again with more 'Crack'.. and by "crack", in relation to food, I totally mean irresistible and addictive!  I'm in no way promoting drug use, drug dealing or losing everything you once loved to become a drugged out hobo!  🙂
I just mean, that after one bite you will crave more and more, think about it all the time, and feel moments of desperation~  that's all!!  So there's the drug disclaimer…haha!  Moving on… 🙂
This simple yet amazing one-dish wonder will be the hit of your next breakfast, brunch, lunch, dinner..or breakfast-for-dinner gathering!
The pan is perfectly piled with toasty Tater Tots that are held together by cheese, studded with crispy Bacon, slightly spicy Sausage, Peppers and yep..topped with even more cheese!  I probably shouldn't fail to mention that the whole thing is mixed in Bacon grease and melted Butter.  But that's no biggie..haha!  Just do this and you'll be addicted for life.
~Be careful who you choose to share this with, because they will be calling you at all hours of the day and night needing their Tater 'fix'!  🙂
What you'll need:
A 9×13 baking pan/dish..sprayed with non-stick spray
10 (or so) cups of frozen Tater Tots
2 cups of assorted shredded Cheese…divided!  I used Mozzarella and a Colby Jack blend
1 can of any cream soup you like..I used Nacho Cheese
1 lb. Bacon..crispy (reserve the grease..optional)
1 lb. Sausage..fully cooked
1 Green Bell Pepper..chopped//you can totally add whatever veggies you prefer!
1 Onion..chopped..I didn't use it, but I do recommend it!
1/2 cup Butter..softened…if needed!
Sriracha…optional, but SO good with this!
Directions:
STEP 1: Pour the Tater Tots into a LARGE bowl and set it aside.  They can be frozen, they'll soften up as you proceed.
STEP 2. In a medium skillet, brown up the Bacon and Sausage separately, reserving most of the grease in the pan..of course you can discard it if you'd like!
STEP 3. Remove the Bacon, the Sausage and set them aside!  Chop up your veggies…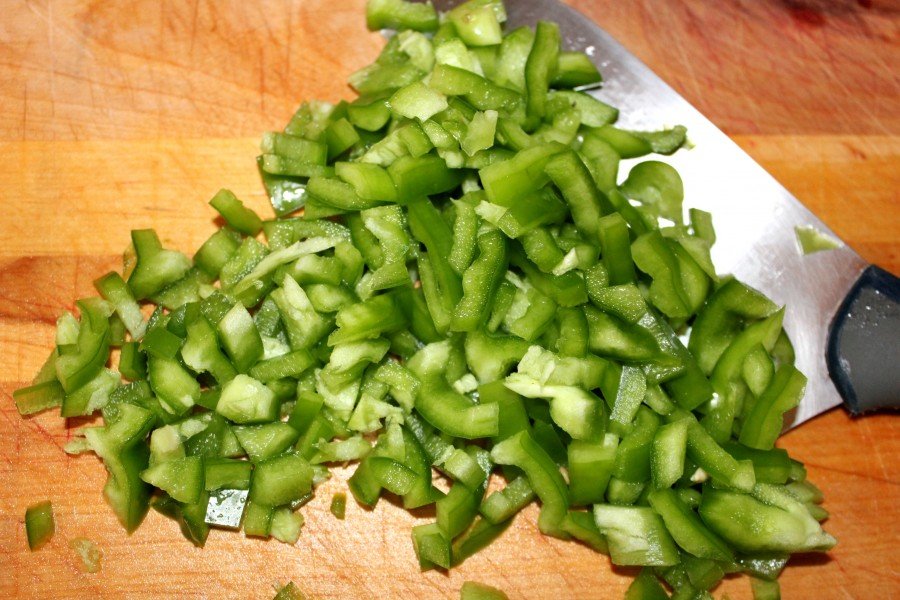 STEP 4. Add them to the same skillet, if you removed the grease, replace it with a little softened butter, or olive oil!
STEP 5.  Pour the Cream Soup into the pan…
STEP 6. Stir it up to combine, and then add in the cooked Bacon and Sausage…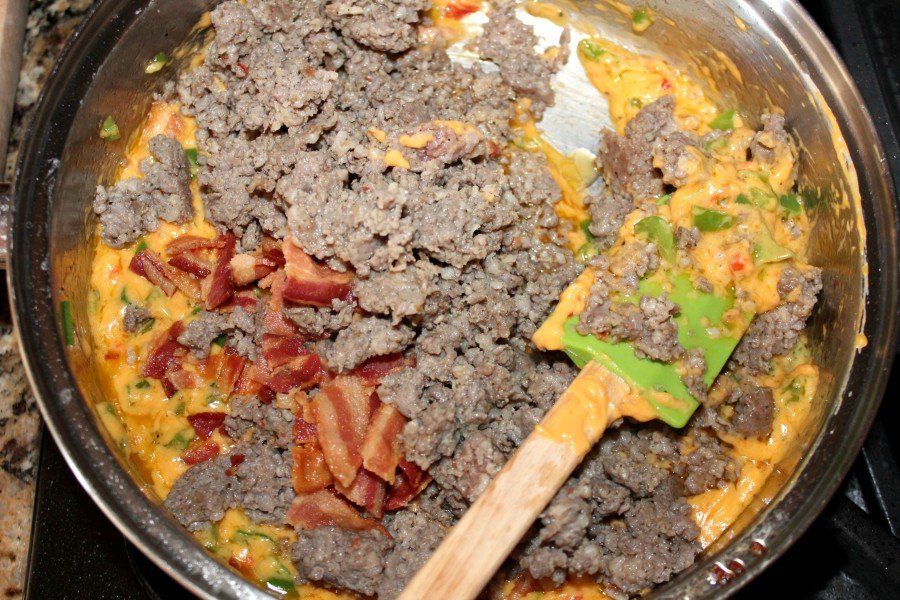 STEP 7.   Let the meat mixture cool just a bit, before adding it into the Tot bowl…
STEP 8.   Now you can add the meat mixture into the bowl o' Tots…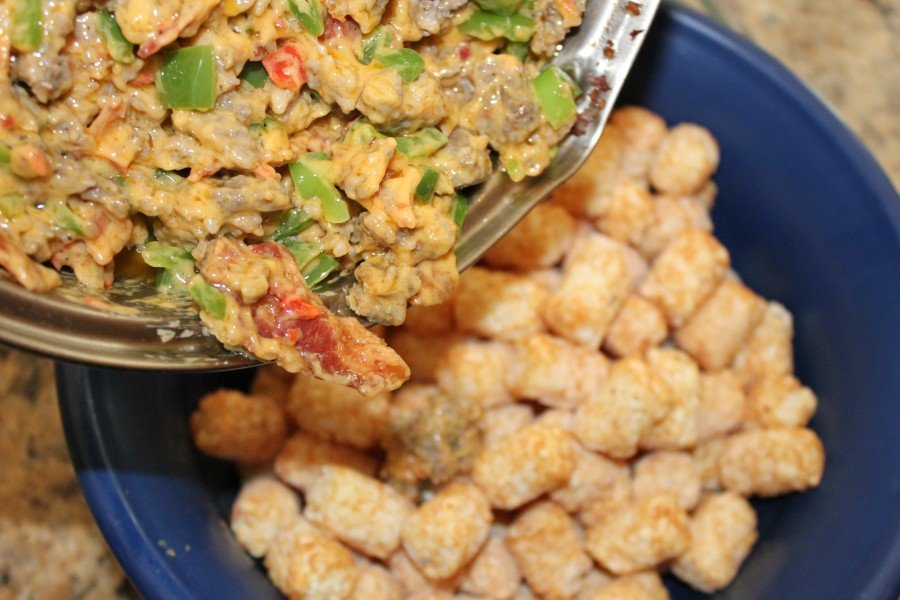 STEP 9.  Gently stir it to combine…
STEP 10.  Add in 1 cup of the Shredded Cheese and mix it up…making sure to reserve the other cup for the top…
STEP 11.  Pour the mixture into your sprayed baking pan…
STEP 12.  And top it with that remaining shredded Cheese…
STEP 13.  Bake it at 350 degrees for approx. 30-45 minutes, or until it's golden, bubbly and heated through…
STEP 14.  Let that beautiful baby cool…
Now you can dig in there…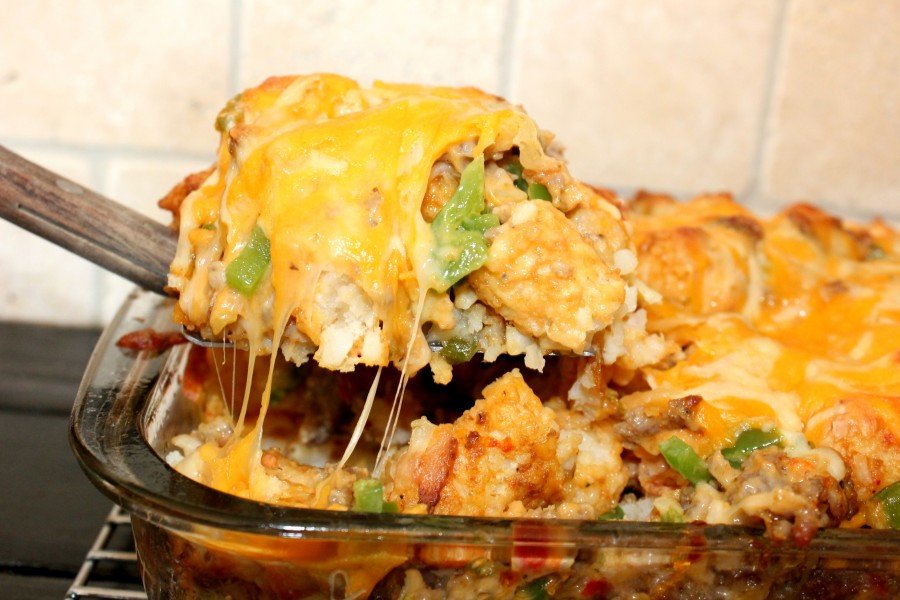 Spice it up if you'd like..and eat up!  ~Enjoy!  🙂