YES~  I know that Pumpkin Season is officially here, and that typically means every baked good under the sun will be stuffed, topped, rolled, glazed and sprinkled with ALL things Pumpkin!  HOWEVER~  not only is it nice to switch things up sometimes, it's also nice to not always have to bake.  It's such a refreshing surprise to have one stand-out dessert on the table that sings its own tasty tune..lol!
This cool, creamy and gorgeous pie does just that!  It sings the tune of Fall while at the same time, brings something totally unique and unexpected to that holiday OR pre-holiday table.  AND..you won't believe how simple it is, seriously..it's almost embarrassing how little you have to do for such an impressive and tasty table topper.  No one has to know that you didn't spend all day in the kitchen…sshhh!
The crust is lightly coated in Maple Syrup and a gentle sprinkle of Graham Cracker Crumbs for a sweet, nutty and crunchy surprise.  Such a nice compliment to the smooth and creamy Pumpkin filled pie.  A sweet cascade of Caramel over the top, hits this out of the ballpark and brings it back again, where it belongs!
Whip this up in no time, and let me know what you think~  OH, and as a bonus, as this sits out for a few minutes, it just gets better and better as all the flavors become one, in a fluffy cloud of deliciousness!  You will LOVE it!  *Store leftovers in the freezer!
What you'll need: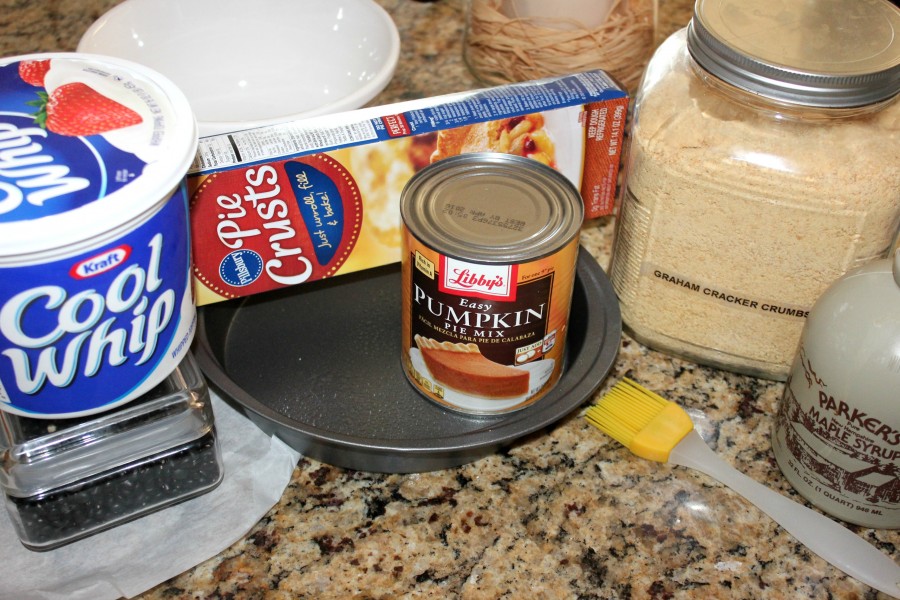 A 9″ round cake/pie pan
One Pie Crust..I used Pillsbury refrigerated pie crust, but you can make your own!
1-16 oz. container of Cool Whip
8-oz. oc Pumpkin Pie Filling (sweetened)
1 tbsp. Maple Syrup
1/4 cup Graham Cracker Crumbs
Caramel Sauce for drizzling
Directions:
Blind bake your crust by spraying the pan with non-stick spray and placing the crust evenly down into the pan, making sure to crimp the edges so it's pretty, or so it looks like mine..LOL!
Place a piece of parchment paper gently onto the crust…
Now pour some dry beans into the pan…
This will help the dough keep its shape as it bakes, so make sure it's an even layer of beans…
Bake it at 350 degrees for approx. 15 minutes, or just until you see the edges getting golden.
While that's baking, mix up the filling!  In a large bowl combine the Cool Whip with the Pumpkin and gently fold them together, making sure to leave nice, defined streaks..this will give it that gorgeous swirly WOW factor!
Let the crust cool and brush it very lightly with some Maple Syrup..this will give it an amazing taste and texture that no one will be able to pinpoint..shhh..our secret!
NOW~  sprinkle the sticky sweet crust with a nice layer of Graham Cracker Crumbs..trust me on this..lol
Pour all the filling into the cooled crust, and give it beautiful hills and valleys..lol!  The way you leave it is the way it will stay so make it prettyful…
Into the freezer it goes for no less than 4 hours, overnight is fine!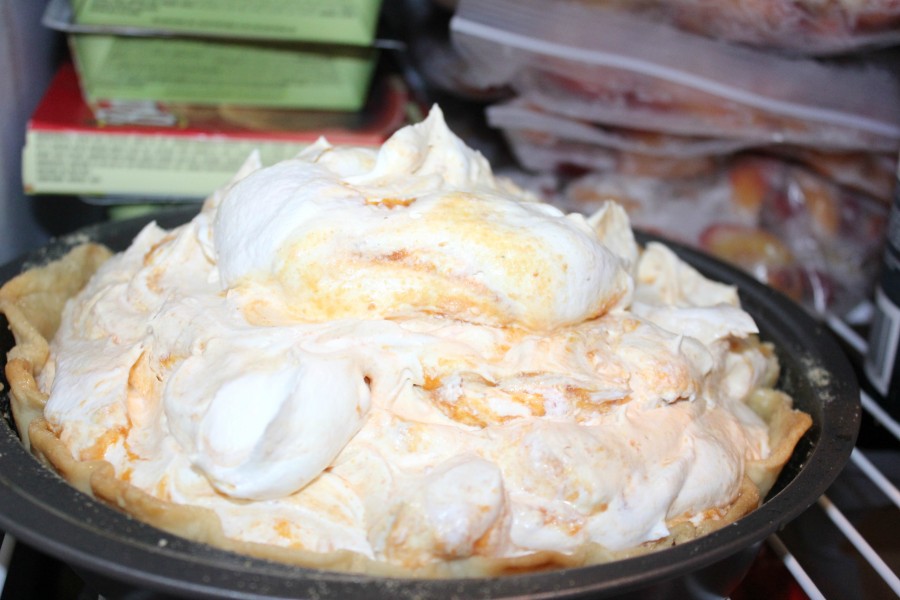 To serve it up, dip your knife into some hot water and slice those beauties up!
Each piece will have its own look and personality, each one more beautiful than the last!  It slices up to perfection!
When you drizzle some Caramel over the top…your eyes are in for a treat…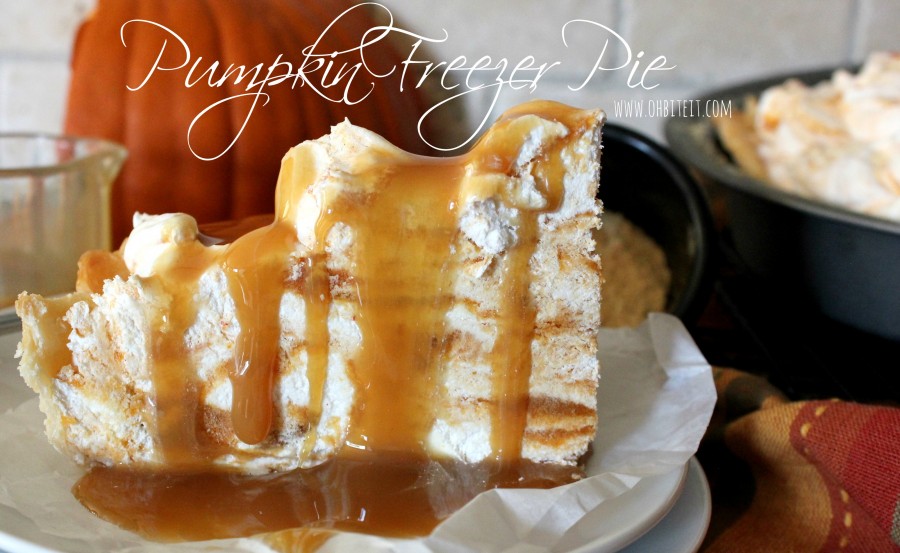 And then…OMGosh, THEN~  a sprinkle of Graham Cracker Crumbs over the Caramel, because WOW!
Don't forget to grab a plate for YOU!
And DIG IN!  ~Enjoy! 🙂