Since it's officially 'Pumpkin Everything' season, I thought it would only be right to include some popular pumpkin into my ever-growing arsenal of pie cookies.  After all, Pumpkin Pie is one of the most highly requested holiday table must-haves, and now you can pretty much have a portable version.
Yep..everyone is now free to mix and mingle while enjoying a pumpkin pie all to themselves!  That's right!  No more cleaning the table just to set it again for dessert, no more dirty dessert dishes, forks and spoons, no more guests staying waaay too long, sipping that 5th cup of coffee with their second slice of Pumpkin Pie..LOL!  ..kidding of course, but really…anyone can take a couple of cookies and go..if they so choose!
These cookies are so cute, and so tasty~  you will be either everyone's favorite host..or everyone's favorite guest.  Either way…you WIN! 🙂
Light, buttery and flaky pie crust is lovingly filled with sweet and spicy pumpkin pie filling, then dusted with a glistening layer of Maple Syrup Sugar just to drive it all home.  And by "home"..I mean your lips! 🙂
Make a HUGE batch of these babies, because  EVERYONE will devour them in record time..that's for sure!
What you'll need for eight 3″ cookies:
1 box of pillsbury refrigerated pie crust (2 pack)
1/2 cup of pumpkin pie filling (sweetened)
1 tbsp. maple syrup
1/4 cup sanding sugar/coarse sugar
1 egg for egg wash
a cookie cutter..I used 3″
Directions:
Lay out one pie crust, and roll it slightly just to even it out.
Spread an even and THIN layer of the Pumpkin Pie Filling onto the crust, making sure to leave about a 1/8″ boarder around the edges…
Slice the other curst into approx. 1″ strips and form a lattice on top of the filling.  Just use whatever method you like for the lattice~  it doesn't have to be perfect!
Mix up the egg wash ( one beaten egg with a splash of water)…
Brush the top of the lattice with an even coating of egg wash…
In a small bowl add in the coarse sugar…
And the Maple Syrup…NOT TOO MUCH, this is just for flavor…
Sprinkle the Maple Sugar on top of the egg-washed lattice…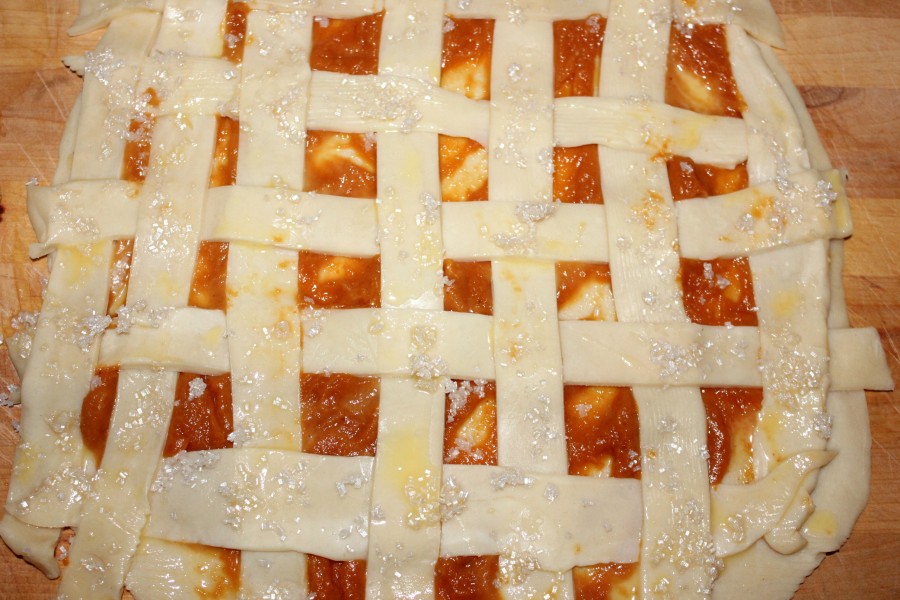 Cut out your cookies…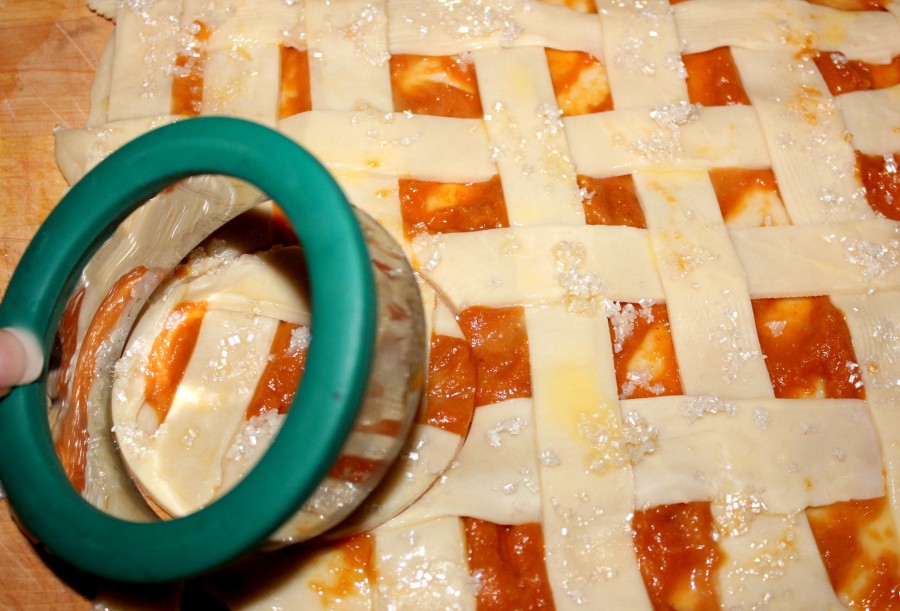 Gently lift them onto your parchment lined baking sheet…
Bake them at 350 for approx. 15 minutes, OR until they're a once golden brown and firm…
IF YOU USE JUST A LITTLE BIT OF FILLING~  you can see that there isn't one leaky mess!  🙂
Let them cool… (notice the non=leaky mess!)
Feel free to add just a bit more sugar…why? …WHY NOT?! 🙂
Serve them up…
There's plenty to share~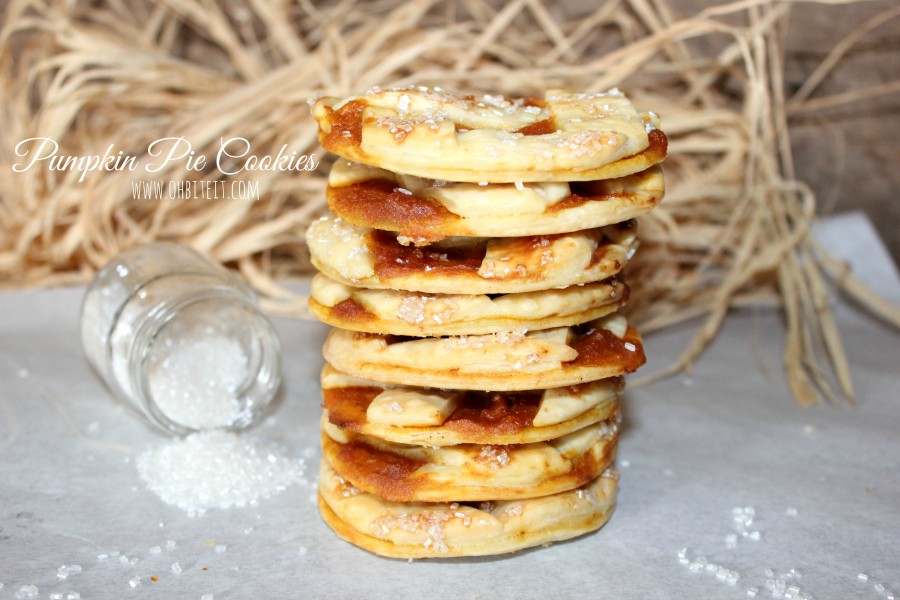 Like with YOU!  ~Enjoy! 🙂