Omgosh~  can you believe how fast the Summer flew by?  I can't..but I'm SO happy it did!  Fall and Winter are my favorite seasons and the BEST time of year in my opinion!  Around here, all of the cool-weather greatness starts with the smell of roasting Green Chile in the air and visions of Hot Air Balloons flying outside the windows!  So, I couldn't wait any longer to get started with all of the Apple goodness that graces our tables this time of year!  I've decided to do unique spins on classic Fall favorites this year, and this recipe seemed like a great way to start!
I came up with this simply because I wanted a simple spin on Apple Pie..I just wasn't in the mood to roll, slice, bake and errr.."lattice" our dessert, so here we are!  It doesn't get any easier than this folks and when I tell you that these little golden nom nuggets are even better than traditional Apple Pie, I'm not kidding!
An entire pan of these crunchy, Toffee topped, Graham Cracker crusted, ooey-gooey Apple Crackles were gone in a matter of minutes..almost faster than they took to make..haha!
~Give this a try…you will be the 'Apple' of everyone's eye…LOL!  🙂
What you'll need:
12 whole Graham Crackers
1/2 cup Butter (1 stick)
1/2 cup Apple Pie Filing..pureed smooth or a little bit chunky..it's up to you!
3/4 cup Brown Sugar
1 1/2 tsp. Ground Cinnamon
1 tsp. Vanilla Extract
1/2 cup Toffee Bits..divided
nuts..optional!  < I didn't use any!
Directions:
Ina  food processor or blender…puree the Apple Pie Filling..you can leave it with a little texture if you'd like!
Preheat the oven to 350°F.
Line a cookie sheet or jelly roll pan with parchment paper or aluminum foil leaving enough overhang to easily lift from the pan. If using foil, generously butter. ( I forgot this step…grrr! )
Lay the graham crackers side by side without overlapping…
On the stovetop in a heavy bottomed saucepan, melt together the butter, brown sugar and. Once melted, bring to a boil and cook for 2 minutes stirring constantly over medium heat. Remove from the heat and add the ground cinnamon, vanilla and Pureed Apple Pie Filling. Stir until combined.
Pour the hot mixture over the graham crackers spreading until all are covered…
Sprinkle the top with 1/4 cup toffee bits and/or nuts. Bake for 10 minutes until bubbly. Remove from the oven and sprinkle with the remaining Toffee Bits. Place onto a cooling rack to cool completely, then chill…
Use a sharp knife to cut/chisel it into random shapes…
Be sure to share some of that glory…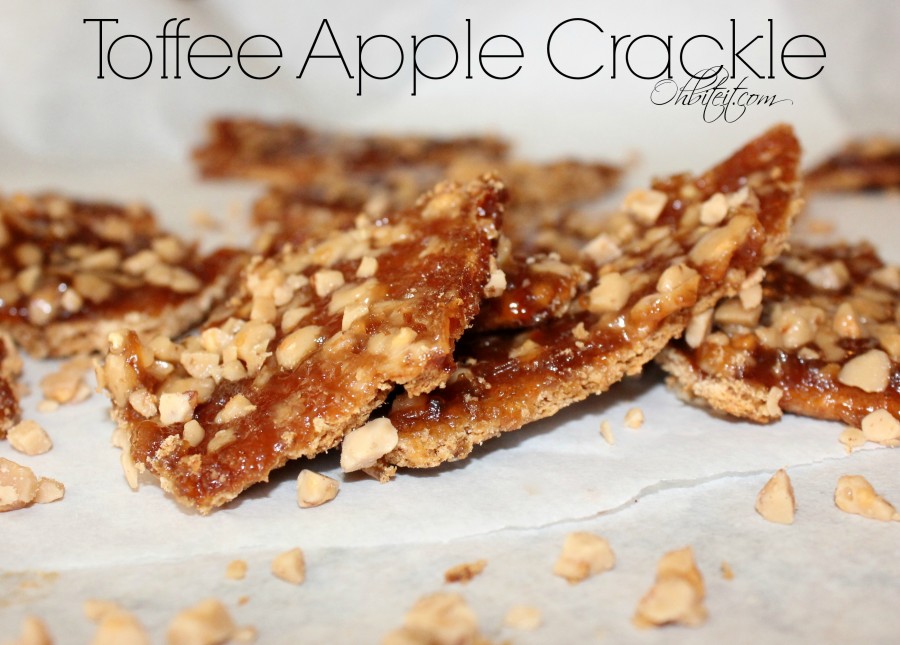 Store chilled. Yield: 48 pieces..so, there's plenty to go around!
But be sure to grab some for you pretty quickly…It goes FAST!  ~Enjoy!  🙂