Do you love Sugar Cookies?  That simple, clean, sweet flavor that goes with everything?  They're like the little black dress of cookies..right?!  🙂  Well,  I'm about to add some bling to that sugar cookie dress, in the form of sweet apple pie filling and smooth caramel!
Why not..right?  It's Fall and that means Apples..and cookies…and little black dresses!  ~SOoo..here we are!
This simple yet unbelievably delicious cookie is the product of only two ingredients!  Yep..I kept it simple, and let the flavors speak for themselves!  And what a job of speaking they did!
Each fluffy, golden sugar cookie is bursting with plump, juicy, and slightly spicy apple pie filling that takes these over the top!  You will be the hit at any party or holiday cookie exchange!
~Just have this recipe ready to hand out, because EVERYONE will be asking for it!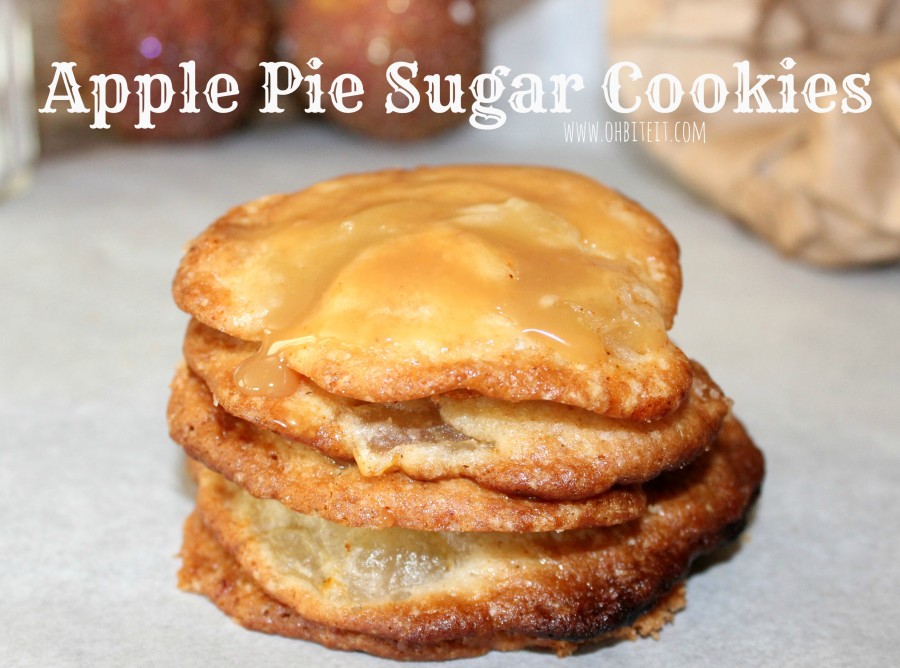 What you'll need:
one roll of sugar cookie dough, I used Pillsbury..but you can totally make your own!
one cup of apple pie filling
1 tbsp. ground cinnamon
caramel sauce for glazing..optional!
Directions:
In a medium bowl, gently mix together the cookie dough and the filling…
Sprinkle in the cinnamon, and keep mixing.  Kind of smash the apples a bit into the dough…
Place 1 tbsp. scoops onto a parchment lined sheet pan about 2″ apart…
Bake them at 350 for approx. 12-15 minutes, or until they're golden and smell ahhh-mazing!
Let them cool, and brush them with some caramel sauce for a nice, glossy caramel apple glaze..if you so choose!
AND..dig in!  ~Enjoy! 🙂