Tis the spooky and snacky season of the entire year!  We've got football couch snacks, fall flavored pumpkin snacks, cool-weather comfort snacks and the most fun of ALL~  the super spooky scary snacks!  There is no limit to our spookified snackage when it comes to Halloween.  We have bloody, gooey, brainy, slimy and creepy treats.  And now we have the prince of darkness in cake form..yep~  we have Grim Reaper Cake!
Dark black, with a 'deadly' sprinkle of hellfire in the form of Cayenne Pepper ever so subtle, but totally there to take you by surprise!  Then, the entire dark and doom filled cake is laced with veins of cinnamon, just to drive home that heat!  It's truly one of a kind, and the perfect party starter for sure!  And believe it or not, VERY delicious!!  Moist, sweet and perfectly balanced flavors are undeniable inside this fun, and spooky halloween treat!  🙂
Walk into any Halloween party with this bad-news beast, and you will be the star of the spooky show for sure!  What a fun way to snack the night away while you're waiting for that doorbell to ring.  Smile at those kids with your creepy black teeth and now the night is complete..lol!
What you'll need:
Cake of Darkness:
1 box of Devil's food cake mix..of course!
Black food coloring
Cinnamon extract..to taste, optional
A dash or so of Cayenne pepper..optional, but SO good!
Deadly Dark Drizzle:
1 cup Chocolate Sauce
Black food coloring..enough to make it super black!
An extra dash of killer cayenne.if you dare!
Directions:
In a large bowl, combine the cake batter according to the box instructions…add in the cayenne and extract at this point ..to taste!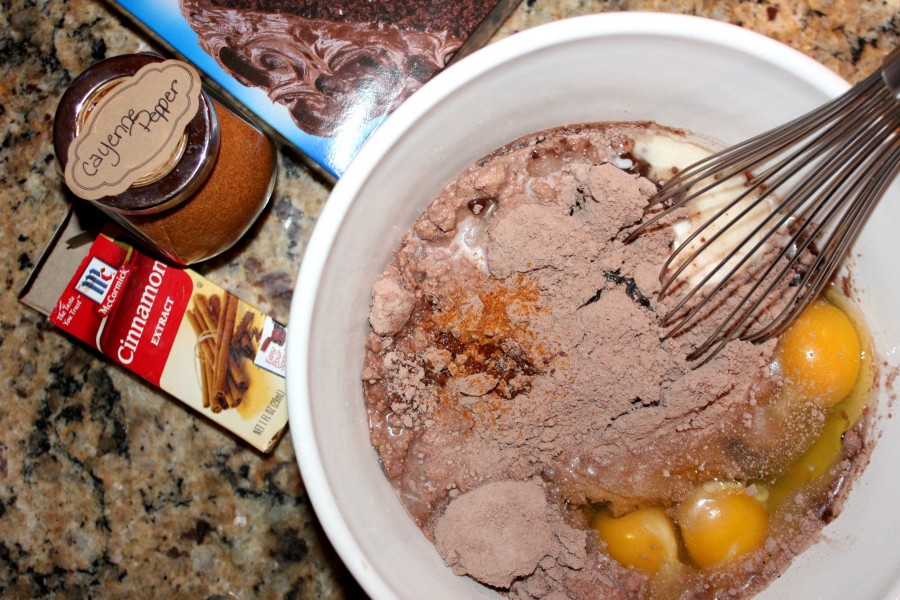 Now add in some black food coloring, until it reaches your desired devilish BLACK darkness!
Pour the batter into a lined baking pan of your choice!  Bake it up at 350 degrees for approx. 20 minutes or until it's cooked all the way through!  While it's baking, make the deadly dark drizzle!
In a small bowl, stir together the chocolate sauce and the black food coloring until it's DARK and spooky!  …set aside!
Let the cake cool completely!
Now…Pour that deadly dark drizzle all over the cooled cake!
Serve that scary slice up…
Add more deadly sauce…if you DARE!
And dig in..6 feet in..muahahhhhaaaa!  Put a fork in it..you're DONE! ~Enjoy! 🙂