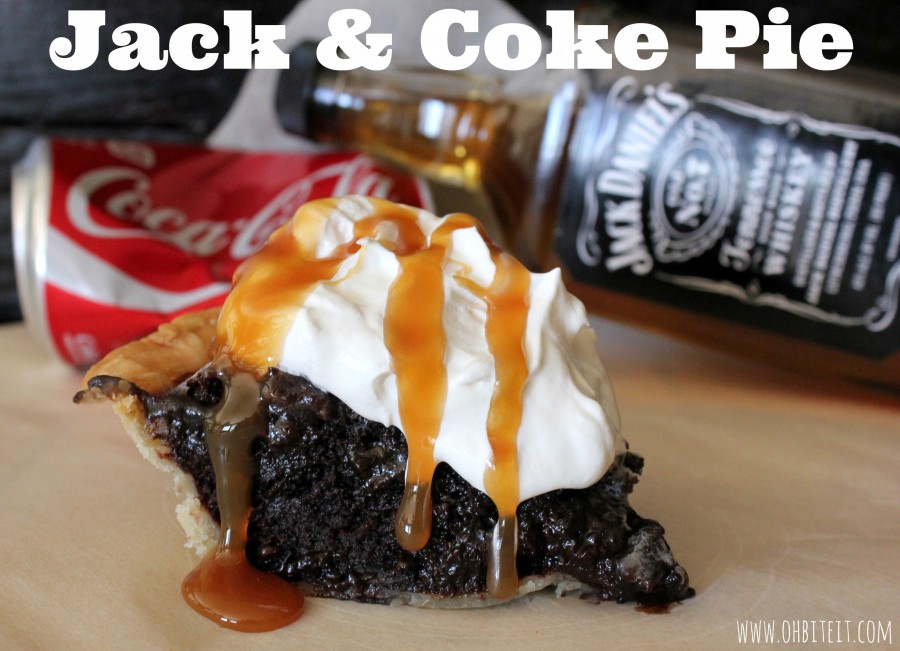 Out of all the Pies I've ever made~  and I've made quite a few, I have to say that THIS Pie~  T H I S Pie, is by far one of my top 5 ultimate faves!!!  Not even kidding!  I'm not even a typical Jack & Coke fan..but something about the moist, rich filling, creamy and light topping that's drizzled with cascades of Jack Daniel's Caramel Sauce is to die for!  I mean..just look at it!
It's not news that I adore baking and cooking with all different kinds of alcohol, and that I'm not even a drinker, but this recipe takes boozy delights to the next level!
Actually, higher than the "next level"…the level of this Pie is the highest level possible..it's the infinity level, the level that isn't even a level anymore because it's so high, it's a plateau…haha!
Seriously though, if you love chocolate, moist (almost wet), and super flavorful pie, that's totally unique, and one-of-a-kind~  you will adore this Pie!
~And it's SO easy!
Give it a try, it makes a great dessert, or hostess gift!  You ail be LOVED..no, you will be ADORED!
What you'll need:
One Pillsbury Refrigerated Pie Crust
12 ounces Bittersweet Chocolate
1/3 cup Butter
1/3 cup Jack Daniel's
1/3 cup Coca Cola
5 large Eggs (room temperature)
1 cup Sugar
1 tablespoon Vanilla Extract
1/3 cup Flour
1 teaspoon Salt
1/2 cup Semi- Sweet Chocolate Chunks
The Topping:
Cool Whip…approx. 3 cups
1/3 cup Caramel Sauce (to drizzle)
1-2 tablespoons Jack Daniels
Directions:
Pre heat the oven to 350 degrees
Place the pie crust dough inside a pie dish and line with parchment and baking beans or weights. Blind bake for 8 minutes. Carefully remove parchment and beans and bake for 4 additional minutes.  Remove from oven and allow to cool.
In a small, heavy bottomed saucepan, melt Chocolate, 1/3 cup Butter, 1/3 cup Jack Daniel's and 1/3 cup Coke over low heat…
Let Chocolate mixture cool.
Using a mixer or a whisk, whisk Eggs and Sugar until thickened and lemon-colored; blend in Vanilla. Sift Flour and Salt together, fold it in until it's combined…
Blend in the Chocolate mixture until thoroughly combined…then fold in the chocolate chunks
Pour it into the pie crust and bake for 25-30 minutes @ 350 degrees, or until slightly dry on top and not very jiggly in the center…
While it's baking, mix together the tablespoon (or so) of Jack Daniel's into the Caramel Sauce…set aside…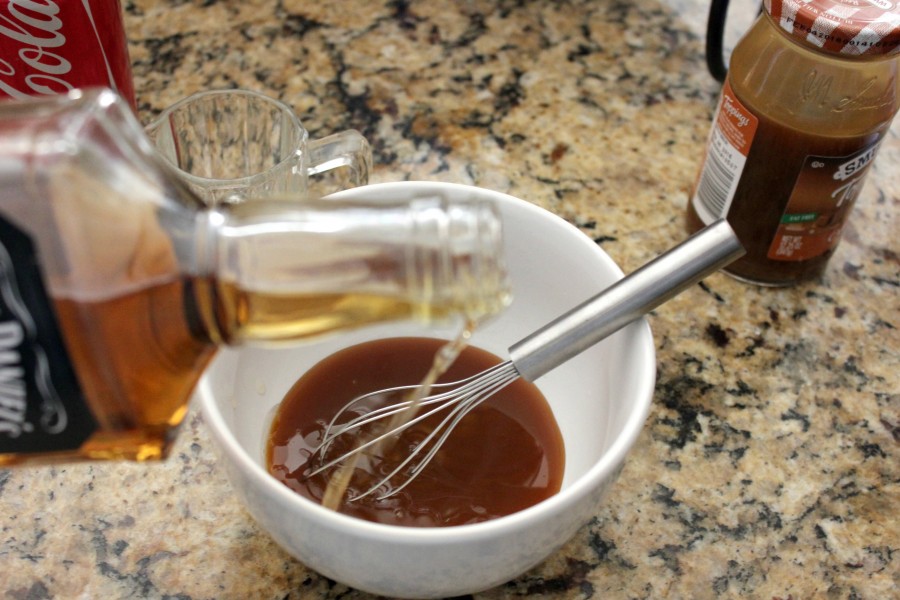 Remove from oven and allow to cool for 10 minutes…
before topping with the Cool Whip, make sure that the Pie is completely cooled…
NOW~  drizzle some of that Jack Daniel's Caramel all over the whipped top…
And plate it up…
There's plenty to go around, so don't eat it all…
But be sure to get yourself at least 2 pieces!  ~Enjoy! 🙂