Monkey Bread has now officially reached all-time high levels of awesome!  That's right~  you're witnessing the birth of a tastier, gooey-er, cheessier, monkey bread of all succulent and savory monkey breads!  This is more like an entire loaf of Monkey Bread, I mean..no one ever said that all monkey bread needs to look like a Bundt cake..right??  RIGHT..lol!  🙂
Fluffy and buttery puffs of beautiful billowing biscuits are fill to the brim with melty Mozzarella, just waiting for eager fingers to stretch and pull it a part!
Each bite will melt blissfully in your mouth and have you reaching for your next piece before you're even close to being done with the first one!
Have a true friend close by or you WILL eat the entire pan yourself …not that I'm speaking from personal experience or anything~  I'm not..really, I'm NOT!  🙂
What you'll need:
one container of pillsbury Grands Flaky Layers Biscuits (8 count)
3/4 lb. of fresh Mozzarella..the soft, but dry kind..NOT packed in water!
1/2 cup butter..melted
A bread loaf pan..sprayed with non-stick spray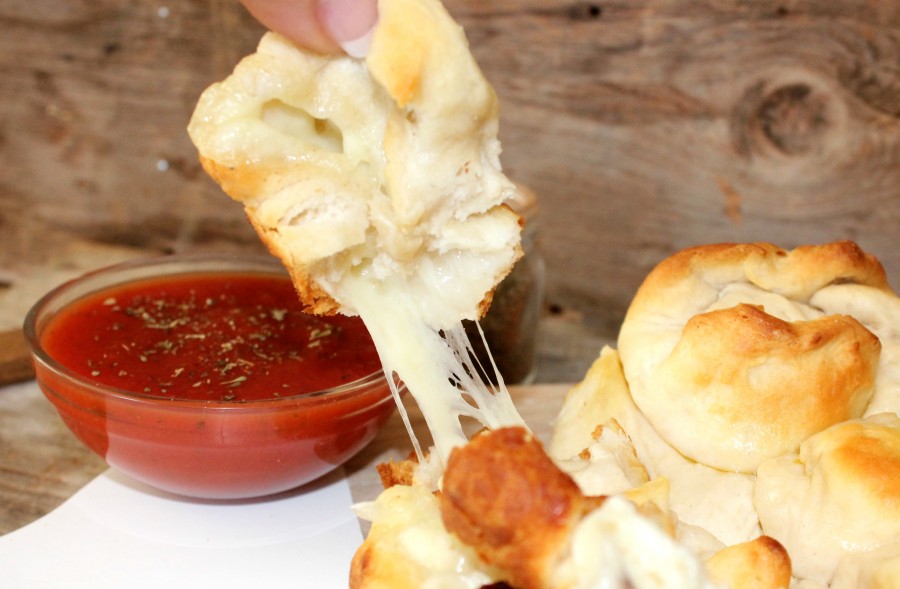 Directions:
Cut your Mozzarella into (approx.) 1″ cubes
Cut each biscuit in half and roll them into a ball.  Roll each ball out so it's even, and large enough to wrap around your cheese cube…
Place a cheese cube into the center of the dough and wrap it up nice and tight, making sure to seal it up VERY well…
Dip each stuffed dough ball into the butter, coating evenly…
Place each buttered ball into the loaf pan, you don't have to be neat with this, it will bake up into it's own personality…lol
Bake it at 400 degrees for approx. 20 minutes, covering foil at the halfway point to prevent the top from burning before the center is fully cooked.
Let it cool…
Now you can flip it out onto a serving platter, if you'd like…OR just start pulling straight from the pan..  🙂
Serve it up with some warm Marinara for dipping…
You may have a crowd starting to form around you..stay calm, and grab some for you..lol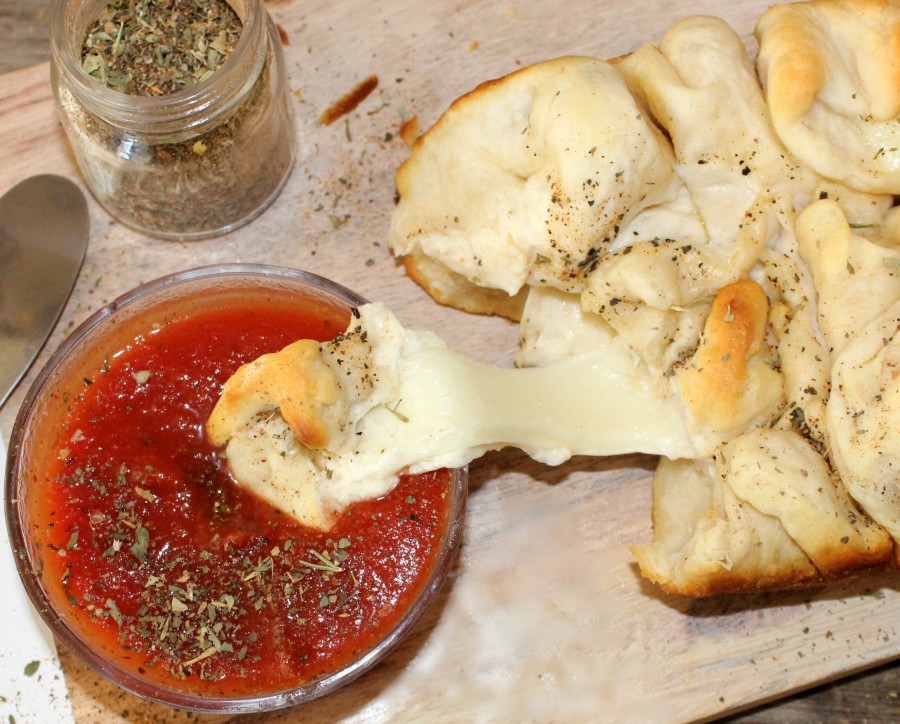 Get your hands in there..go on!  ~Enjoy!  🙂