I love Lasagna, but It's never been one of my go-to menu choices.  Mostly because my mom makes the BEST Lasagna in the world and more mostly, because I'm just too lazy for all that layering, and long cooking times that require work, waiting….and waiting..and work..lol!  🙂
Well..now, I've solved all of my first world lasagna problems with the inception of Sheet Pan Lasagna!  Yep~  in a matter of minutes, your fork will be sinking deep into tender, saucy, cheesy bites of gooey Lasagna, and you won't even be tired from the process!
It's true!  And as a bonus the sheet pan creates the best, toasty Lasagna edges EVER~  you know..those crispy edges on the noodles that are everyone's favorite…well now the whole pan is full of them!
What you'll need:
A sheet pan..any size!  I used a 5x9x2″ deep, so the ingredients listed here is enough to fill that pan.  Simply increase/subtract for more or less!  Also~  feel free to add meat and/or sausage!
1 lb. Lasagna noodles
15 oz. Ricotta
8 oz. Shredded Mozzarella,,divided
2 eggs
1 tbsp. Oregano/Italian Seasoning
16 oz. Marinara/Sauce
1 cup Grated Parmesan
Directions:
Boil the lasagna noodles until they're done to your liking…
In a large bowl combine the Ricotta, Eggs, 4 oz. of the Mozzarella, parmesan and Oregano..mix well…
When the noodles have cooled so you can handle them, spread a thin layer of the filling onto a lasagna sheet…
Pour some sauce into the bottom of the pan, just enough to cover it.
Gently roll them up nice and tight and place them down into the sauce…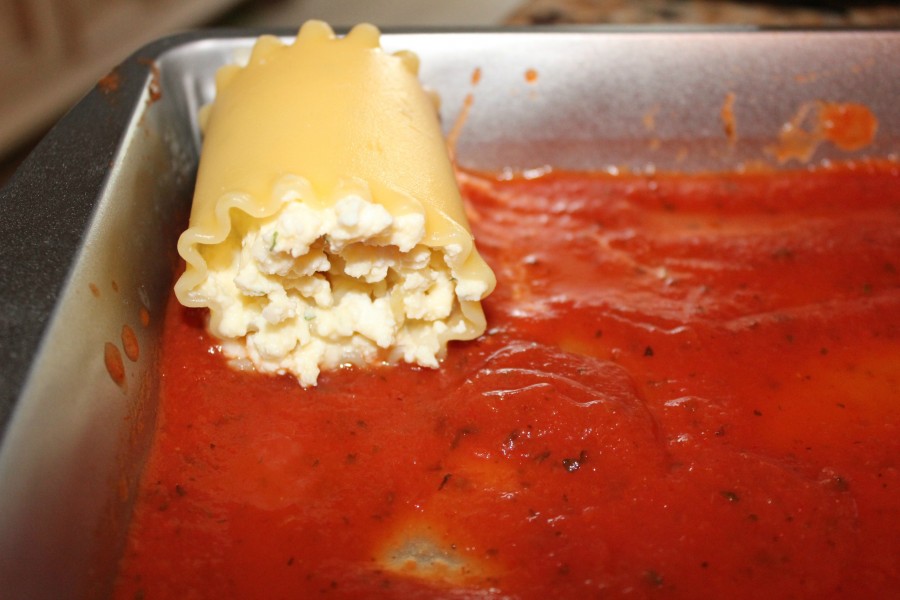 Pour the rest of the sauce evenly over the rolls..
And top it with the other 4 oz. of the mozzarella…
Bake it at 350 for approx. 30-40 minutes, or until it's melty and cooked all the way through…
Let it cool…
Scoop it up…and eat it up!  ~Enjoy! 🙂