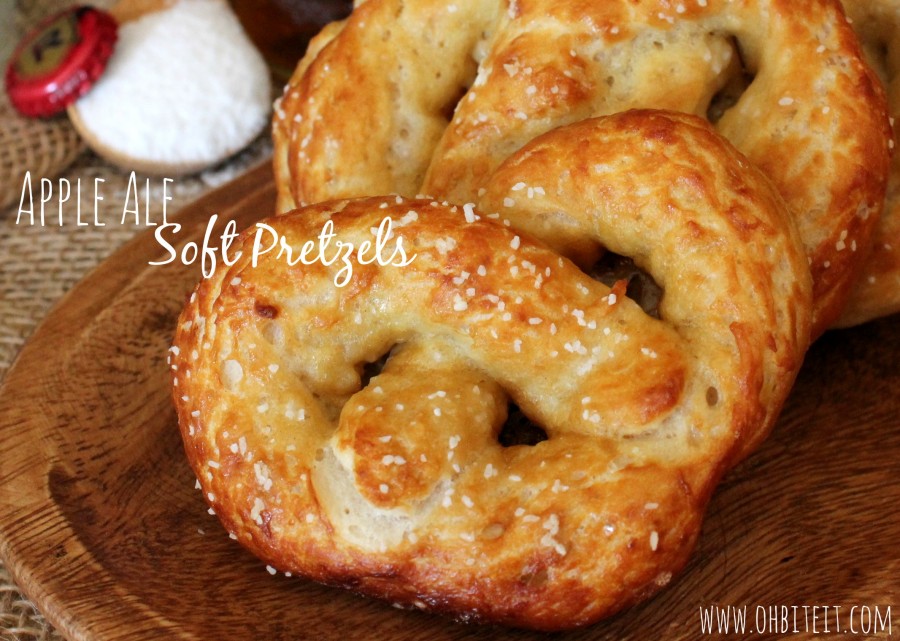 Well, I've added booze to just about anything and everything, so why not corrupt the innocent Pretzel while I'm at it?  You didn't think I'd make just an average, typical every day Pretzel did you?  If so, you must be new here..so welcome!  haha!  🙂
My thought process for these was actually quite simple:  Add a light, fruity beer to the Pretzel dough thereby creating a fluffy, moist, and flavorful end pretzel result.  Guess what?  It worked!  Now..don't let the somewhat wonky look of the Pretzels fool you~  while I can create unique food ideas no problemo..I'm totally lacking in the craft department,. so ugly Pretzels they are!
The subtle Apple Ale flavor totally compliments the rich, yeasty pretzel in ways that you will only understand after you sink down into one, and then another, just to be sure!  🙂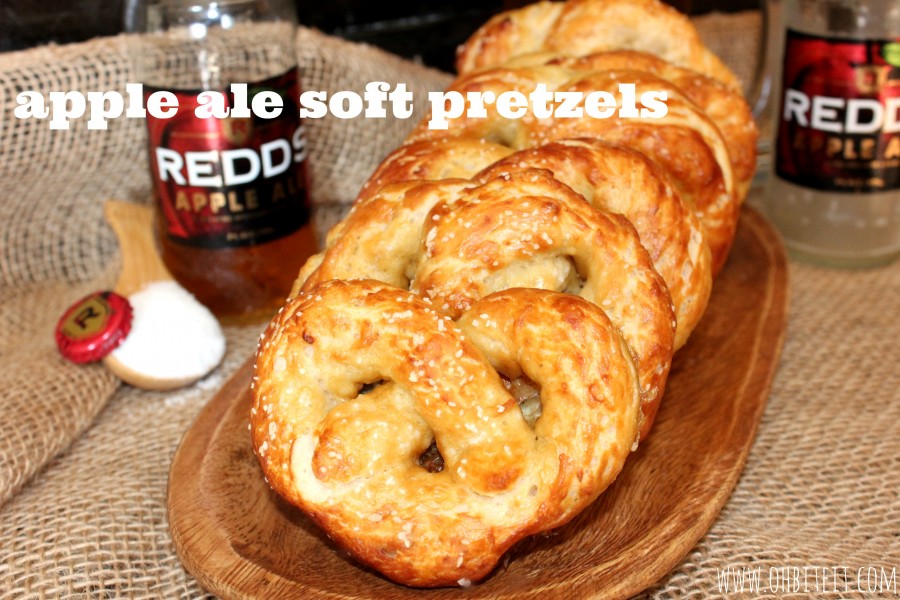 But..the incredible flavor profile and unique, one-of-a-kind richness will totally make up for their looks, I promise!  These Pretzels have a GREAT personality..LOL!  🙂
What you'll need:
One box of Pretzel mix..PLEASE feel free to make your own Pretzel dough from scratch, if you'd like~  I know many people who do that, and it's awesome!  Simply replace the warm water, with warm beer..lol!
I bottle of Apple Ale
Salt (included in the box)
Baking Soda (included in the box)
Yeast (included in the box)
Oil (per your box or recipe)
1 egg for egg wash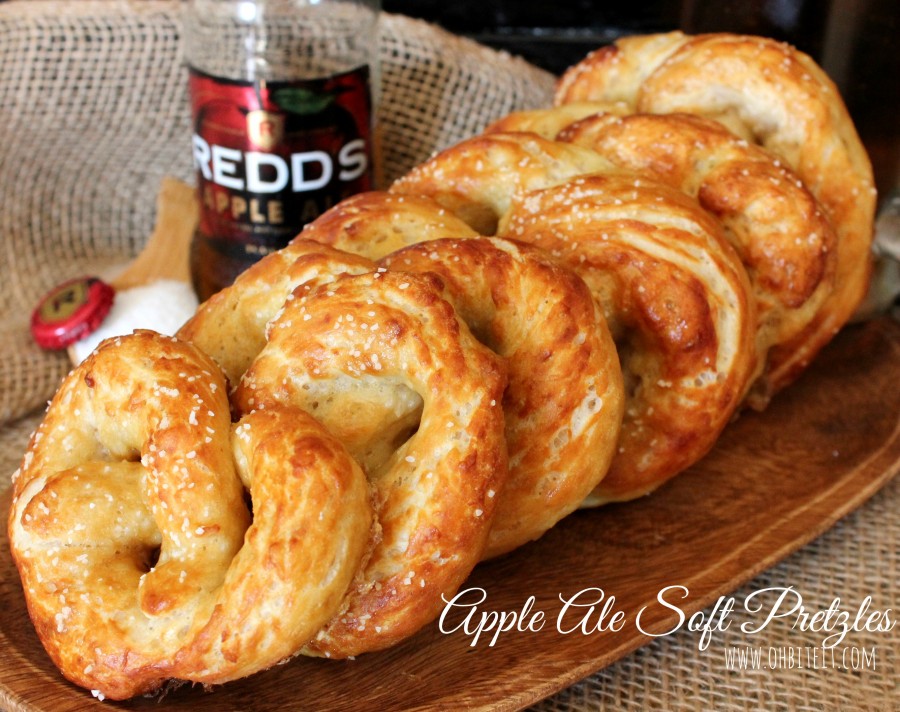 Directions:
Now, there are undeniably a few more steps to this recipe than I'm used to, BUT it's still super simple and SO worth it!
First, you will want to warm up your Beer.  I know it sounds strange, but the yeast will only activate in warm liquid…so!  I just popped mine into the microwave for a few seconds, until it was slightly warm..worked GREAT!
Now, combine the Pretzels dough mix with the beer, oil, and yeast.  Stir to form into a dough ball.  Cover that dough and place it in a warm area for approx. 20 minutes.  I stuck mine inside the microwave…BUT DON'T TURN IT ON!!  It's just the perfect place for dough to rise.
This dough will NOT double in size!
Once it's puffed up a bit, you'll want to cut it into 6 equal portions.  Take one portion and roll it in your hands into a rope…approx. 15-20″ long.  Then into a horseshoe, then twist the tops and fold them down, like so: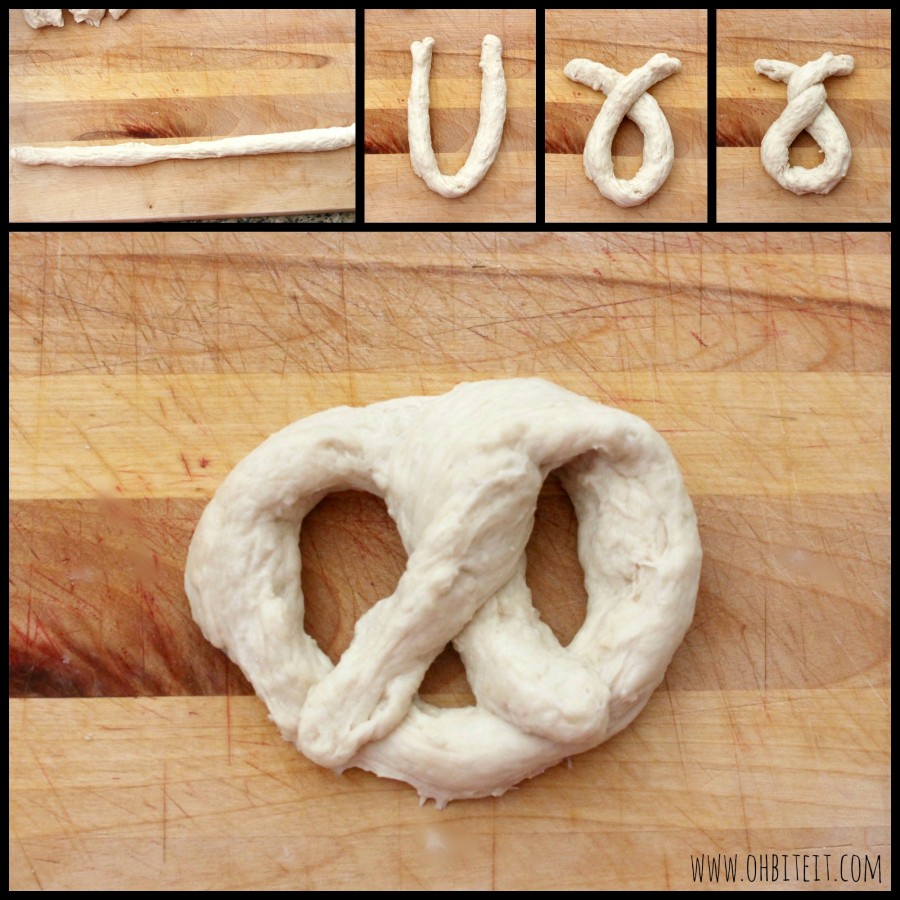 Simmer 6 cups of water with the baking soda and gently place each pretzel  (one at a time) into the water for about 15-20 seconds…
Then place them onto a sprayed piece of parchment paper.  Brush each one lightly with some egg-wash (a beaten egg with a splash of water)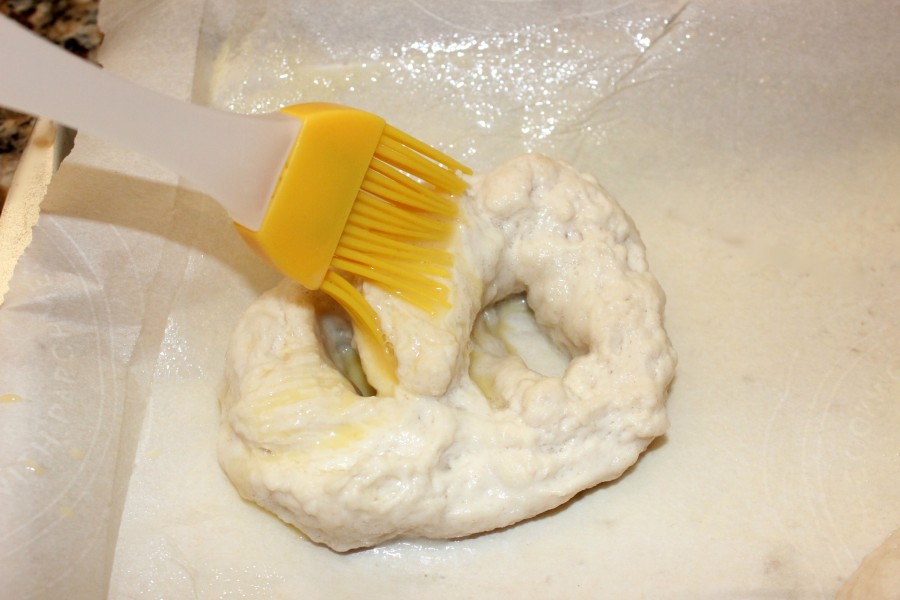 Then salt them!
Now place them all onto a parchment lined baking sheet and bake them at 400 degrees for approx. 12-15 minutes, or until they're all golden and firm, and smell AMAZING!
Let them cool, even though the smell will be intoxicating!
If you can find the willpower, try and share a few… with a cold beer of course!
Just look at that golden bottom~  I think that's my favorite part!
Or maybe the fluffy middle is my favorite part…
It's all my favorite part..haha!  Make a batch, you'll LOVE them!  ~Enjoy!  🙂