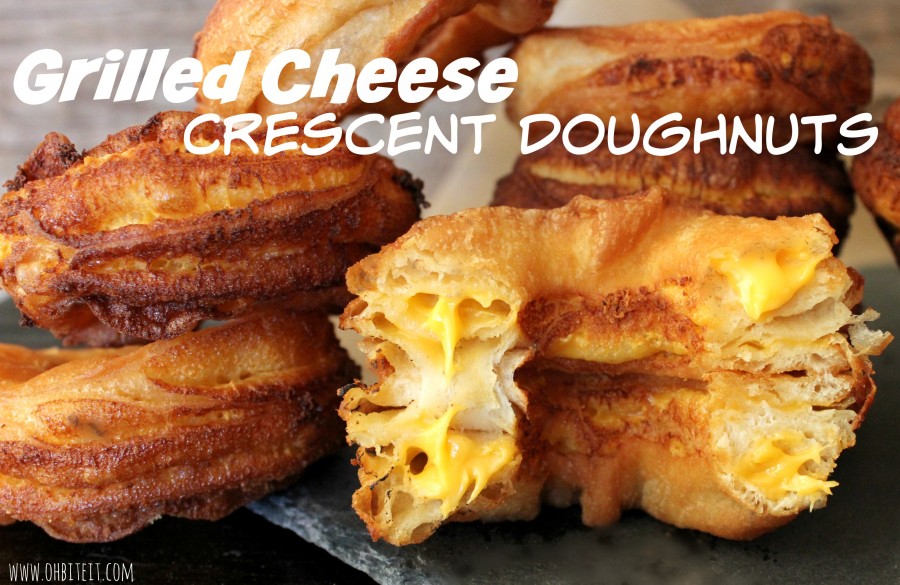 Ohh jeez~  where do I begin?  This is one of those recipes of mine that leaves me speechless, yet so full of verbiage all at the same time!  This creation left me stuttering as I tried to describe their utter greatness to my mom (maybe it was because my mouth was full, but whatever…lol).  I literally couldn't speak..haha!  I fell in love with all of these cheesy layers, and I also thought it would be awesome to do a savory style "Crescent Doughnut".  And by "savory"..clearly, I mean CHEESY..DUH!  🙂
I mean, the world needs more savory doughnuts right?!  Mmmhmm!  😉
So, what can I say?  I can talk about buttery, flaky layers of crescent dough, toasted perfectly, held together by gooey, melty cheese.  I can definitely tell you that once your face sinks down into one, just one bite of this melt-in-your-mouth, out of this world puffed pillow of perfection, you will never be the same.  Nothing will ever taste that great again…nothing will ever quite compare..lol!
These are the lightest, cheesiest, and most unique little treats I honestly think I've ever made..no joke!  I can't recall a recipe that got me this worked up, this excited..or this shamelessly in foodlove.  <3
With basically 2..YES TWO, ingredients, you will have a hit on your hands and be at a loss for words as well.  NEVER has there been such an imbalanced 'effort to flavor' payoff ratio, at least in my experience.
~Make a batch of these, and be amazed…trust me!  🙂
Oh~~  and like a sweet bonus sent down from the food Gods..you also get a nice pile of 'Grilled Cheese Crescent Doughnut Holes' as well!  Pop a few of those babies into your mouth and no one will ever know!  SCORE!
What you'll need:
2 rolls of Pillsbury Crescent Seamless Dough Sheets..or you can pinch the seams together on the regular crescent dough!
Velveeta Cheese slices (it melts the BEST).  Approx.  6-8 slices (depending on your final rolled out size).  Just enough to cover the bottom layer of dough.
Oil for frying..I used Canola!
A 3″ cookie cutter, and a 1″ cookie cutter (or like tool), the size can be whatever you prefer though, they're YOUR Doughnuts! 🙂
Directions:
Roll out the top layer of dough, a little dusting of flour to help is fine!  Set it aside…
Now roll out the bottom layer 0f dough, making sure it's pretty much the same size as the top layer.  Place slices of the cheese all over the bottom layer, cover as much cheese ground as possible..lol
Now, place the top layer of dough onto the cheese and roll that baby together…and fold it in half…
Roll it out again, until it's approx. 1/8″ thick…
Now, get ready to create doughnuts!  Cut out your 3″ circles, and then cut out the middles with a 1″ cutter..I used a small shot glass and it worked just fine!  I was able to get 8 Doughnuts out of my roll out!
Get ready to fry them up in some hot (350 degree) oil…
Fry those babies up, one at a time, making sure to flip them for the ultimate golden puff…
Let them cool if you can stand it, personally…I burnt my mouth and didn't care, yep, that GOOD…haha!
Try and share them…really try!
Those buttery, flaky, cheesy layers will make you greedy!  🙂
I mean…come on!
Grab one..hurry!
Before they're gone, you have about 2 minutes to play with..lol!
Ohh..and don't forget about all those holes, they can be our secret!  😉
So DIG IN>…GO!  ~Enjoy!  🙂