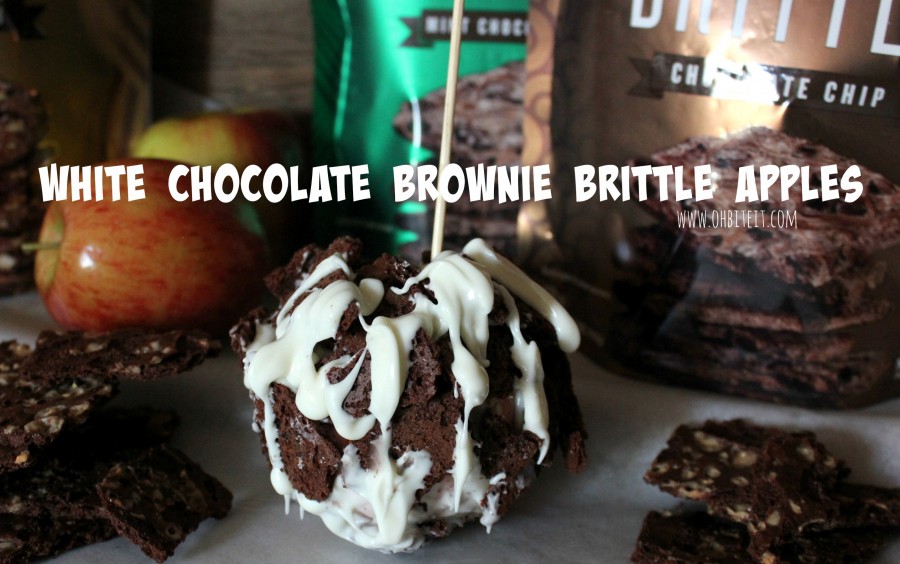 I recently had the extreme pleasure of trying out the newest trend in all things Brownie..lol!  A little goodie called Brownie Brittle!  Have you heard of this amazing snack yet?  If not, pull up a chair, because I'm about to take you on a culinary journey like no other!
If you like chocolate, if you like brownies, if you like light, crispy, crunchy snackage…this is for YOU!  Not only is Brownie Brittle delicious, it's also versatile.  With the many flavor options available, like Chocolate Chip, Salted Caramel, Toffee Crunch, and Mint Chocolate Chip the possibilities are endless!  Not to mention the stellar quality~  out of all the bags I sampled (and there were many..lol)  there was not ONE broken brittle in the bunch!  Easy to eat, slabs of Brownie Brittle brilliance made it from the package and into the happy mouths of many, many people.
I had fun creating this fun fall spin on candy apples that were to. die. for!  (recipe below) 
Maybe it's the homespun touch of a small business/great idea gone wild that I was witnessing here.  Just take a look at this all-American dream come true with Sheila's incredible Brownie Brittle story.
In 1992, Sheila G. Mains, better known in the food business as Sheila G, took a treasured family recipe for fudge brownies and baked her way into a thriving business. You may even have tasted one of her rich, dense squares of heaven at some of our nation's finest restaurants and theme parks. So, where exactly did the inspiration for her scrumptious new Brownie Brittle™ snack come from?
Like many brownie aficionados, Sheila is particularly fond of the crispy edges. In fact, on many an afternoon she would walk through the bakery gathering the crispy batter off the sides of the sheet pans as the chocolate brownies cooled in their racks. It had that same rich chocolate taste, but with an amazing crunch. That started her wondering: How could she create a whole pan of crunchy edges? Well, lucky for us, she figured it out! Now you too can satisfy your sweet tooth in a snap with Sheila G's Brownie Brittle™ snacks!
Give them a try if you see them in the many store locations around the country~  you will LOVE them!  You can find them "here", or check them out on "Facebook" …OR "Twitter"…or their YUMMY "Pinterest Page"!
Now for the recipe!  🙂
~WHITE CHOCOLATE BROWNIE BRITTLE APPLES!
What you'll need for 4 Apples:
4 Apples..your fave variety
Sticks
2-3 cups of crushed Brownie Brittle, you can use any of the flavors, or mix them up for a fun assortment!
1 cup of melted white chocolate..dark is great too!
Directions:
In a large zipper bag, crush up the Brownie Brittle into large sized pieces, making sure not to pulverize them into unrecognizable dust..lol
Melt the Chocolate and dip each apple evenly coating the apple…
Give them an immediate roll around the crushed Brownie Brittle and set onto some parchment or wax paper to set up…
After a couple of minutes, you can safely slice, serve and dig in!
Try to share..if you can!  ~Enjoy!  🙂