Well, my love for all things mini is alive and well, as proven right here with my latest tiny treat..deep dish pizza!  Once in a while you just want a deep dish pizza, you know?!  BUT who needs the guilt, the shame, the regret, especially after the holidays …?  ..NOT me!  Soo I mini-fied that perfect puffy pizza into a shame free, few bite feast of fun!
Now, we can enjoy all the greatness, all the depth, all the glory, of a deep dish pizza, in a muffin, (or two)..and call it a day..lol!
Each muffin is packed with deep dish delight, literally overflowing with gooey cheese, and all the favorite fillings you can imagine.  The crust is even better this way because you get all the crispy edges to YOURSELF!  I know..you're welcome!  🙂
~Make a batch for the big game, or movie night and go deliciously deep..in a mini sort of way!  🙂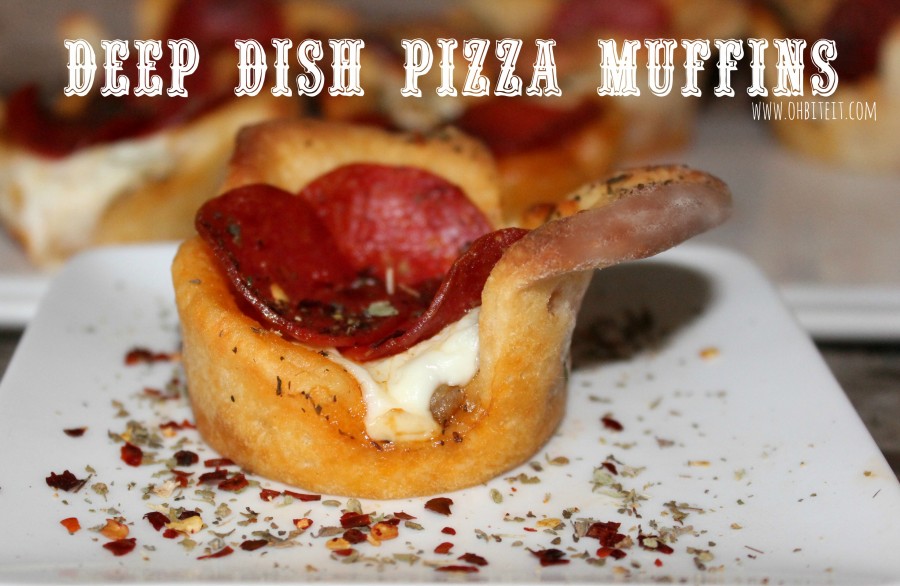 What you'll need (remember, you can customize these however YOU like your Pizza):
1 container of Pillsbury THIN CRUST Pizza Crust..use thin crust so it actually gets crispy!
2 cups of shredded Mozzarella
1 cup pre-cooked sausage..optional
pepperoni..2 or 3 per muffin..optional
1 cup of Pizza Sauce
1 tsp. Olive Oil
Oregano for sprinkling
A muffin pan
A biscuit/cookie cutter sized to your muffin pan
Directions:
Roll out the dough, and cut out circles that will fit inside your pan with a little edge around it.  Place them into the pan, gently creating a cup.
Scoop a teaspoon or so of the sauce into the dough…
Add in some sausage, or any toppings you normally prefer on your pizza…
Top it with a generous pile of cheese…And then some pepperoni if you so choose.  Drizzle some olive oil around the edges…
And sprinkle them with some Oregano..Bake them at 350 degrees for approx. 20 minutes or until they're golden and bubbly…
Let them cool a bit before removing them…
Gently remove them, and ..NOW~  for the best part…SERVE them up!
You 'll be amazed at their beauty…
And their incredible flavor!  ~Enjoy! 🙂