Well. out of all of the crazy things I've fried, I think this has to be the craziest!  I mean, I've basically fried up a "Cheers", a "Toast" to a new year and all that it will hold (which I hope includes lots more deep fried goodies..lol)
But for now, we have crispy, crunchy, Champagne soaked nuggets, filled with hope for the future and many midnight kisses.  You can actually taste the bubbles..lol
This wiil be the best New Year's Eve treat around, since you can now actually eat your Midnight Champagne Toast!
~Yep..gone are the worries of spilling your drink all over your sequins, now you can pop that champagne right into your mouth again and again and snack away the final hours of this year in style.
~Serve a batch of these bubbly bites and make the last night of this year one to remember!  ..CHEERS!
What you'll need:
Pound Cake OR Sponge Cake cut into 1″ cubes
Champagne..YOUR favorite~  I used the cheapest possible..lol
Oil for frying..I used Canola
Powdered Sugar and/or sprinkles for topping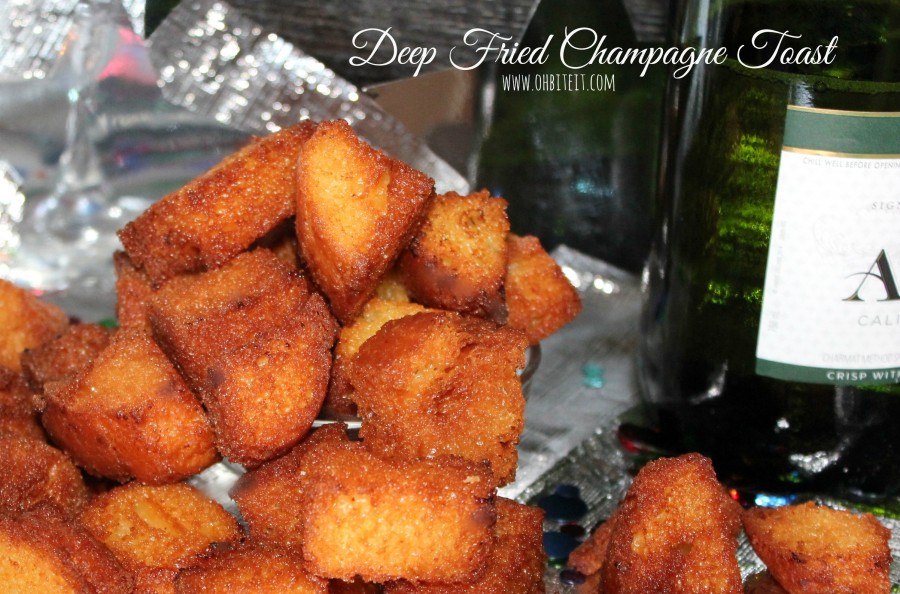 Directions:
Pour some of the Champagne into a shallow bowl…
Cube up the Cake into approx. 1″ squares…
Quickly dip each piece of cake into the Champagne one at a time as they go directly into the hot (350 degree) oil…
Fry them up a few at a time,  until they're evenly golden on all sides…
Let them cool on some paper towel…
Dust them with a festive sprinkling of powdered sugar…
Put them out…
For all to grab up…
Serve them in some Champagne flutes because..CUTENESS!
Don't forget to grab some for um..YOU, with extra sugar because you're SO sweet!
And CHEERS to a new and fun, fry-filled year ahead…
HAPPY 2015!  Much love!  ~Enjoy! 🙂