Tis the season to booze it up, fa la la la la..la la la laaaah!   Yep..it's here, and I'm ready!  Bring on that boozy goodness in all of its boozy glory.  And what is one of booze's bff's?  …Eggnog!  Mmmhmm…that thick, rich eggnog almost begs to be lightened up, thinned out..if you will, ..and booze is just the thing to do it!
These sweet little eggnog nuggets are dripping in eggnog's best friend ..RUM.
With that drizzle of rum, we've now taken that classic tipsy, holiday drink cocktail combo and turned it into yep~~Dessert.  A one bite wonder that will leave everyone speechless…mostly because they won't stop eating them, but also because they're just THAT good!
Make a huge batch and watch how fast they go from your table to ..gone~buh-bye!  🙂
What you'll need:
Pound cake cut into 1″ cubes
1 cup or so of eggnog
Oil for frying..I used Canola
The Glaze:
1 cup powdered sugar
approx. 1/4 cup rum..plus a swig or two for YOU  😉
Nutmeg for sprinkling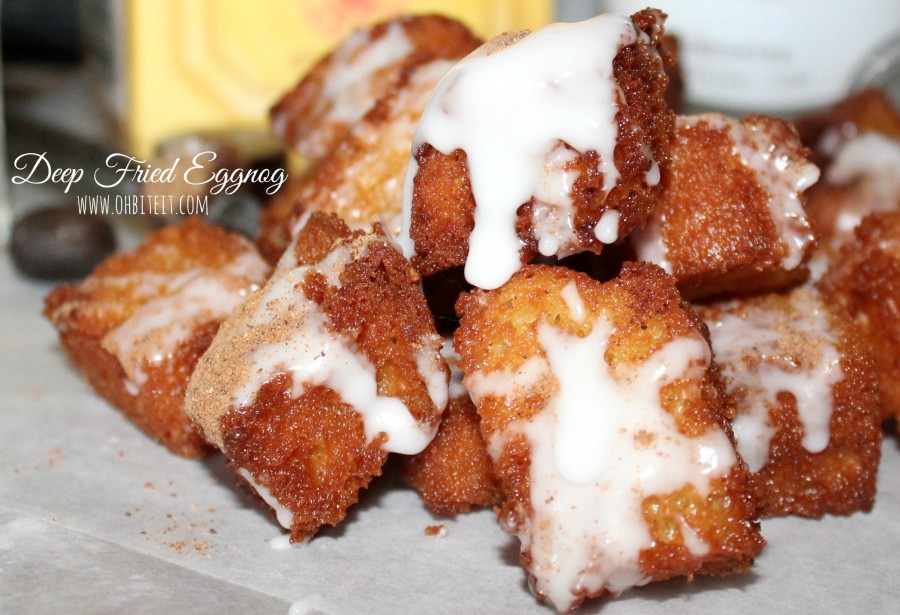 Directions:
Heat up about 3″ of oil to 350 degrees
Cube up the pound cake into 1″ cubes…
Gently and quickly dip them into the eggnog so it's evenly coated, but not soaked…
Place them a few at a time into the oil to fry evenly on all sides…
Drain them on some paper towel to cool…
Make the glaze~
Simply mix the powdered sugar and the rum together until it's thick, and smooth…
Drizzle the glaze all over the cooled cake…
Now sprinkle on some Nutmeg so it sticks to the wet glaze…
Let them set up… (drink some Rum to kill time)
Serve them up…
Share them with anyone you love…LOTS…
AND serve some to yourself..duh… 🙂
Plate them so they look festive and fancy…
And grab a few more for…YOU!  ~Enjoy! : )  ..err..CHEERS!