Oh, stop..I know!  BUT there was no way that I was going to let this holiday slip by without deep frying at least one piece of Pumpkin Pie!  Why, you ask..because why not?! ..I say..haha!
Annnnd so here we are!
Let me just tell you that as crazy as this sounds, frying up this pumpkin pie was the best thing that's ever happened to said pumpkin pie!  Not even the grandparents at the holiday table will have anything bad to say about it!  ..LOL!  🙂
Each slice tastes like Pumpkin Pie that's been battered in cake, flash fried until lightly crispy & toasty, with a warm, custard-like pumpkin pie center, that  when combined with some whipped topping, or ICE CREAM…takes you on a culinary adventure you didn't even know you wanted to go on, and you'll never want to return from.  🙂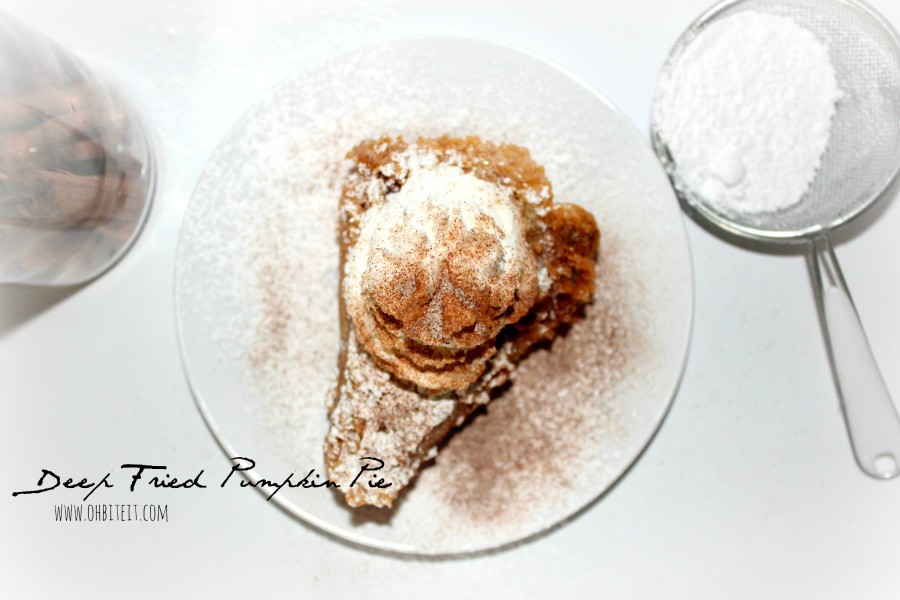 ~DO this,,just do it..GO!! 🙂
What you'll need for 6-8 slices of fried pie:
Slices of Pumpkin Pie that have been frozen for a few hours to overnight
1 cup of Pancake Mix..your fave
1 tsp of Nutmeg, and some for topping
1/4 cup OR SO…of Milk, Cream or water.  Enough to give you a thin, pancake batter-like consistency
Whipped Topping, Ice Cream, Nutmeg, Powdered Sugar..all for topping~~  optional
Oil for frying..I used Canola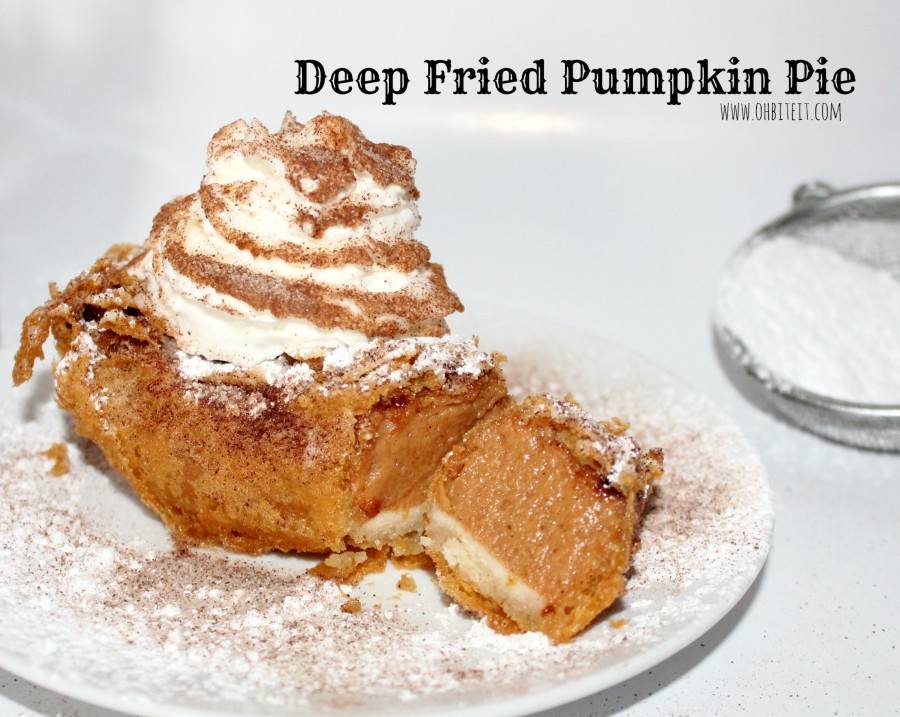 Directions:
In a medium/large bowl mix up the batter..a gentle balance of pancake mix, nutmeg and liquid, until you reach what looks like this  >>
Now, gently dip one slice of the frozen pie, making sure to coat the entire thing…
Place it immediately into the hot (350 degree) oil.  Some of the batter will do strange things..that's ok, it will all be fine, just let it be who it wants to be…haha.  Each piece has its own 'personality', and they're all D-Lish-US!
Let them cool on some paper towel, but serve them warm, for SURE…
Dust them, top them, grab them and eat them…just go for it, own it..and have no shame!  🙂
Knock everyone's socks off with an amazing presentation…lol
There will be no better Pumpkin Pie!!
So dig IN!  ~Enjoy!  🙂