It occurred to me that out of all my boozy creations, somehow breakfast has been left out.  I thought this would be a good time to change that and add some boozy pancakes into the menu rotation.  Especially because it's that 'Apple Cider and let's get tipsy' time of the year.  🙂
More than likely, all your holiday houseguests will still be hanging around the day after and maybe even through the New Year, lord knows you're gonna want need a drink to help you deal..lol!  This way..you can have your booze all before noon and no one can say a darn thing about it.  Why?…because this is breakfast, that's why!  The most important meal of the day!!
These aren't your Granny's Pancakes..(or maybe they are..lol)..either way, they are POTENT!  You won't hear anyone saying "I don't taste any alcohol"…ALL you taste is that sweet hard apple cider, all sticky and sweet, as it runs through every single bite of these fluffy, and tender pancakes.  The combination is beyond perfection.
Drizzle on some hard cider sauce, and your family may never leave!!  ~So be careful!  😉
What you'll need: 
Hard Apple Cider/OR regular Apple Cider for kids and those who don't want any alcohol.  I used Angry Orchard because it's really the BEST!  And I have NO affiliation with them whatsoever!  🙂
Pancake Mix
The Sauce:
1 cup powdered sugar
More..hard cider or regular cider
Directions:
Simply mix up your pancake batter (for the amount of servings you'd like), and substitute the liquid with the hard cider…
Mix until it's smooth, and creamy, ..that's it!
Make a bowl of the sauce to drizzle over the pancakes, by mixing the powdered sugar with the cider until it's thick and smooth.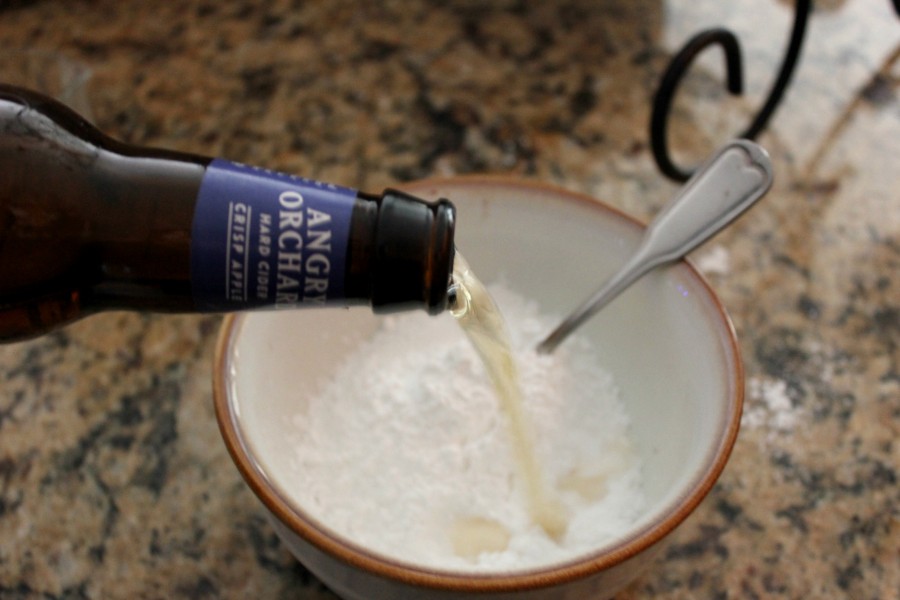 Let the pancakes cool for a minute or two…
Start drizzling that glorious glaze all over your happy stack of tipsy pancakes…
Serve them up…Eat them up…take a nap!  🙂  ~Enjoy!  ..err//CHEERS!