If I said that this pie was the best chocolate pie I've ever had, it would be an understatement!
I can't begin to tell you just how incredible this pie is.  It takes pie to a level never before seen by pie, and if you like Hot Cocoa..omg~  you'd better be sitting down when you try this one..trust me!
The chocolate is so intense, and the flavors are so perfectly combined that the sounds you will hear coming out of your lips after the very first bite will almost frighten you..haha.
This is the most tender and moist pie, filled with all of the simple elements of the best mug of hot cocoa you've ever had.  It's like a giant hug for your belly!
Just whip this one up on a weekend, so you have plenty of time to recover for work on monday!  😉
What you'll need:
1 pie crust..I used Pillsbury
40 regular size marshmallows…(one bag)
1 cup Hot Cocoa powder
1/2 cup brown sugar
3 eggs
1 cup light corn syrup
1 tsp. vanilla extract
Cocoa powder for dusting..optional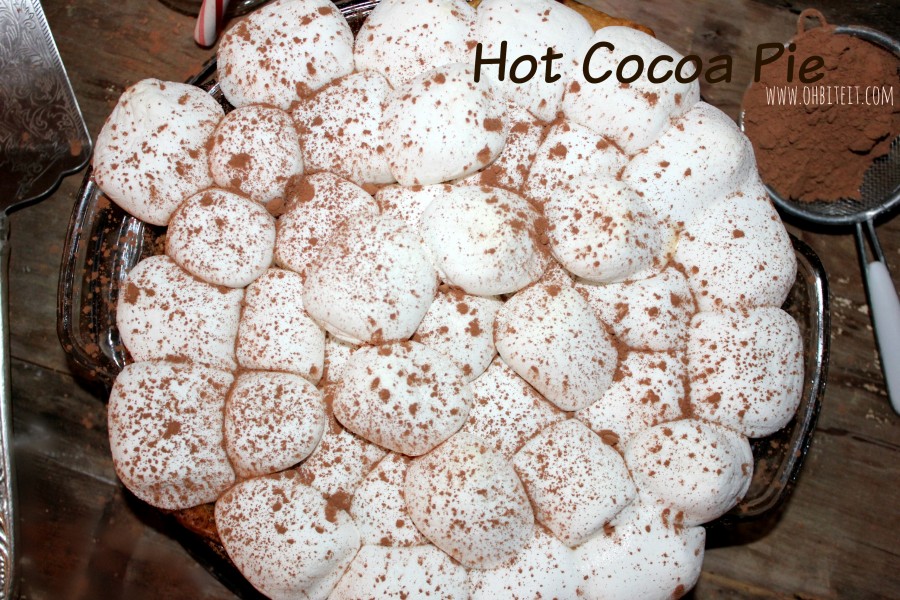 Directions:
Place the pie crust into a pie plate, crimp the edges and set aside.
In a medium bowl combine the eggs, brown sugar, vanilla and corn syrup..beat on medium with a hand mixer, or with a whisk and some muscles…until smooth!
Now add in the hot cocoa powder…
Pour it into the pie crust… (resist the urge to dive in now)
Bake it at 350 degrees for approx. 45-55 minutes, or until the pie is mostly firm.
Take the pie out and top it will ALL of the marshmallows.  It's a beautiful thing if some of them melt over the edge, so yes..add them ALL!  🙂
Put the pie back into the oven for approx. 5 minutes, or JUST until the marshmallows melt and become fluffy and soft…
Let it cool…
Now dust the top with some traditional cocoa powder for authenticity…
You can serve this warm or cold..it's awesome either way!  But DO store any leftovers in the fridge!
It slices beautifully!
And tastes even better~  the BEST!   ~Enjoy!  🙂