Lucky Leaf has been a necessity in my kitchen for as long as I can remember, but it's never quite as important as it is around the holidays!  I don't know what I'd do without their amazing products and delicious, high quality pie fillings!  This time, I was lucky enough to receive a generous, beautiful and useful gift from lucky leaf to try out and all I can say is WOW!
Not only is the pie filing just incredible as always, but I was also able to use a high quality, deep dish pie plate from The Pampered Chef!  This scrumptious, fall flavored Tart wouldn't have been possible without this 9×2″ deep, 6 cup capacity, Stoneware that's perfect for baking either sweet or savory pies and casseroles!  Repeat baking will turn this Stoneware dark brown in color, and become naturally seasoned with each use!  The result is an all natural, non stick surface.  They even threw in a nylon pan scraper for easy cleaning.
Now for the BEST part..other than this delicious, and simple Tart of course!  YOU..YES YOU can win this amazing plate along with 3 cans of Lucky Leaf Pie Filling!
One of you will be chosen by Midnight EST tonight (12-7-2014) to win!  Simply comment below that you shared this post on at least one of your social media channels, and that's IT!  🙂  GOOD LUCK!
Now for the recipe > "WINTER HARVEST TART"  This will make a beautiful and delicious addition to your holiday table!
What you'll need:
A 9″ pie plate.tart pan
1-21 oz. can of Lucky Leaf Apple Cranberry Filling
1 roll of Pillsbury Refrigerated Pie Crust
1 egg..for Egg wash
1 tbsp. Sugar
Some chopped Nuts of your liking for topping~  optional!
Directions:
Place the pie crust into the pie plate and fill it with the filling.  Gently crimp the edges over, forming a pretty edge to hold all the filling inside.  Now brush the edges of the crust with some egg wash (one egg, mixed with a splash of water or milk).
Sprinkle some sugar onto the egg washed edges.
Bake it at 350 for approx. 25 minutes, or until it's golden.
Let it cool, and slice it up…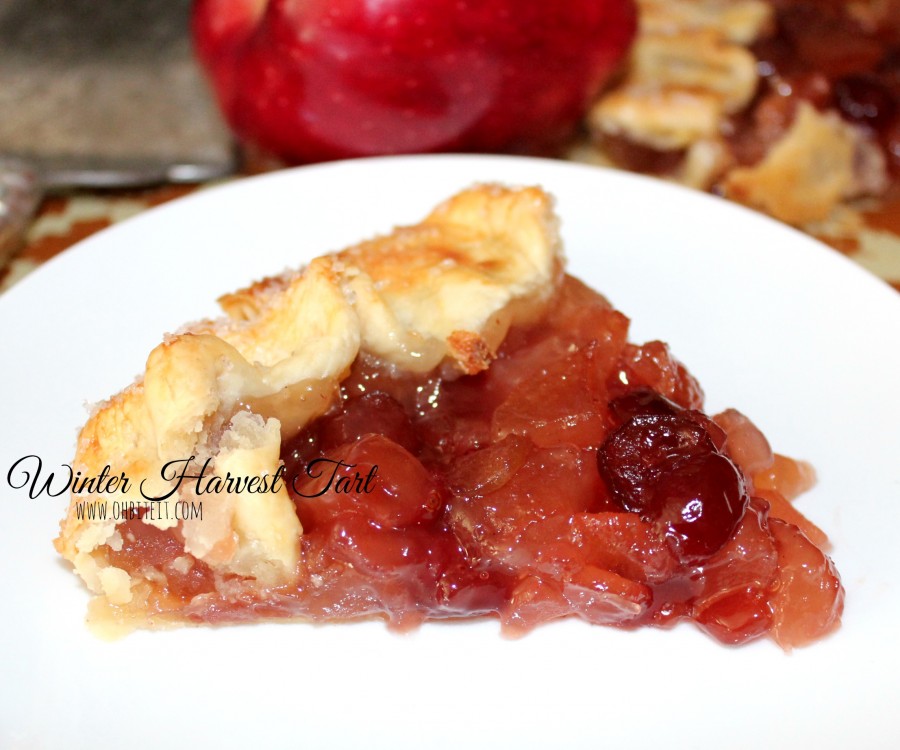 Enjoy the fruity, fresh fall flavors!
The perfect way to end a festive meal.  ~Enjoy!