When I was graced with the opportunity to work with Alter Eco and create something healthy and delicious with their Organic Royal Black Quinoa, I got SO excited!  I mean, seriously..you know I'm not one for posting the healthiest of treats, but strangely enough..I'm kind of a health nut!   And WOW..does this Quinoa make for the most perfect healthy and delicious snack EVER!!
Alter Eco's flavorful, crunchy Royal Black Quinoa is a perfect addition to appetizers, entrées and desserts alike, making health food taste like cheat food in the best possible way!
Alter Eco is a pioneer of globally crafted foods including delicious quinoa, chocolate bars, truffles, rice and sugar. All Alter Eco products are USDA Certified Organic, Fair Trade Certified, Carbon Neutral Certified, Non-GMO Project Verified and Certified Gluten-Free. In addition, Alter Eco practices full-circle sustainability by working with small producers in the Global South to directly benefit co-ops and farmers while bringing delicious and healthy foods to the masses.  Be sure to check them out, and go make this incredible and healthy salsa..you will LOVE it!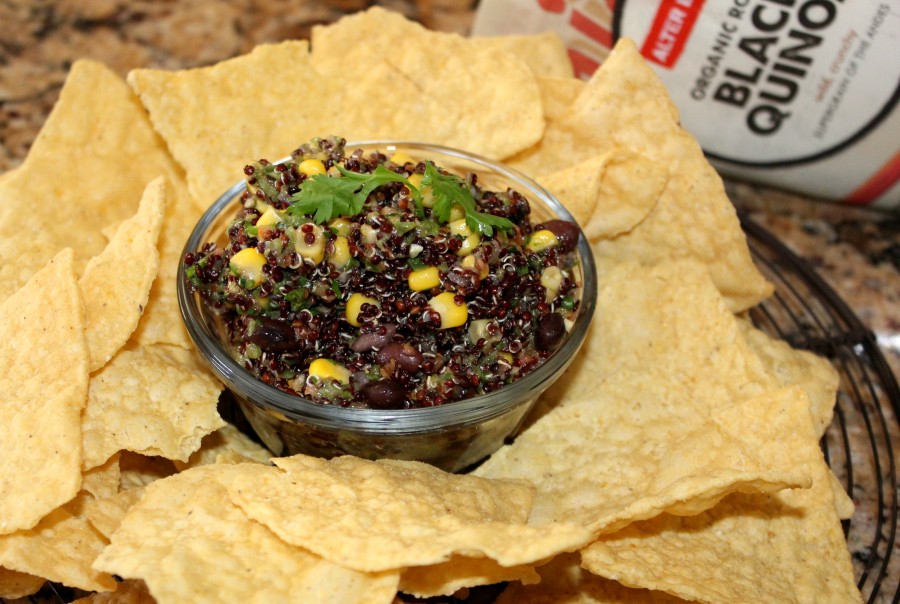 What you'll need:
The salsa:
2 cups Alter Eco Organic Royal Black Quinoa 
3 cups water
1 jalapeno pepper
1?2onion
5 garlic cloves
1?2bell pepper
1 (15 ounce) can whole kernel corn
1 (15 ounce) can black beans (rinsed)
1?4 cup fresh cilantro
2 tomatoes
The sauce:
1?4 cup olive oil
1 tablespoon cumin
1 teaspoon salt
2 limes, just the juice
Directions:
Boil water and add quinoa.
Cover and lower heat to simmer for 10 to 15 minutes or until water has boiled away. Stirring not necessary.
Careful not to burn Quinoa.
Chop all produce.
Strain excess water from canned products.
Mix the chopped produce and canned goods together in medium-sized bowl.
Add cooked quinoa and mix.
Mix sauce ingredients in small bowl and add to salad.
Serve cold…with Chips!  ~Enjoy! 🙂