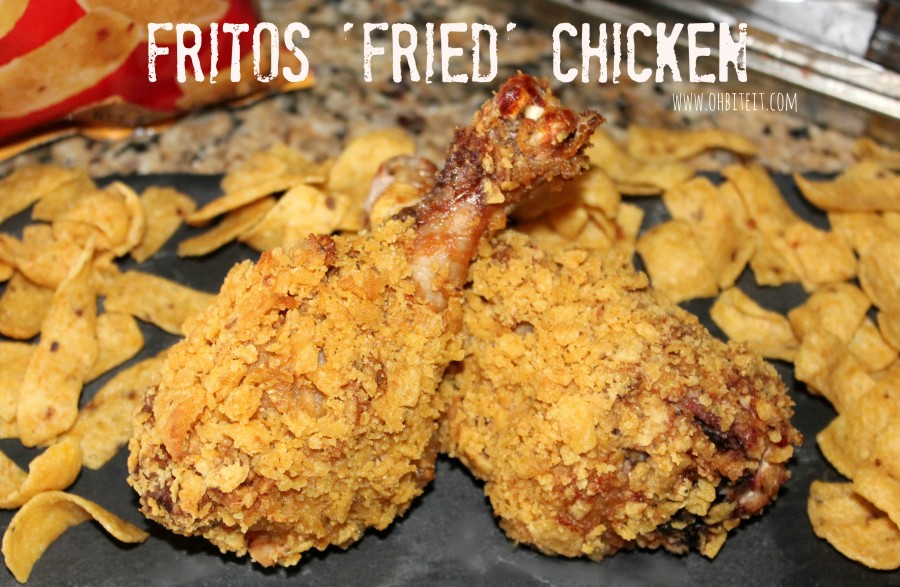 SO..what do 'normal' people do when they want to make some oven-fried chicken, but also have a bag of Fritos staring them in the face begging to be devoured?  I mean, really..what would normal people anyone but me do?  Probably enjoy a Fritos snack while making a batch of ordinary, but delicious fried chicken.right?!  Most likely!  BUT~  could I ever just make an ordinary anything..proably not, so once again~~  here we are!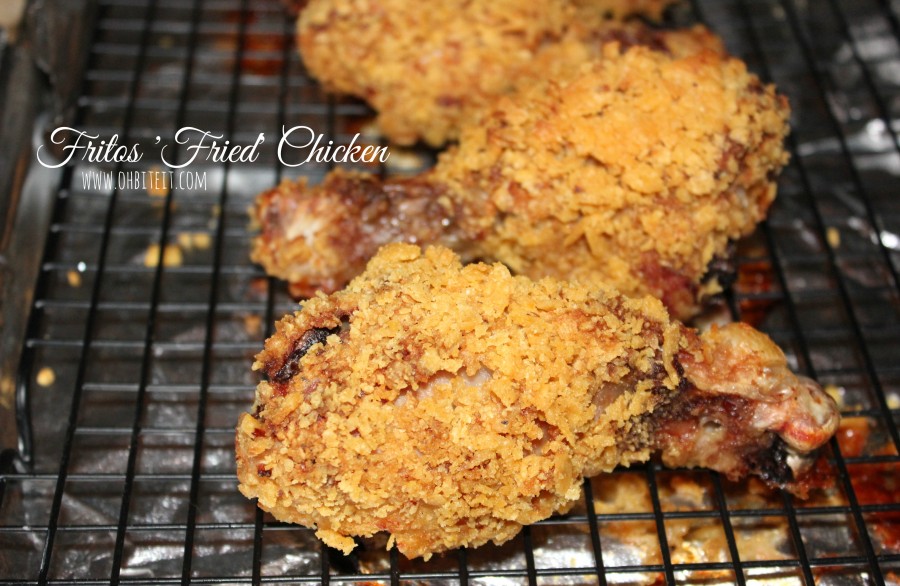 I just HAD to crush up those toasty, and tempting Fritos and get them onto that chicken asap!  Once the thought entered my head, I had to bring it to life just to shut myself up..lol!  And WOW~  OMG..seriously, I think this is the best un-fried, a.k.a baked chicken I've ever had!  The Fritos give the chicken such a tasty and unique crunch while at the same time, holding in all the juices that make each bite fantastic, 'fried' chicken HEAVEN!
And it couldn't be easier~  make a batch for the big game, or any time you want to jazz up "chicken night"!  🙂
What you'll need:
Chicken..any cuts you like, I used the drumsticks
2 cups crushed Fritos
1 cup milk OR Buttermilk
1 cup flour
3 eggs
salt and pepper to taste
three medium bowls
Directions:
In the first bowl, add the flour
In the second bowl add the milk, eggs and salt & pepper..
In the third bowl add the crushed Fritos…I used a food processor but a zip bag and muscles will work too!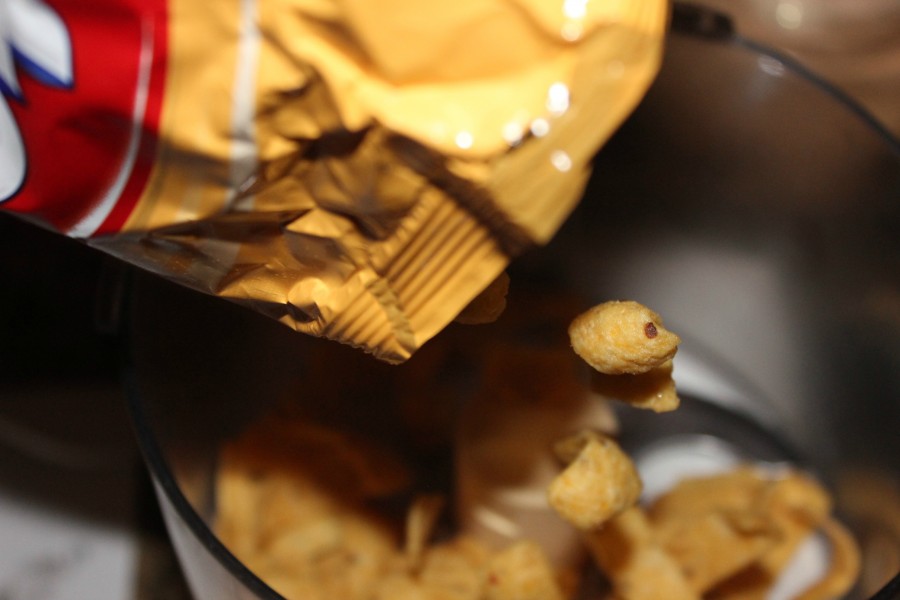 You want a coarse breadcrumb-ish-like consistency..
Dip each piece of the chicken into the flour for a light, even coating…then into the egg mixture…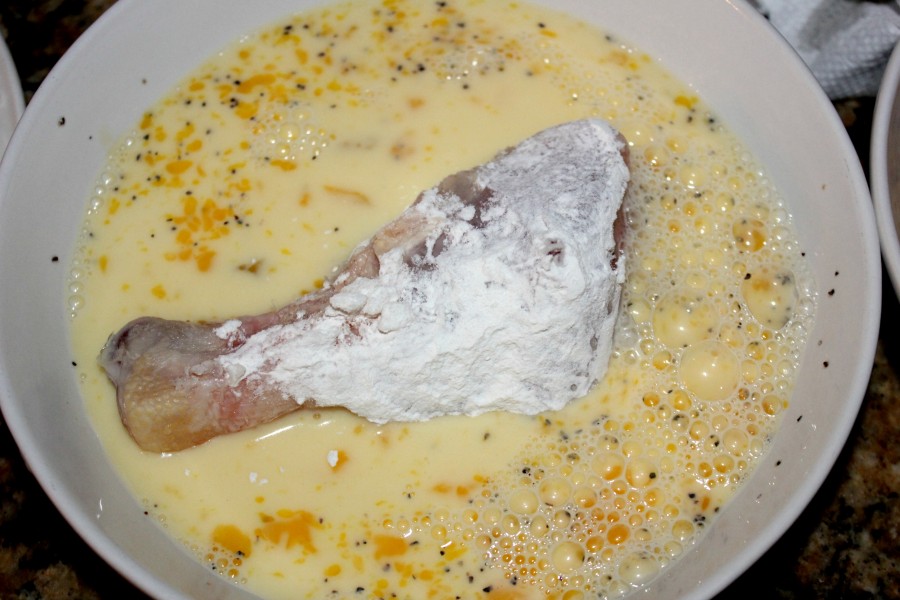 …Aaand into the crushed Fritos..coat the chicken evenly…YUM!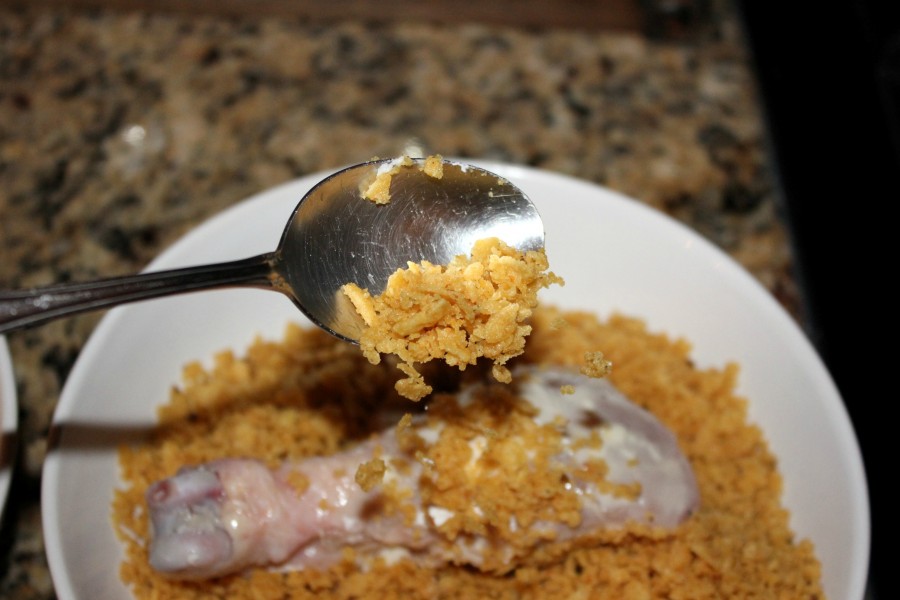 Now place the chicken onto a sheet pan and bake it at 350 degrees for approx. 25 minutes, or until the chicken is cooked through and they're golden… you can turn them over mid-way through if you'd like, for even crunch!
Let them cool…I used a cooling rack to make it faster..lol
Serve them up, and Love IT!  ~Enjoy!  🙂