Unless you're new here, I'm sure you probably had an idea that this one was coming.haha!  Seriously, how could I not?
I'm compelled by a force much bigger than myself..so just go with it!  I'm pretty sure you'll love these crispy, melty, chocolaty babies, so here we go!
Easter and spring can only mean one thing when it comes to candy, at least to me..and that's Cadbury Creme Eggs!  That classic holiday candy that our mom's would hide from the all the kids in fear of a sticky mess and an epic sugar rush lasting well into the night!  🙂
You can't not be happy in the presence of a Cadbury Creme Egg!
~Make a quick and simple batch and see the smiles for yourself!  The crispy, sugary shell hugs that chocolate egg SO nice and tight, as the melty magic happens and that sweet "yolk" makes a show-stoipping appearance..lol!
What you'll need:
Cadbury Creme Eggs..as many as you'd like!
Large Egg Roll Wrappers..one per each egg
a splash of water for sealing the edges
Oil for frying…I used Canola
Powdered Sugar for dusting..optional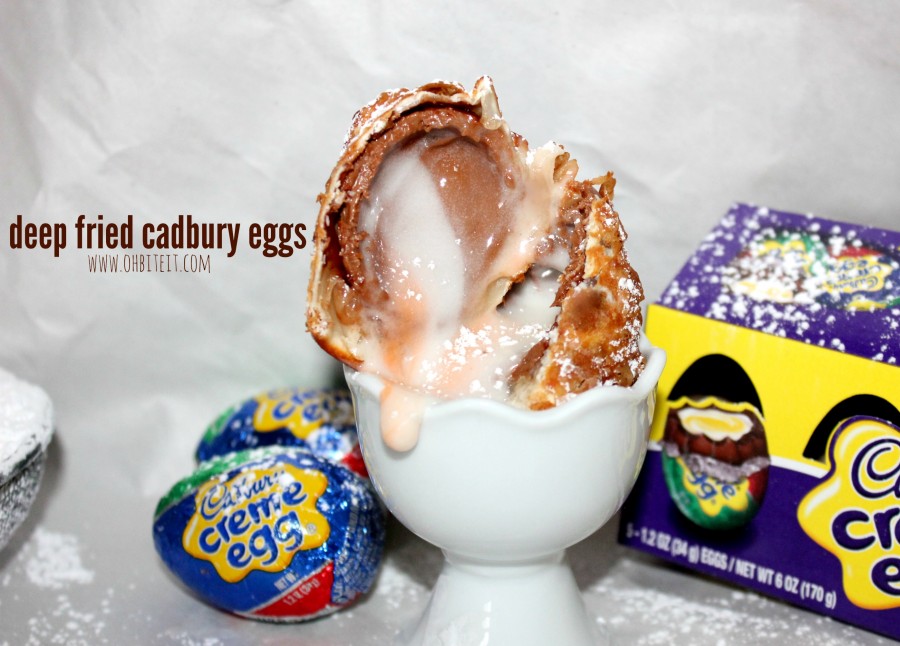 Directions:
Lay out one of the wrappers and place a Cadbury Egg in the center of it.  Brush some water around the edges…
Fold it up, nice a tight so all the seams are sealed!
Fry them up in the hot (350 degree) oil until they're evenly golden on all sides…
Let them cool for a few seconds, and dust them with some powdered sugar!
Dig in!  ~Enjoy!  🙂