Okay~  If you've been to this page even once, you probably know that I am the queen of frying things.  Just search "fried" and you'll see just how crazy I am all the things I've dropped into hot oil!  But now, now…I may have really lost my ever-loving' frying' mind..just in case you thought that had already happened..no, it's happening now..lol!  NO~  I'm not frying real love, I'm frying my chocolaty version of love, after all..when I see those heart-shaped chocolates..I'm in LOVE!
~SOoo..now I'm frying that 'love' so that I can love it even more..haha!
The day of love is upon us and I'm SO excited!  Sure, love is nice but let's get real..it's all about the chocolate!  I saw these pretty, little lovely heart shaped chocolates, looking all sweet & innocent.. and all I could think about was wrapping them in dough and frying them to a golden crisp..is that wrong? ..haha!
Well, if it's wrong I don't wanna be right!  I kept them cute, I kept them charming..but now they're also incredibly unique and delicious!  Just think of them as little, melty, chocolate doughnuts of love!  Each warm, sugary bite of buttery fried dough, melts in your mouth with bursts of melty chocolate running out and filling you with a love like you've never known..haha!  Your lips will love them, and everyone you share them with will instantly love you too!
Share a batch of these deep fried love bites and taste the happiness!
What you'll need for 7 deep fried love bites:  (double accordingly for more love!)
1 container of Pillsbury Seamless Crescent Dough Sheet..or you can use regular crescents and seal the edges together.
1″ heart shaped chocolates..your fave brand!
1 Egg..for egg wash (an egg beaten with a splash of water)
A 2″ heart shaped cookie cutter
Powdered Sugar, fun Valentine sprinkles..for pretty!
Oil for frying..I used Canola
Directions:
Roll out the dough to even it out..a dash of flour will help!
Cut out 14 heart shapes…
Brush the edge of one heart with some of the egg wash…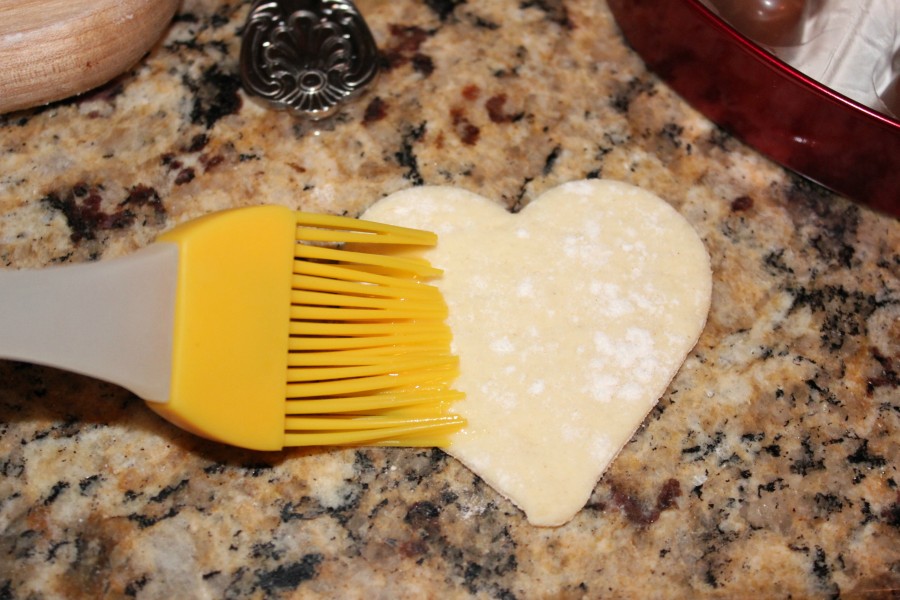 Place one chocolate in the center of the heart..
Top it with another doughy heart and use a fork to seal the edges..
Drop them one at a time into the hot (350 degree) oil…
Fry them until they're evenly golden on both sides, this goes very quickly!
Let them drain and cool on some paper towel…
Sprinkle them with some powdered sugar and pretty sprinkles…
Serve them warm, all oozy and gooey and amazing…
Taste the LOVE!  ~Enjoy! 🙂