This classic recipe is one of a kind, and I can't figure out why I've never made it before.  But wow~  it was so worth the wait!
AND you just know, I HAD to jazz it  up an itty bitty smidgen, because well..it's me.  So all  I did was sparkle up the crust as I would the rim of a nice, cold glass of Lemonade..with some Lemony zested sparkle sugar.  It not only made this pie gorgeous, but it added a surprisingly delicious pop of extra flavor!
Cool, creamy, sweet, and so refreshing, this pie will definitely cool you down on the hottest of summer days, or warm your heart on the chilliest of winter days!
I highly suggest it, and you'll laugh out loud when you see just how easy it is..I think making a fresh glass of Lemonade might actually be more difficult..haha!  🙂
What you'll need: 
1 pillsbury refrigerated  pie crust…or you can make your own
1-14 oz. can of sweetened condensed milk
1-12 oz. can of frozen pink lemonade concentrate..semi frozen!!
1-16 oz. container of cool whip..defrosted
1/2 cup of sanding/sparkle sugar in white with the zest of one lemon..optional!
a 9″ pie plate
Directions:
First you will need to blind bake the crust, I do this with some designated beans and a piece of parchment paper.  Place the crust into the pie plate, cover the bottom of the crust with the parchment paper, and then enough dry beans to cover the bottom.  Bake it at 350 degrees for approx. 12 minutes, or just until the crust is fully cooked.  
I DID THIS OPTIONAL STEP BEFORE blind baking the crust:
Zest one lemon into some decorative sugar, mix it up…
Then gently press it onto the entire edge of the pie crust, it's just so pretty and actually adds a great flavor, but not necessary for a great pie!
In a large bowl combine the sweetened condensed milk with the cool whip, and with a large spoon, gently mix it up.  Now fold in the pink lemonade concentrate…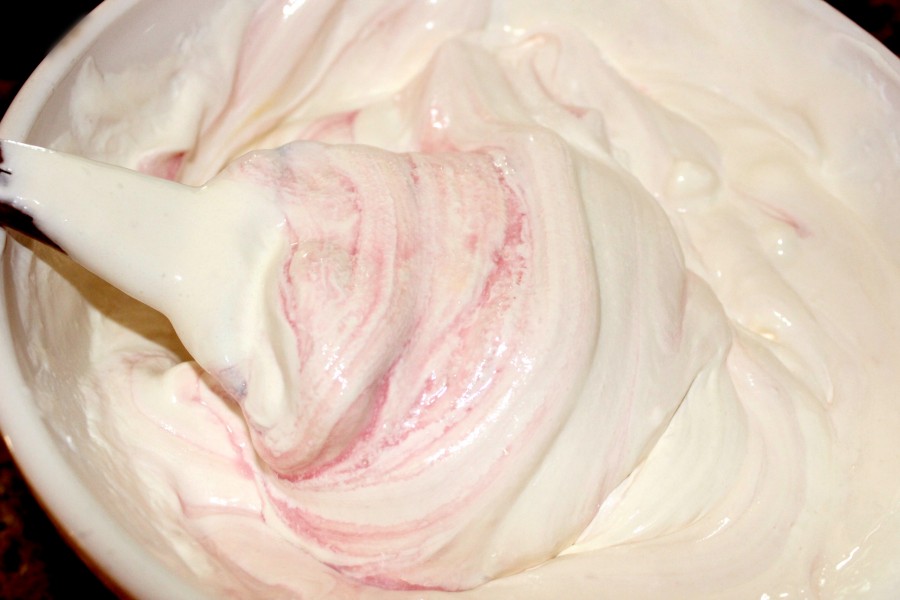 Pour it into your pie shell…I like to keep a few pink swirls throughout the pie, but that's just me…lol  Also~ fill that pie shell as high as you can without it spilling over..it makes for a prettier finished product!
Now into the freezer for 4 hours to overnight.
Let the pie sit for a few minutes before slicing it with a warm knife.  (Dip your knife into some warm water and them wipe it off…MAGIC)
Serve it up on a super hot day for the ultimate, tastiest cool down EVER…
Be sure to share with family and friends..they get hot too.!  🙂
And do NOT forget about your hot little self either…you did all the work!
Dig in!  ~Enjoy! 🙂