I know this recipe might sound strange, but..what else  is new around here..right..haha?!  I simply started wondering why we really never see very many (if any) savory cookies around, do we?!  I mean..maybe there's a reason for that..lol, but maybe, just maybe we can change it!  And what better way to change it than with a single serving, hold-in-your-hand, just for you, two-bite, entire Chicken Enchilada?!!
That's right..I'm talking about appetizers on steroids, mexican food madness..everything we've ever been taught about enchiladas turned completely upside down and minimized in the biggest way ever!  I completely cookie-fied everything we know and love about a giant, hot dish of enchiladas..making them easy to serve, easy to eat..and most of all..easy to LOVE!
Goodbye forks, goodbye embarrassingly large portions that scream you have no self control, and are pretty much crying for help…haha!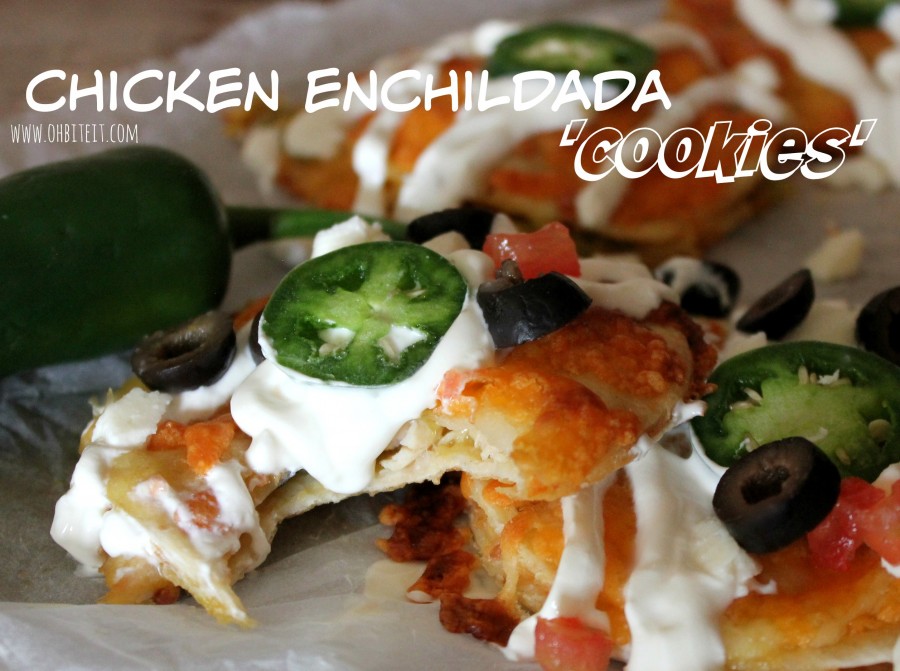 Now you can indulge in peace..I mean it's only a few "cookies" right?  Not only is the WOW factor incredible but the flavors are to die for!  Each Enchilada Cookie has its very own toast and cheesy top and bottom that are lovingly 'glued' together by that succulent chicken enchilada filling that we all go bonkers for!  Toped with some Supremo Mexican Crema and crumbled cheeses, a few garnishes to top them off..and BOOM~  a savory cookie masterpiece is born!
~Make a huge batch of these 'cookies' ..you will need them!
What you'll need for a dozen 'cookies' (double accordingly for more):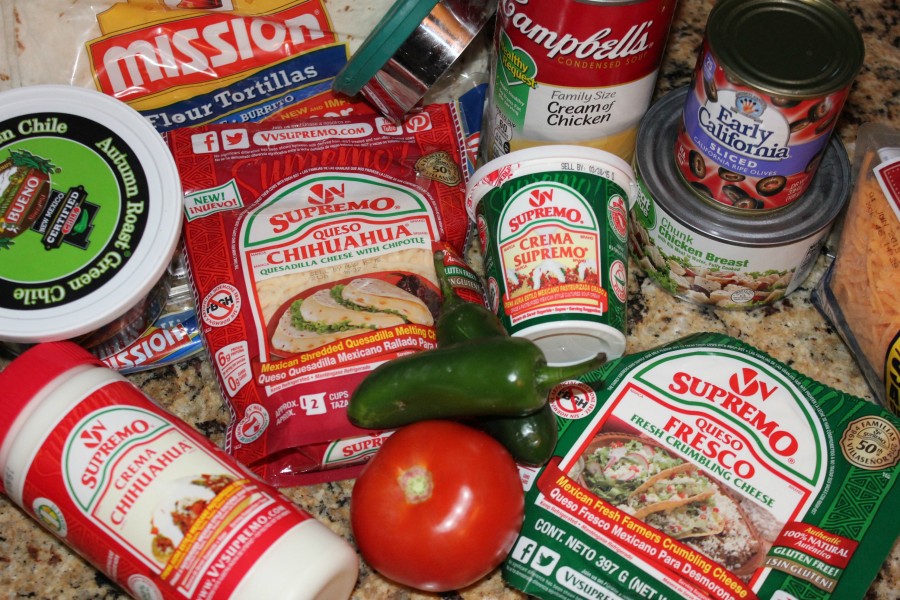 A 3″ round cookie cutter
4-12″ flour tortillas
1 cup cooked chicken breast..I used canned/drained
1 cup chopped green chile
1 cup (1 can) cream of chicken soup..NO water added!
1 cup shredded mexican cheese
1/2 cup shredded cheddar
1 egg
salt and pepper..to taste
Sour cream and any other enchilada toppings you like
Directions:
Drain the chicken and the green chile of all it's liquid (if it's store bought)
In a large bowl, combine the chicken, chile, egg, soup, mexican cheese, and salt and pepper, gently mix until all blended!  (RESERVE THE SHREDDED CHEDDAR FOR THE TOPPING)
Spread an even, BUT THIN amount of the chicken onto one of the tortillas and top it with another tortilla.  Take the filling all the way to the edges, so each cookie has filling in it!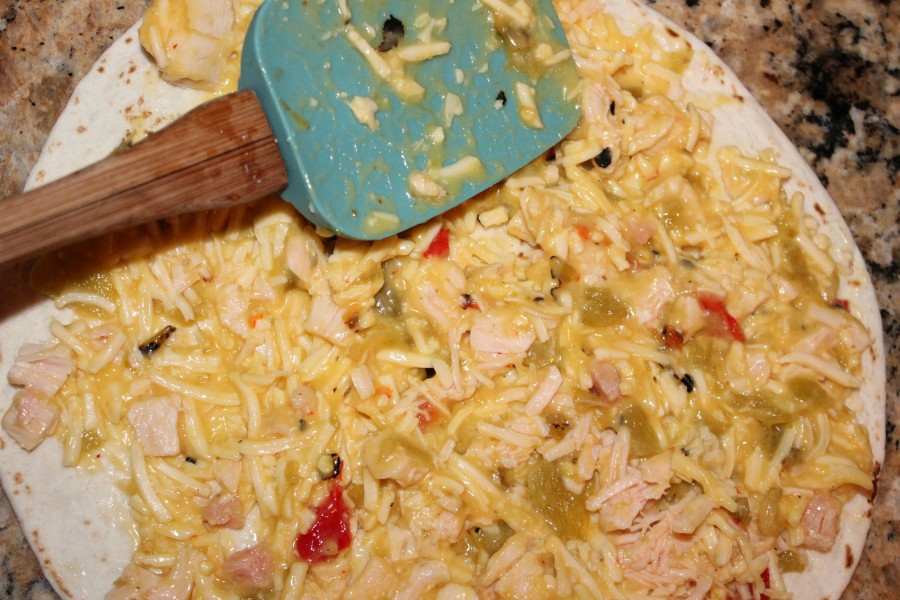 Now, cut out the cookies, as best as you can to get the most out of each tortilla…
Place the cookies onto a parchment lined sheet pan and top them with the shredded cheddar, and any other cheese you might like…
..bake them at 350 degrees for approx. 15 minutes.  Feel free to broil them for a few minutes to really crisp up the cookies and get an incredible golden, cheesy cookie…
Let them cool just a bit before adding on any sour cream and toppings…
Then you can top away..go nuts with the toppings…
Notice the crowd that's gathered around you like a pack of wild animals..lol
Hurry up and get rid of as many as you can, so you don't eat all of them…But DO grab at least a few for you!  ~Enjoy! 🙂