YES..It's real..a burrito filled with uhhmmm…chili cheese fries!  Why not right?  I mean, it can't be bad, it has to be good, and it WAS!  In my defense I really just don't like to waste food, and I had some tortillas that were just begging me to fill them up so they wouldn't just get tossed…lol!
That's what I did, I filled them UP with only the best snack ever and called it a day!  They were a HUGE hit, and I'll be making them again soon!  Make a batch of these for the game, movie marathon..or any regular old day, and you will be the winner at your house for sure!
What you'll need:
Tortillas..one per burrito
Fries..I used frozen (defrosted).  about 5-10 fries per burrito
1/4 cup shredded cheddar..per burrito
Chile, about 1/2 cup per burrito..I used Hormel cuz..YUM!
Oil for frying..I used Canola
Directions:
Lay out a tortilla and fill it with some fries, chili and cheese..don't over fill them..RESIST that urge!  🙂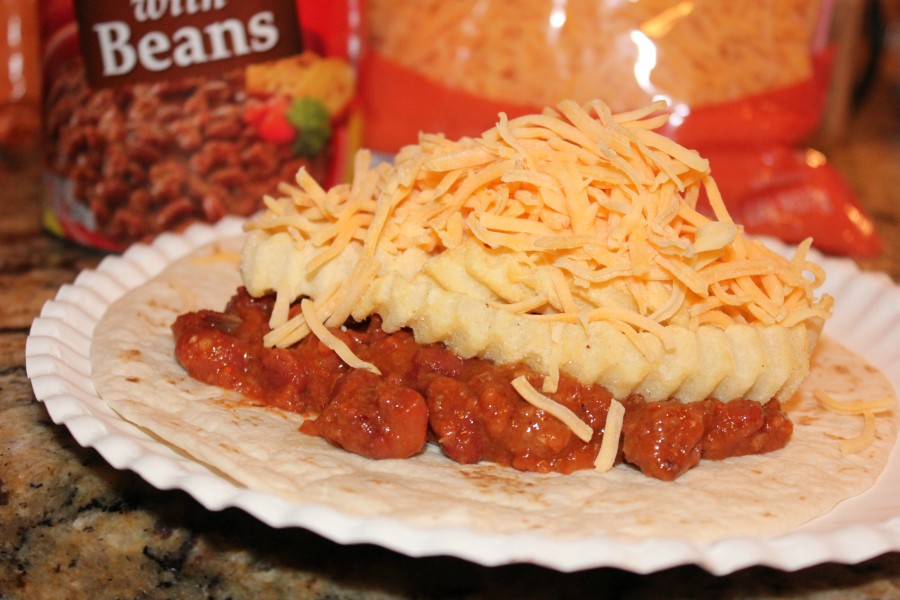 Now fry them in about 2″ of oil..starting with the seam side down, until they're golden on all sides…
Dig in while they're nice and warm!  ~Enjoy! 🙂