Well..isn't cake such a popular thing right now?!  We've got sweet cake, savory cake, ugly cake, and wrecked cake…so clearly, we were in desperate need of a Lasagna Cake..right?  ..RIGHT!  🙂
I mean, anyone who loves Lasagna can totally see the Cake void that has been just waiting to be filled by a super cheesy, super unique and super delicious Lasagna Cake!  I felt obligated to bring it to life, and  here we are!
I had the incredible cheesy opportunity to create a dish with one of the BEST cheese brands in the industry~  Formaggio's!  Formaggio's has been around forEVER and knows what top quality cheese is all about!
Formaggio Cheese has a variety of fresh mozzarella cheese from the original, marinated, string and even smoked. They also have hand rolled varieties that include meat such as pepperoni, prosciutto and soppressata.
Anthony Mongiello continues his family's tradition; a dedication to innovation. In 1925, his grandfather, Lorenzo Mongiello established a specialty canning corporation for ricotta cheese. Lorenzo designed these metal tapered cans and built machinery to produce them. Lorenzo's son, Angelo Mongiello Sr. continued with his father's industrial creativity.
After watching how workers painfully molded mozzarella, with their bare hands in boiling hot water, he invented the first automated mozzarella cheese making machine. Angelo subsequently earned over a dozen patents on industry related items, as well as custom built equipment that we at Formaggio still use today. In the book "The History of Italian Cheese in America", published in the early 1950's, Angelo Sr. is listed as inventor of the first mozzarella making machine in the United States.
Anthony would accompany his father, Angelo, to a product-pitching meeting at the Polly-O offices where he saw his father introduce the incredibly successful Mozzarella Cheese Snack Stick, or as we know it today, the Polly-O String Cheese stick and its many copies. This experience set Anthony on the path of product innovation and furthered the family's tradition of food industry innovation. With Anthony's own revolutionary food invention, the now iconic Stuffed Crust Pizza, the Mongiello name is undeniably synonymous with Italian Cheese.
With tireless dedication and imagination, the possibilities for specialty cheese products have been and will continue to be endless. Taking the Fresh Mozzarella cheese category from 5 items to 65 items and creating an entire specialty cheese category in the grocery store along the way is merely a sign of more to come and a nod to the excellence in quality. The Formaggio difference is the Flavor, Innovation and Quality that goes into every product.
Today, Anthony Mongiello and his team continue to put pride into every Formaggio product for your enjoyment. "We invite you to become a part of our Formaggio Family".  Check out Formaggio's Facebook page!
What you'll need:
8″ spring form pan..sprayed with non-stick spray
Lasagna noodles
SAUCE:
1 lb. Ground beef cooked with your fave Sauce until thick!  (Meat is optional, of course)
FILLING:
32 oz. whole or part skim Ricotta Cheese
1 cup shredded Mozzarella
2 eggs
1/2 cup basil..chopped
TOPPING:
1 lb. Formaggio's fresh mozzarella
Directions:
Boil up the noodles..as many as you will need to go as high as you'd like!
In a medium bowl make up the filling, by combining the ricotta, shredded mozzarella, basil and eggs, gently mixing until smooth.  You can add any salt and pepper or other seasonings that you'd like now…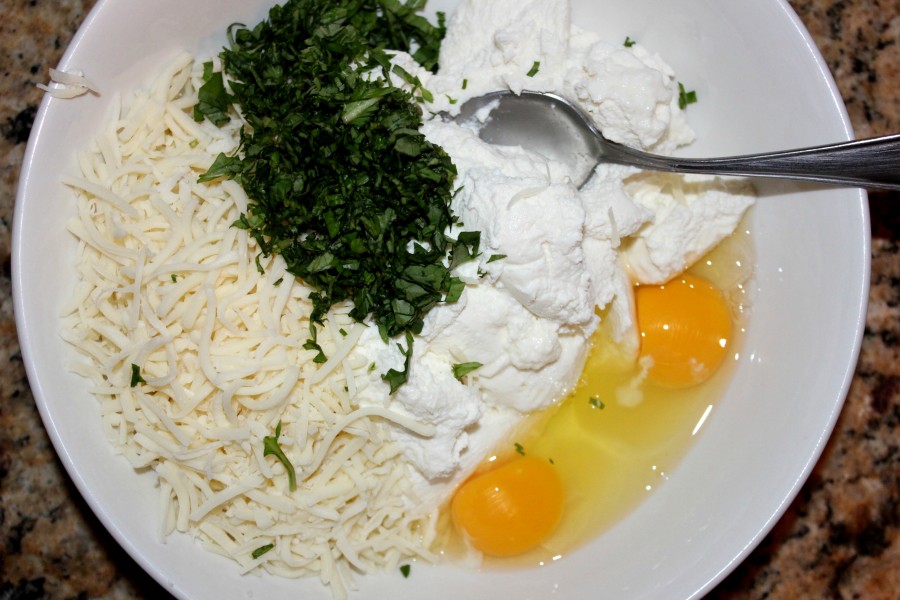 Cook up the beef with the sauce…
Layer the bottom of the pan with some noodles, cut to fit, and add a thin layer of the sauce…
Top that with more cut-to-fit noodles and evenly spread on a thin layer of the Ricotta mixture…
Keep repeating those layers all the way up to the top, ending with a noodle layer.
Cut up the fresh mozzarella, into approx. 1/2″ slices…
Place the cheese in an even layer, onto the top of the noodle layer…
Bake it at 350 degrees, for approx. 45 minutes, or until the top is golden and the cake is hot throughout.
Let it cool so it's only warm before releasing it from the pan…
Then you can slice it up into amazing, cheesy slices of Lasagna…
You can add some extra sauce and cheese to the top..SO impressive, unique and delicious!
Grab a nice slice for YOU!  ~Enjoy! 🙂