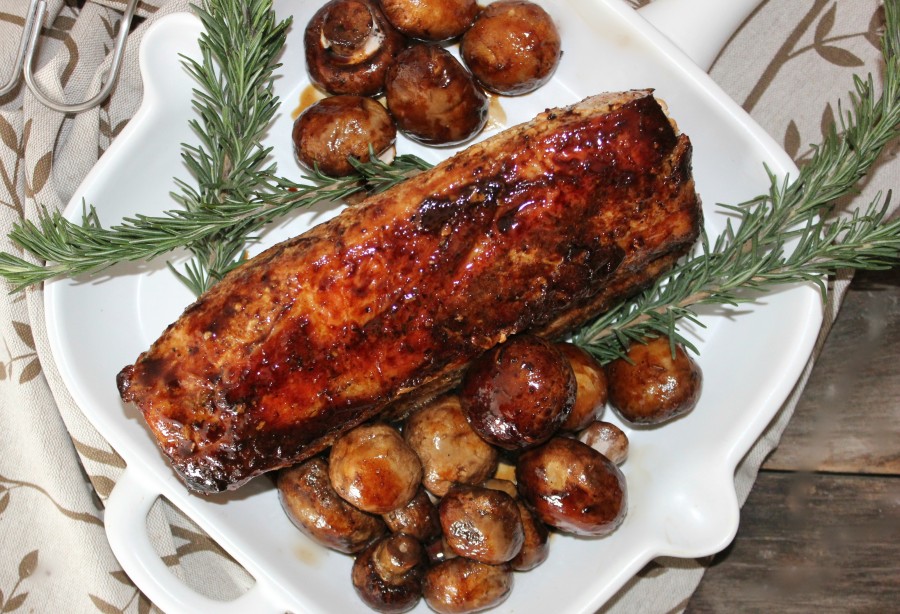 Comfort food seems to take on a whole new meaning in the winter months, when the weather outside is cold, dark and gloomy.  We crave warmth, good food and simplicity.  There really isn't an easier way to satisfy those cravings than with a quick, simple and hearty meal that will hug you from the inside out.  I'm talking about a..one pan, one recipe and (way less than) one hour, from oven to table, kind of recipe.
When I think comfort I think of a Roast.  Something about a flavorful Roast and the smell that it creates when it's cooking makes me feel like home.  A warm, safe and loving home that's filled with good food, friends and family.  I'm convinced the best memories are made sitting around a succulent Roast that's just waiting to be carved and shared.
A quick and simple side of sweet, balsamic mushrooms is the perfect compliment to the succulent Pork.
If I'm going to cook a meat course, a stress-free, meat-cooking experience is a must.  So I reach for the best, and easiest path to get there.  That means that I choose Smithfield Marinated Fresh Pork.  Smithfield does all the work for you, the flavor, the prep work.. and the quality is top notch!  For this recipe I used the Smithfield Garlic & Herb Pork Loin Filet.  Over a pound and a half of lean, marinated, fresh pork that comes packaged all ready for the oven.  All I had to do was literally open it up, and into the oven it went!  In 30 minutes, I was able to serve a scrumptious and nutritious comforting dinner that turned the dinner table silent with chewing happiness!
Smithfield marinated pork products are made from 100% fresh pork that you can feel good about serving to your family.  Ready in 20-30 minutes, it's always easy to prepare and full of flavor.  It's also available in three distinct cuts, tenderloin, loin filet, and sirloin..to suit every cooking style and recipe.  There's not a more delicious and wholesome way to warm up that winter comfort meal than with such a tasty and quality variety of meats.
What you'll need:
1 Smithfield Marinated Garlic & Herb Pork Loin Filet
1 lb. of Mushrooms
1/4 cup Balsamic Vinegar
2 tbsp. Homey
3 Rosemary Sprigs
Directions:
Place the Pork Loin onto a shallow, oven-safe pan (I used Cast Iron)..and pour the marinade juices all over the pork.  Add a Rosemary sprig if you;d like to the top, but keep in mind it ail burn, so keep an eye on it.
Roast it uncovered in a 425 degree oven for 20 minutes per pound.
When it's fully cooked and reached an internal temperature of    ..take it out of the oven, place it onto a clean plate (reserving the pan and juices) and let it rest.
While it's resting, make the Mushrooms:
Into the pan from the Pork, add the balsamic, honey and mushrooms.  Cook them over medium heat on the stove top until the glaze thickens up and the mushrooms have a nice, golden color.  Add some Rosemary to the mushrooms, if you'd like to tie the flavors together~
Now that the meat has rested, slice it up.  I like my roast sliced in approx. 1″ slices…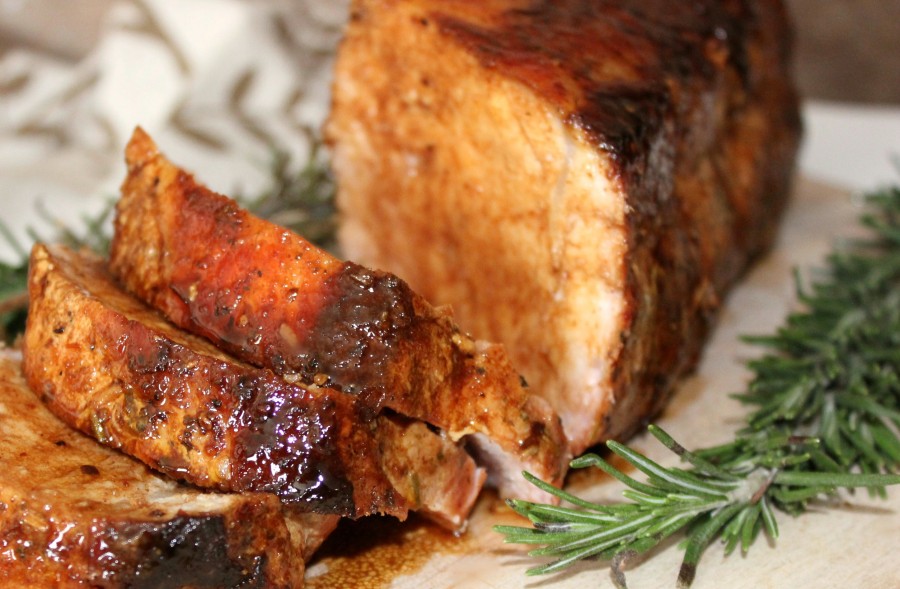 Pour any remaining juices over the sliced roast and mushrooms, and now you're ready to serve it UP!  And don't forget some of those sticky-sweet mushrooms!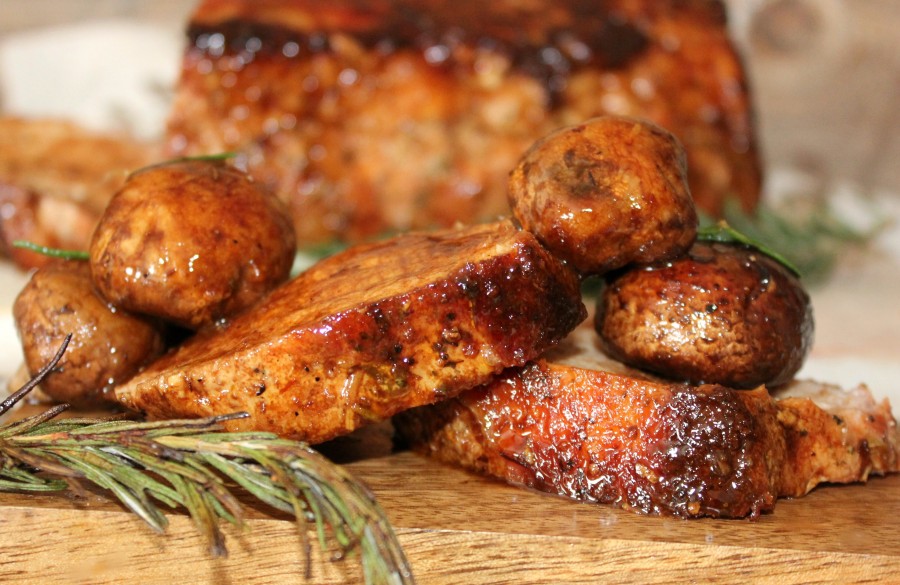 This makes such an incredible, comforting winter warm-up meal that will fill your heart as well as your belly!  ~Enjoy! 🙂
 "This is a post sponsored by Smithfield, however all opinions and content are my own."