This is one of those rare moments when you're looking at a recipe on this page that didn't originally come from my own head…well, it did..but it came out of someone else's head first..haha!  And even though I was slow in making this a reality..it's totally ok!  Why?  Because THIS treat is beyond amazing..and So worth the wait!
The sweet and salty combo of flavors, the crunchy and gooey love that's going on in here is to die for!  I literally thought about eating the entire pan of these, but thankfully I had to run out the door or I'd still be at home in my closet looking for pants that fit!  The Ruffles compliment the marshmallows in a way that can only be experienced by tasting them for yourself..really!
Trust me~  GO make a batch of these, it only takes minutes!
What you'll need: 
a 9×13 (or 9×9 pan, for thicker Krispie treats) lined with parchment paper
3 tbsp. butter
4 1/2 cups mini marshmallows OR 40 regular sized..a generous reader sent me these unique and yummy marshmallows!
1 tsp. vanilla
6 cups crushed Ruffles Chips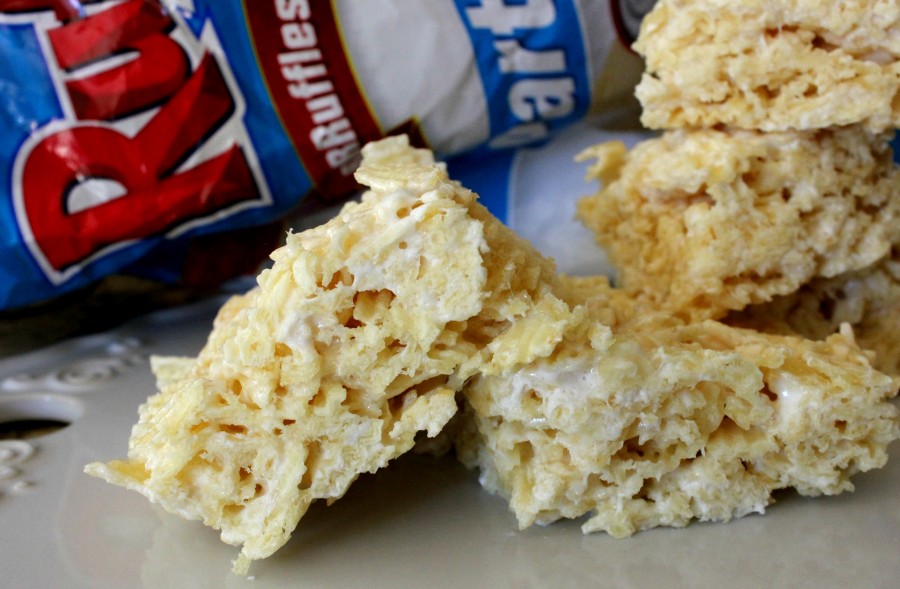 Directions:
Melt butter in large pot over medium low heat. Stir in marshmallows and melt completely. Remove from heat and add in vanilla and crushed chips. Coat completely in marshmallows and pour into greased 9×9 dish. Press to flatten using greased fingers and cool to room temperature. Cut into squares and serve.
~Enjoy!  🙂
~inspired by lauren's latest! < love her!