**WARNING**
These party-filled puffed poppers pack a totally tipsy POW!  You WILL taste (and feel) the tequila in these babies!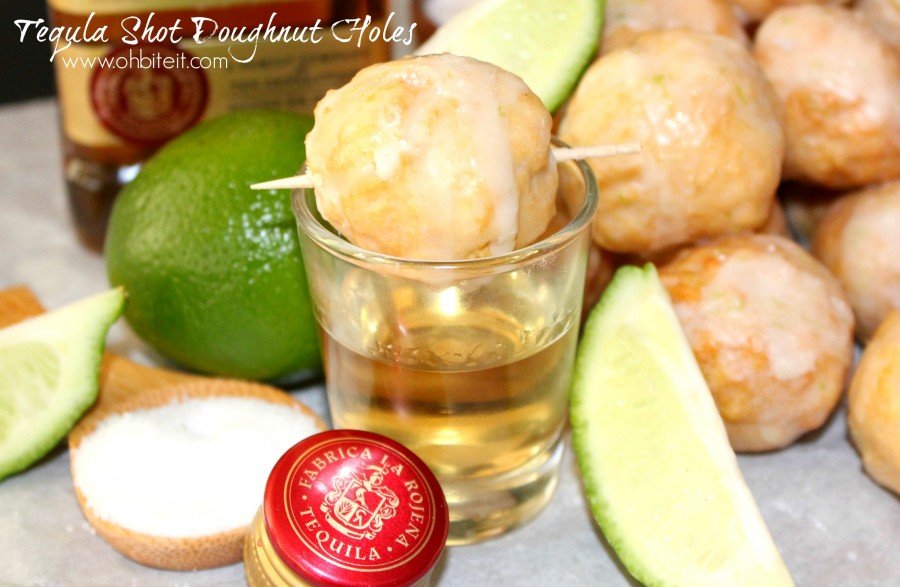 Unlike most cooked/fried alcohol, this tequila stays put.  You will feel every tipsy-tasty, succulent, melt-in-your-mouth morsel!  I'm not sure why, but just trust me.  On that note, wow..are these little beautiful bites EVER delicious!!
Each cakey..yet light, moist and OH-SOOO flavorful Tequila drenched filled doughnut hole is double glazed in a sweet & zesty lime juice cascade..and then sprinkled with a light dusting of salt, just to drive home that authentic Tequila shot experience (you know.. in case the doughnut buzz wasn't good enough) 🙂
As a bonus,  they're yeast free..and you know what that means..yep~  they're perfect for lazy people EASY!
Make a couple dozen of these and get that party started!
What you'll need for 24 Tequila Shot Doughnut Holes:
The Doughnuts:
1 cup tequila
1 large egg
2 cups all-purpose flour
2 Tablespoons sugar
4 1/2 teaspoons baking powder
1/2 teaspoon salt
1/4 cup (1/2 stick) unsalted butter, melted
Oil for frying~  I used Canola
1 tsp. Kosher/Sea Salt for sprinkling
The Glaze:
1 1/2 cups confectioners' sugar
3 to 4 tablespoons fresh squeezed lime juice PLUS the zest of those limes
Directions:
Make the glaze:
Sift the confectioners' sugar into a medium bowl. Slowly stir in 3 tablespoons of freshly squeezed lime juice, and the zest of the lemons until the mixture is smooth. If the glaze isn't thin enough, stir in 1 additional tablespoon of juice. Cover the glaze with plastic wrap and set it aside while you make the doughnut holes.
Make the doughnut holes
Add the canola oil (about 2-3″) to a large, heavy-bottomed pot. (There should be at least 2 inches of oil in the pot and at least 2 inches between the top of the oil and the top of the pot.)
In a small bowl, whisk together the tequila, cooled melted butter, egg, flour, sugar, baking powder and salt. Stir in the mixture, mixing until a soft dough forms…
Once the oil has reached 350ºF, drop about 1 tablespoon scoops of dough into the oil, with damp hands, you can successfully roll them into nice balls!  Be careful not to overcrowd the pan.
Fry the doughnut holes, flipping them in the oil, for about 2 minutes or until they're golden brown…
Using a slotted spoon, transfer the doughnut holes to a rack-lined baking sheet to cool…
One by one, coat the doughnut holes in the glaze and transfer them to the rack to allow the excess glaze to drip off…
Let them set up…
…and glaze them yet again, for the most maximum intense flavor EVER!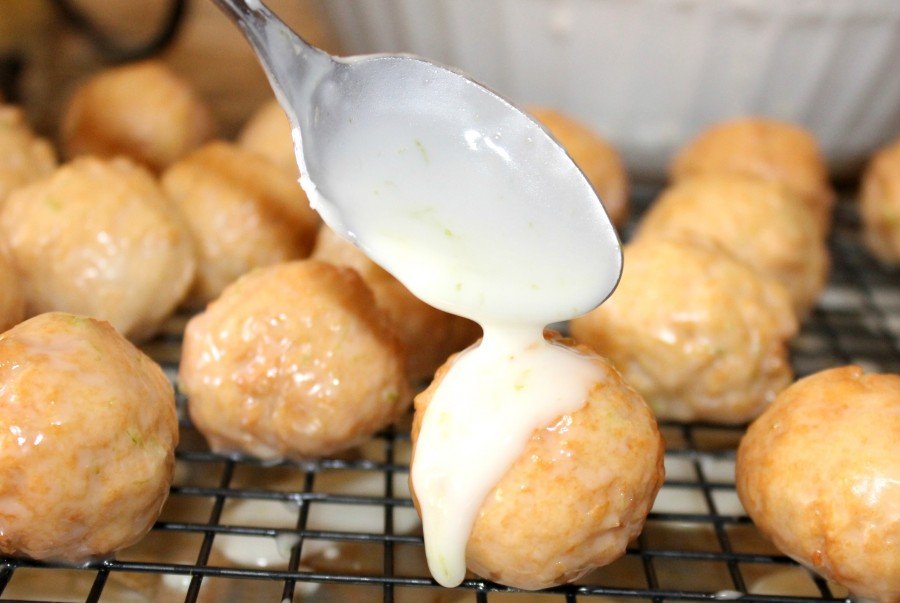 Let them set up again~ the patience required will nearly kill you!  Actually, if you can..sneak one now, all warm and sticky – like! 🙂
While they're wet with double glaze..sprinkle them lightly with salt.  This keeps them authentically "Tequila Shot" and makes them TO. DIE. FOR!
NOW..you can act like you've never eaten five one of these in your life and serve them up..lol
Act like they're new to you and scream "WOW..these are amazing"..for effect.
You'll just have to eat more so you don't give yourself away, hope you can do it..lol!  ~Enjoy! 🙂