You know, I just  love-LUh-HUV my booze infused food/treats, and the poor Apple Fritter has been left out of the tipsy treat game for far too long!  Well..their day has finally arrived, and it's spectacular!  This one was worth the wait!
Now you can enjoy your Apple Fritters for breakfast OR happy hour and it's completely socially acceptable!  These aren't your Dad's "sunday morning-newspaper reading" Apple Fritters..OH Nooo!
These babies are literally filled with crisp, refreshing Apple Ale and studded with Lucly Leaf Apple Pie Filling, just to hold the whole thing together in the most delicious way EVER!
Moist, tender and overflowing with a one-of-a-kind balance of fritter flavors like you've never known, these will fast become your very favorite fritter.  The addition of the Lucky Leaf Apple Pie Filling is what takes these over the top.  Every bite is not only booze filled, but they're so moist, with a sweet surprise pop of apple pie filling with every bite. 🙂
The Apple Ale glaze takes them over the top, as each warm Fritter absorbs the glaze and begs for more.  Yep~  these are double glazed!  And as a bonus..these require NO yeast, and we know what that means >>  YEP~ NO work for you..lol!
~So go make a quick, simple batch of these babies and experience what a fun, fabulous fritter really tastes like!
And check out Lucky Leaf on Facebook..on Twitter and on Pinterest!
What you'll need for 1/2 a dozen booze filled Fritters (double accordingly for more):
1 1/2 cups of Apple Ale..divided~ reserve some of the 1/2 cup as needed, for the glaze!  Use 1 cup for the fritters!
1 cup ap flour
2 tbsp. granulated sugar
4 1/2 tsp. baking powder
1/2 tsp. salt
1 large egg
1/2 cup of Apple Pie Filling..chopped
oil for frying ~ I used Canola
The "Apple Ale GLAZE"
1 1/2 cups powdered sugar
1 tbsp. ground cinnamon
3-4 tbsp. of the reserved Apple Ale (this will vary depending on consistency)  ..mix slowly until it's thick.
Directions:
In a large bowl combine the flour, granulated sugar, baking powder, salt, Apple Ale and egg.  Mix until it's a semi-thick dough…
Chop up the apple pie filling into a large dice…
Fold the apple pie filling into the fritter dough until it's evenly incorporated…
Heat up about 3″ of oil to 350 degrees (making sure there's enough room inside your fry pot for the oil to expand as you fry)..  While it's heating up, prepare the Apple Ale Glaze >
In a medium bowl combine the powdered sugar, cinnamon, and Apple Ale..stir until it's a thickness that you want.  ..set aside!
When the oil is ready, scoop approx. 2 tbsp. or so, of the fritter dough and gently drop it into the oil one at a time.  Fry them up until they're golden on all sides, and cooked through.
They will continue cooking as they cool, so don't over fry them.  You want a moist and tender center…
Let them cool completely before glazing them…
NOW~  you can glaze them!!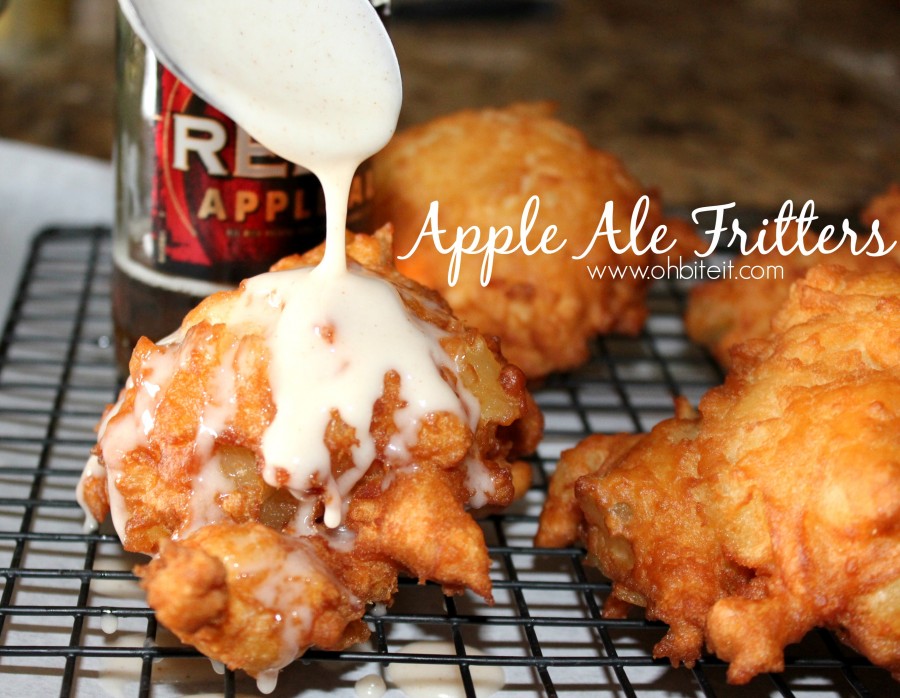 Then, let the glaze set up…
You can glaze them again if you'd like…you should do it, it makes them super awesome!
Serve them freshly glazed… (and you can zap them for a second or two for a super scrumptious, warm fritter…omg!)
AND share them with only those you love LOTS!
Like ..um..YOU!
~Enjoy!  🙂