Sometimes you just need a sweet, stuffed doughnut to make you happy!  There's no shame in that, it's a human need right?!  The shame only comes when that one doughnut turns into 4 and the "stuffing" becomes scoops of only the BEST Cannoli filling you can imagine!!
..and even then, it's not THAT shameful..lol!  🙂
~just go with it!
There's something about a warm, flaky, buttery doughnut filled with that creamy Cannoli goodness that puts a smile on your face.  These are unique, and one of the best doughnuts I've ever had!  The entire batch was gone almost before I could fill the last one.  I may or may not have been the only one in the house..haha.  😉
Whip these up and be prepared with the recipe, because you will be cornered for it!  🙂
What you'll need:
1 container of Pillsbury Grands Flaky Layers Biscuits (8 count)
A piping bag with wide tip
The Cannoli Filing:
2 cups fresh Ricotta cheese
3/4 cup Powdered Sugar
3 tbsp. (OR SO) of mini semi-sweet chocolate chips
1 tsp. vanilla extract
1 tsp. fresh lemon juice and zest
Oil for frying..I used canola
powdered sugar for topping
Chocolate sauce for topping..optional
The Glaze:
1 cup powdered sugar
a few splashes of cream until thick
Directions:
In a large bowl mix up the Cannoli filling:
Gently stir the Ricotta, lemon juice & zest, vanilla, sugar, and chocolate chips.  Put it into the fridge to stay chilled.
Fry up the biscuits so they turn into doughnuts.  Let them cool completely…
While they're cooling, make the glaze, combine the powdered sugar with the cream and mix until thick.
Now~  fill those babies up with the Cannoli filling.  Don't be shy! 🙂
Top some of them with the glaze, some chocolate sauce and/or extra chocolate chips…
Serve them up to only those you love LOTS.  These people won't be going anywhere soon..lol
Grab at least one for YOU…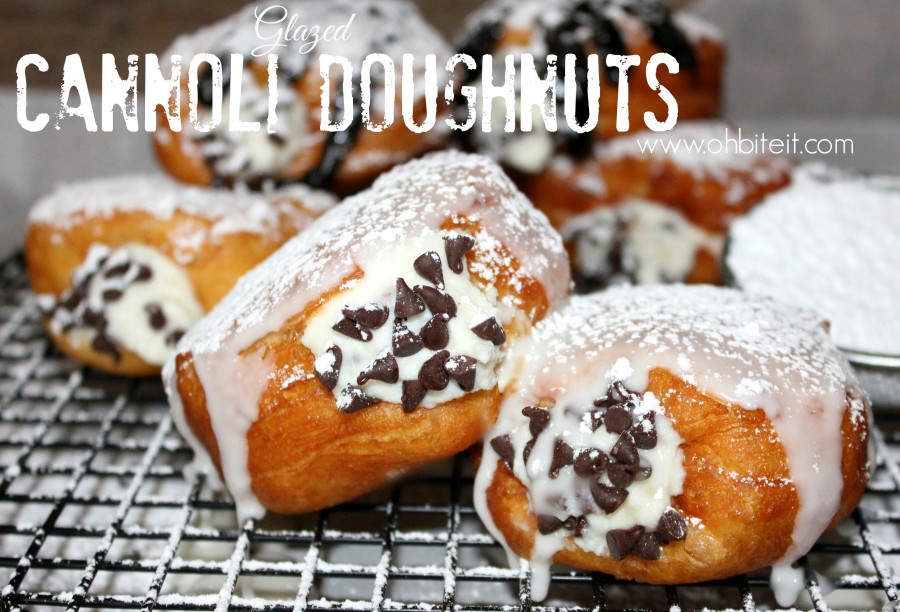 And then maybe another, you deserve it..darn it!  ~Enjoy! 🙂