I'm no baker, but I do love making quick and tasty breads at home.  You can get SO creative and do things your way, and for me..that means EASY! 🙂
This Pizza Pinwheel Bread is the perfect example of impressive meets super simple!  And as a BONUS..it's beyond delicious!  There's just something about a warm, crusty loaf of bread that's totally stuffed with all things Pizza..isn't there??!
This tender, crispy, seasoned crust, is held lovingly together by ooey-gooey cheese, succulent sauce, and spicy pepperoni!  You can fill these bread loaf babies with any of your favorite Pizza toppings and call it a day!
~TV marathon..here you come! 🙂
What you'll need: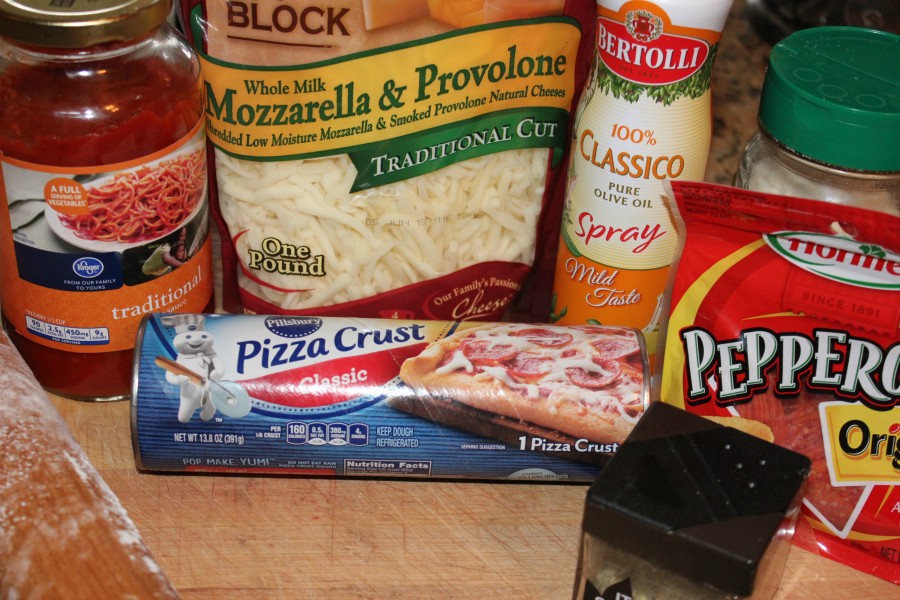 A standard bread loaf pan
One container of Pillsbury classic pizza crust dough
1/2 cup or so of Pizza Sauce
1 cup shredded mozzarella
pepperoni..as much as you like
1 tbsp. oregano or italian seasoning
1/2 cup parmesan
1 tbsp. olive oil, or olive oil spray (a few spritz)
Directions:
Roll out the dough, so it's even in thickness.
Add on the layers of filling…
Roll it up…
And put it into the loaf pan.  Tuck the sides and ends into the pan.
Top it with some olive oil, seasoning..and parmesan…
Bake it at 350 degrees for approx. 30 minutes, or until it's golden and bubbly, and it will smell AHHHMAZING!
Let it cool a bit before you slice it up…
NOW~~  you can slice that baby…
And eat that baby..lol!  ~Enjoy! 🙂