Happy National Pretzel Day everyone!  I know it seems strange to have a day dedicated to the Pretzel, you know..that twisty-toasty treat that's always left behind in the bag of other um..tasty treats..haha?!
Well now the little snack that's always the last to go has its very own day, so take that you yummy chocolate covered cashew chunks, you!
When I was contacted by Crazy Richard's Peanut Butter, I knew from their name alone, that I needed THAT Peanut Butter inside my celebratory Pretzel Pie!  I mean come on.."Crazy Richard's"..you know it HAS to be amazing!  And it is!
Check this out:
"Crazy Richard's Natural Creamy Peanut Butter
Krema & Crazy Richard's Natural Creamy Peanut Butter is made from 100% peanuts. The Smooth and creamy texture of our creamy peanut butter is the product of over 100 years of grinding experience to create a unique grind that eliminates the gritty texture found in other natural peanut butters. With No added salt or sugar, no hydrogenated and palm oils, 8 grams of protein per serving, and a NuVal Score of 71 it is the healthiest natural peanut butter you can Buy!"
And just look at what it can do ~~
This Pie takes everything we know and remember about that classic childhood combo "Fluffernutter"!  That perfect combo of Creamy Peanut Butter with sweet and sticky clouds of Marshmallow Fluff to balance it all out!  We're now 6 years old again!!
This pie couldn't be easier or tastier.  The salty pretzel crust is the perfect bed for that fluffy, creamy and sticky freezer-"baked" Pie.
~Make it, share it, LOVE it!  🙂  And Happy National Pretzel Day!
What you'll need:
an 8″ easy release OR spring form pan
2 cups of pretzels..crushed  PLUS some for the topping
2 eggs (only one is shown)
1 cup of creamy peanut butter
1-8oz. block of cream cheese..softened
8 oz. cool whip
1 cup of marshmallow fluff..PLUS some for the topping
Directions:
Crush up those pretzels…any way you can, I used a food processor.
Add in the eggs until totally blended…
Press the pretzel crust into the bottom of a sprayed cake pan…
Bake the crust at 350 degrees for approx. 10-15 minutes, just until it's golden and firm.  Set aside to cool.
In a large bowl combine the peanut butter and cream cheese until smooth.  Now, fold in the cool whip…
Warm up the Marshmallow Fluff for a few seconds in the microwave just to loosen it up, then pour it onto the crust, spreading it as evenly as possible..this doesn't have to be perfect at all!
Now, top it with that peanut butter mixture…
Into the freezer for a few hours to set up…  The waiting is the hardest part!
Release it from the pan…
Top it with some more of that fluffy fluff…
And a nice sprinkling of crushed Pretzels for that salty crunch…
Now slice it up with a warm knife…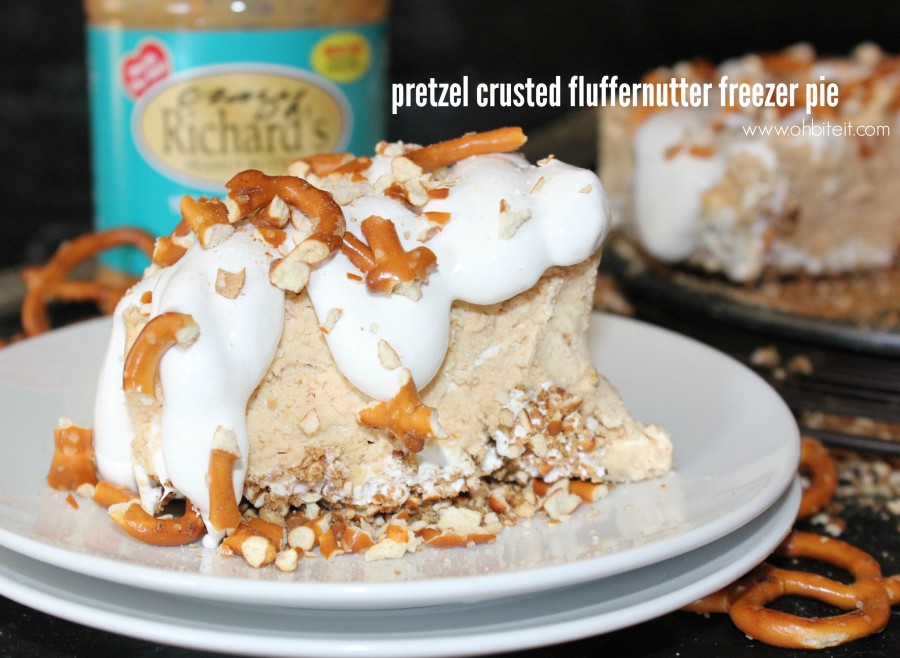 And eat it up with a warm heart..lol  ~Enjoy! 🙂