Sometimes mid-week dinners can become such a burden.  Just the thought of that dreaded evening question of  "what's for dinner?" can send me into a tailspin by noon.  Not only because we live super busy lives that don't leave much room for menu development..lol, but also because it's so difficult to accomplish a simple, healthy and convenient meal, that everyone will love!  …Until now!
I discovered that we don't need to sacrifice time and stress for a quality family dinner.  Gone are those days thanks to Smithfield Foods..a.k.a my new Sous Chef!
I made use of Smithfield's incredible line of marinated Pork Sirloin for this recipe and whipped up a batch of these Pulled Pork Subs with minimal effort and maximum deliciousness.  The already marinated Sirloin with some help from my slow cooker, made this dinner incredible.  The pre-marintated Garlic & Herb flavored Pork slow cooked all day, and I came home to a succulent, tender and SUPER flavorful Pork Sirloin that practically shredded itself..lol.
~It's like all the work was done for me.
Add in some crusty bakery rolls, a melty cheesy top layer, some whimsical, breaded mushrooms on top..and BOOM~  dinner is served!  I now have a new stress free, go-to, weeknight meal that I will be creating again and again!
What you'll need for 4 super-stuffed Subs:
Bakery sub rolls (4)
1 Smithfield Garlic & Herb Pork Sirloin (23.oz.)
1 cup (or so) of shredded Provolone
2 tbsp. Oregano
2 cups of oven baked breaded Mushrooms..optional, not shown.  I used a bag of store bought frozen breaded mushrooms..and defrosted them!
A slow cooker OR you can cook it low and slow in a low oven.
Directions:
Add the Meat into the slow cooker with enough water just to cover the top..set it to whatever setting your life requires, I did mine on med/low for 6 hours.  You can also cook it on a low oven temp. the same way, if you prefer.
Shred the meat gently with a fork…
Fill up your rolls…
Top them with cheese and some Oregano (or any spices you like)…
Bake them on a sheet pan with a sprinkling of spices, at 350 degrees, for approx. 10 minutes..just until the cheese is melted and the Subs are warmed through…
Don't be shy with the cheese…
That way they will do this in the oven..YUM!
You can also top them with some of the breaded mushrooms……and more cheese, for an even bigger WOW factor.  Back into the oven for just a couple of minutes to melt that extra cheese and warm up the mushrooms…
Serve them up nice and warm…
Grab one (or 3) for YOU…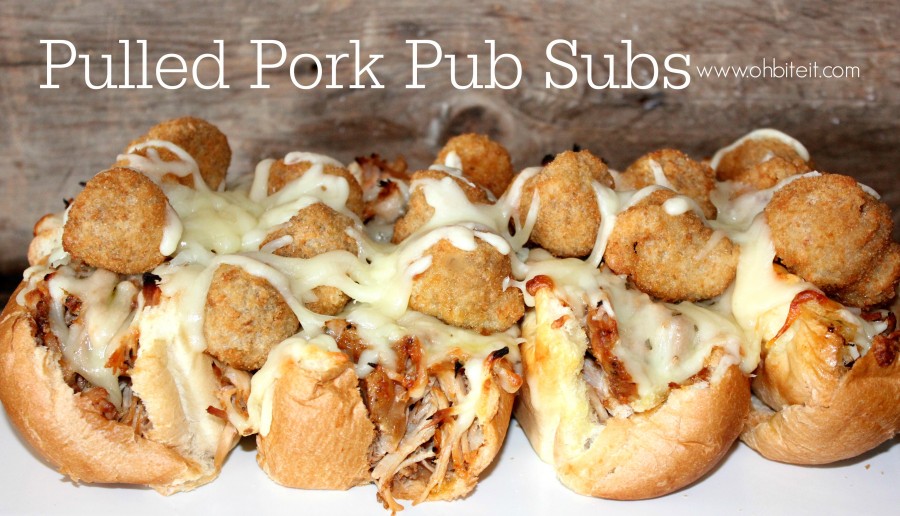 The addition of those breaded mushrooms gives these subs that "Pub" feel…
And dig in!  ~Enjoy! 🙂
Smithfield Marinated Fresh Pork made this delicious and simple meal, super impressive and huge winner!!  All of Smithfield's quality products are:
Slow marinated in delicious seasonings including Peppercorn & Garlic, Teriyaki, Garlic & Herb, Mesquite and Rosemary & Olive Oil.
Made from 100% fresh pork that you can feel good about serving to your family.
Versatile dinner solution perfect for any night; tastes great grilled, roasted, or sautéed.
Ready in as quickly as 20 to 30 minutes, it is always easy to prepare and full of flavor.
Available in three distinct cuts – tenderloin, loin filet, and sirloin – to suit several cooking styles and dishes.
Tender, a great source of protein and pre-marinated to save time in the kitchen.
This is a post sponsored by Smithfield, however all opinions and content are my own.