Sooo..I'm sure you've seen the Samoa Doughnuts floating around by now, and they look amazing!  These babies are simply a smaller, pop-in-your-mouth version of those big and guilt-filled Samoa Doughnuts!  ..BUT, these are so little, they're almost guilt-free..lol!
Each little pop-in-your-mouth morsel of morphed cookie/doughnut heaven are melt in your mouth to die for delicious!
~Make LOTS!   🙂
What you'll need: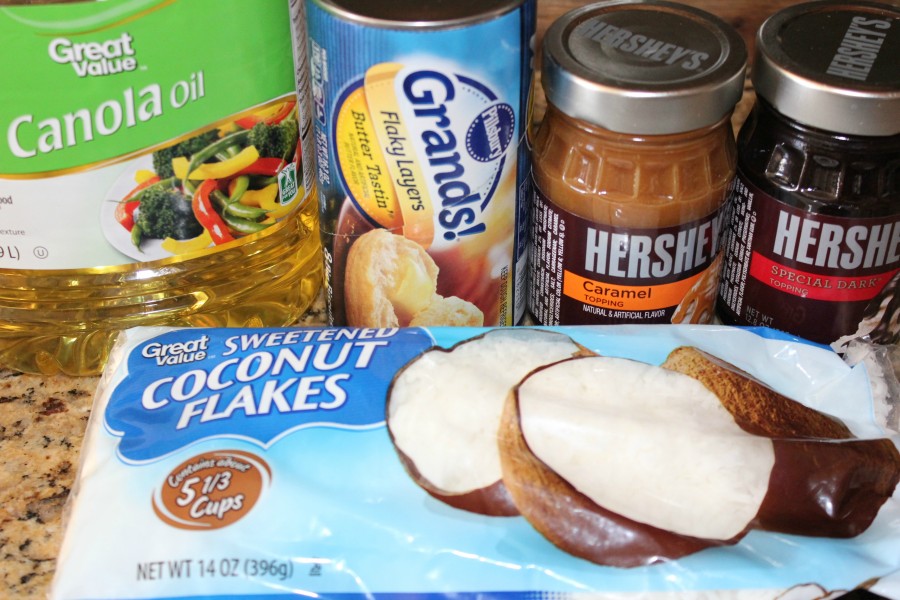 1 container of Pillsbury Grands Flaky Layers Biscuits
1 cup toasted Coconut
1 cup or so of Fudge Topping
1.2 cup of Caramel Topping
Some caramel topping for drizzling
Oil for frying..I used Canola
Directions:
Toast up the coconut on a low heat, and then stir in the caramel topping, making sure to coat the coconut evenly.
Cut out the doughnuts and.or holes from each biscuit.
Fry them up in the hot (350 degree) oil…
Let them cool, and then dip them gently into the fudge, making sure to cover them completely…
Then roll them around in the toasted Coconut…give them a drizzle of caramel sauce, if you'd like…
Let them set up for a few minutes, and start popping them into your mouth!  Say "Mmmm" and grab another one!  ~Enjoy! 🙂