Sometimes it's fun to take a super fancy, usually time consuming meal and turn it into an easy, every day, yet still incredible version of the original!  And that's what I did here!
When I think eggs Benedict, I think of a pinky in the air, napkin on the lap, candle lit, champagne poured experience.  But in reality, ain't nobody got time for that (except for the champagne…we all got time for that!) haha! SO, thanks to Cobblestone Bread Co. for providing top quality bagels that feel and taste like the most snooty of ingredients, I can offer you a five star breakfast with a 1 star amount of effort and stress!
I mean, just look at this beautiful Benedict!  In less than 20 minutes, you can impress even the pickiest of guests and then go about your day.  Between the down-home feel and ease of using delicious bagels and quick no muss-no fuss blender style Hollandaise sauce, you've got yourself a restaurant quality, healthy breakfast that you can feel good about serving to your loved ones!
Cobblestone Bread Co. is unveiling their latest line of breakfast products, an assortment of bagels and English muffins that come in a variety of flavors.  The quality of Cobblestone Bread Co. Original Bagels  allows you to simplify your life without compromising quality and taste!  In fact, this fresh, tender bagel offers the perfectly balanced bite against the rich Hollandaise sauce and salty Canadian bacon!
~These Bagels are the best Benedict bed EVER!
For the Bagels:
Cobblestone Bread Co. Original Bagels
Canadian bacon, 2 slices per bagel
1 poached egg per bagel
1 tsp. butter melted, for brushing the bagels
Chives for garnish (optional)
For the Hollandaise Sauce:
3 egg yolks (room temperature)
3/4 cup butter, melted
1 tsp. Dijon mustard
1 tbsp. fresh lemon juice
Pinch of cayenne pepper (optional)
A blender OR food processor
Directions:
Separate the bagels in half and lay them out onto a sheet pan, brush them with some melted butter…
Top them with 2 slices of Canadian bacon, if your bacon is thick, cut it…one slice should be enough…
Bake them at 350 degrees for approx. 12 minutes or so, just to get some color on the bacon and toast the bagels a bit.
Make the EASY Hollandaise sauce:
In a blender or food processor, add the lemon juice, egg yolks, mustard, melted butter, and cayenne pepper.  Blend until it's become slightly thick.  Set aside…]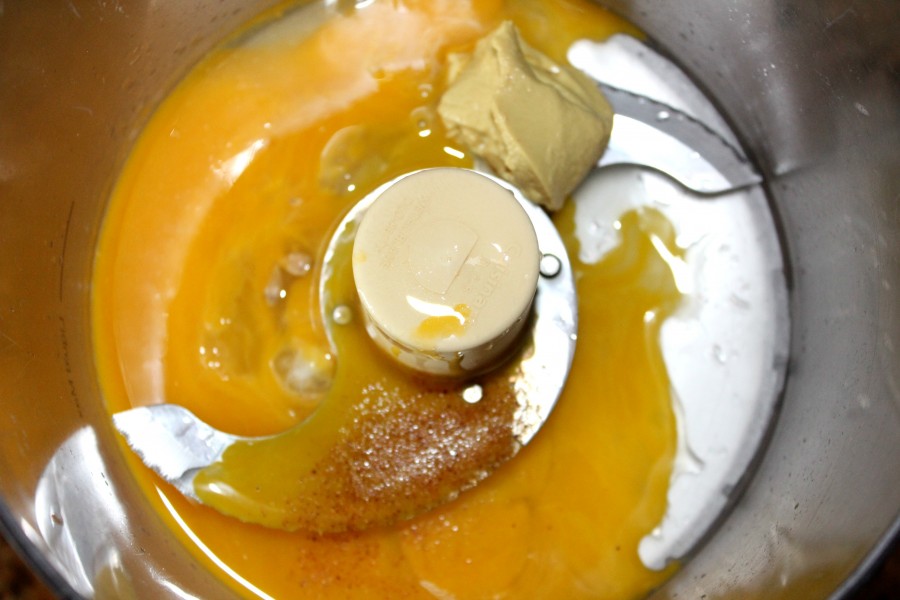 Poach your eggs…you can do this the traditional way if you're THAT talented..lol!  OR if you're "poaching egg impaired" as I am, you can do it my "life hack" way: Get a small glass cup (or mug), add a tbsp. or so of water in it, crack one egg into the water and microwave it for approx. 20 seconds (or until the whites are um..white)  Yeah..that's it!!
Now simply and gently drizzle out the remaining water and invert a small plate on top of the cup.  Flip out the egg carefully and BOOM…a perfectly poached, beautifully runny egg!  YOU. ARE. WELCOME…HAHA!  🙂
Now, place the egg on top of the Canadian bacon and pour some of the Hollandaise over it.
Garnish with chives or parsley if you'd like~ Lift that pinky and eat up!  If anyone asks, you totally worked all morning on this breakfast…the truth will be our secret!  😉  ~Enjoy!
Take a peek at Kitchen Daily's "22 Ways To Make Breakfast Exciting Again" slideshow right here >>

BREAKFAST!
And be sure to check out Cobblestone Bread Co. and Kitchen Daily across all social networks below:  
Cobblestone Facebook..click right here>> COBBLESTONE BREAD CO.
Cobblestone Instagram..click right here>> Instagram!
Cobblestone Twitter..click right here>> Twitter!
Kitchen Daily on Facebook..click right here >> Kitchen Daily Facebook!
Kitchen Daily on Twitter..click right here >> KD Twitter!
Kitchen Daily on Instagram..click right here >> KD Instagram!
Kitchen Daily on Pinterest..click right here >> KD Pinterest!
Compensation for this post was provided by Cobblestone Bread Co. via AOL Media. The opinions expressed herein are those of the author and are not indicative of the opinions or positions of Cobblestone Bread Co. or AOL.