When that "I need something satisfying and sweet" feeling hits, it hits hard!  That's a feeling that calls for some serious gooey goodness and it better happen fast..lol!
Well, I was struck with that feeling (as I am LOTS..lol) and this time, I wanted something warm, something from the oven…something over-the-top spectacular, yet simple~  And here we are.
These Biscuits are everything your sweet tooth needs, and then some.
Each buttery, flaky biscuit is stuffed with a gooey, warm caramel and topped with all things Apple Crisp!  A drizzle of caramel sauce over the whole thing just drives it home and leaves you in a sweet satisfied state of euphoria.
For this recipe I used only the best pie filling around..Lucky Leaf!  They even have a Caramel Apple Pie Filling that worked amazing, but their regular Apple Pie Filling will work just fine too!
Lucky Leaf pie filling comes in a tasty, wide variety of flavors. They also have refreshing apple juice and ciders made from fresh-picked harvest apples, a healthy selection of apple sauce and other unique specialty fruit products, just perfect for baking.
~Check them out on FACEBOOK.. on TWITTER,.. and on PINTEREST!
What you'll need:
1 container of Pillsbury Flaky Layers Biscuits (8 count)
1 cup Apple Pie Filling..chopped into small pieces
Caramels..one per biscuit
caramel topping/sauce
The Crisp Topping~
1/2 cup brown sugar
1/2 cup flour
1/2 cup oats..optional!  Nuts can be added as well, if you like..
4 tbsp. butter..cut into small pieces
1 tsp. nutmeg
Directions:
Make a small slice into each raw biscuit and stuff it with one caramel, gently seal it back together…
Chop up the apple pie filling…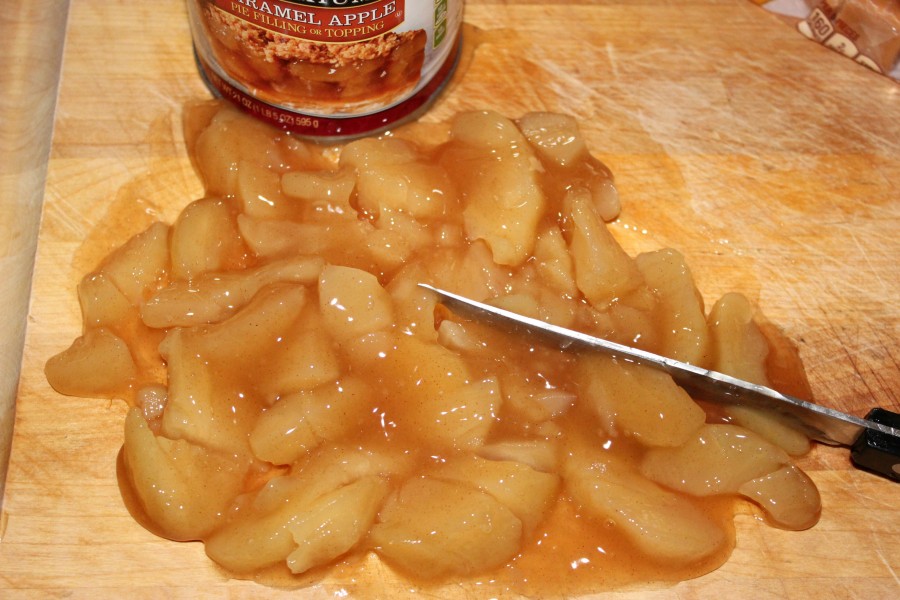 Mix together the crisp topping until it's well combined…
Place the biscuits onto a sheet pan and top them with the apple pie filling, and crisp topping…
Bake them at 350 for approx. 20 minutes, or until they're cooked through…
Drizzle the biscuits with some caramel sauce…
Serve them up nice and warm… (some ice cream wouldn't hurt at ALL) 🙂
Grab some for YOU!
Dig in!  ~Enjoy! 🙂
*Products provided by Lucky Leaf, however all opinions are my OWN!