Well…I'm not sure what I can say for myself this time.  I'm literally running out of excuses for my tasty, yet twisted ways around here.  But oh well, this time I bring to you a fun little cocktail that you can pop right into your mouth, and before you know it..you've forgotten about all of my crazy ways.
See how that works?!  🙂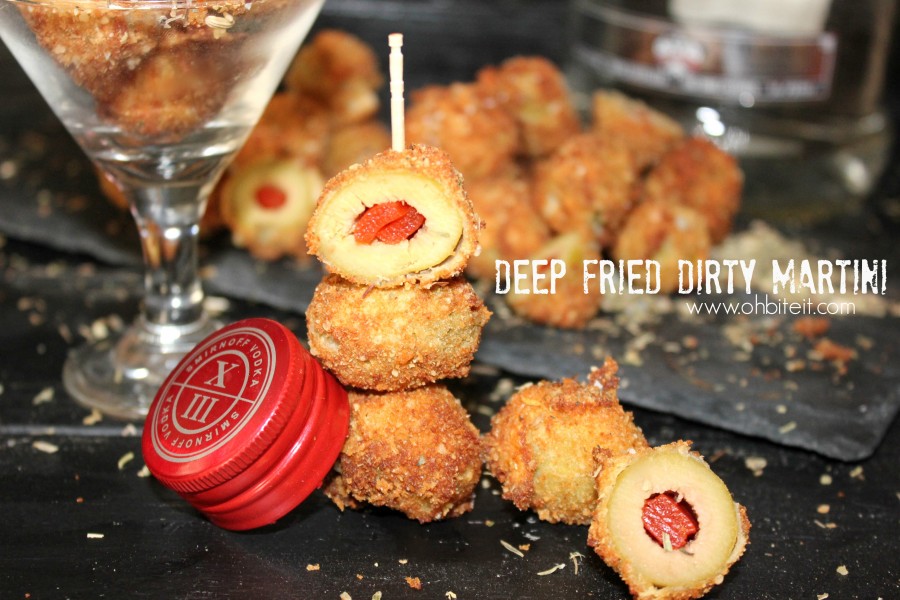 To be honest, I never even knew much about Dirty Martini's but my mom (no surprise..lol) ordered one while we were out celebrating my daughter's graduation…LOL!  Don't judge…that's just my mom!  🙂
Anyhoo~  I noticed that everyone LOVED the tipsy Olives, and as I 'soberly' sat back and observed the madness, this little creation came to me.  Since I'm not a drinker, I did to them the only fun thing I know how to do with alcohol..DEEP fry it!
~Aaaand once again..here we are!
I've incorporated the best little part of that Dirty Martini into a cute, cocktail creation that will rival any handheld drink.  And don't be fooled, these little tipsy-toasty bites pack a punch~  maybe it's because they soaked up all of that Dirty Martini goodness over night, ya think??! 😉
Make a BIG batch of these simply delectable babies and get any party started!  The crispy crunchy outer layer is the best balance for the boozy, tender and warm olive…SO good!
~They're the perfect little conversation starter or late night ender…either way you need to make them…GO ON!  …GO!  They're SO easy!
What you'll need:
Geren Olives..I used 'Martini' Olives (with the juice)
3 oz. vodka
1 oz. dry vermouth
A large jar with lid
Oil for frying..I used Canola
Dry herbs for seasoning..I used herbs de Provence, but anything you like will work to jazz them up!
Soak the Olives overnight..so start the day before!
The batter:
BOWL #1 > 1 cup flour
BOWL #2 > 2 Eggs
BOWL #3 > 1 cup dry bread crumbs, 1/2 cup panko bread crumbs, 1/4 cup grated Parmesan….mixed well!
Directions:
Into a large jar add~  All the Olives and ALL the Olive juice!  Now pour in the Vodka and the Vermouth, cover the jar and let it soak overnight  (or as long as you can)..in the fridge.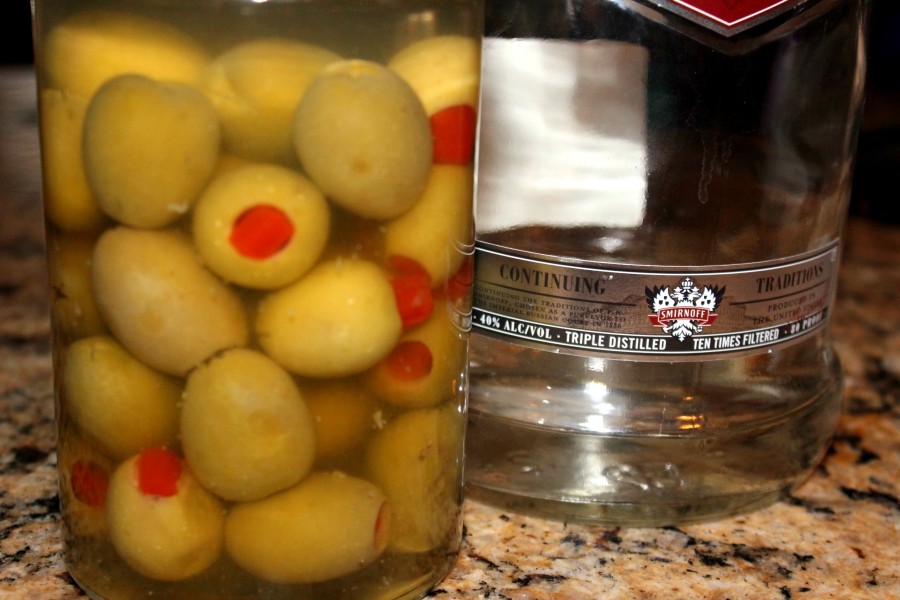 Now.. remove the liquor soaked olives and dredge them a few at a time in the flour (bowl #1)…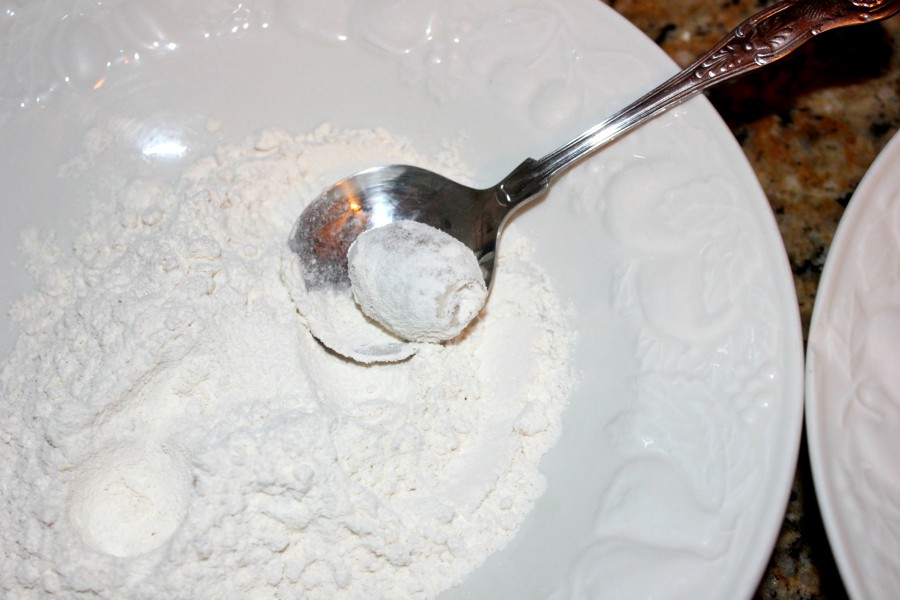 Then into the eggs…
Then into the bread crumbs…
Make a bunch…
AND, into the hot (350 degree) oil…
Fry them up a few at at time until they're golden..they fry up pretty fast, so keep a close eye on them.
Let them cool…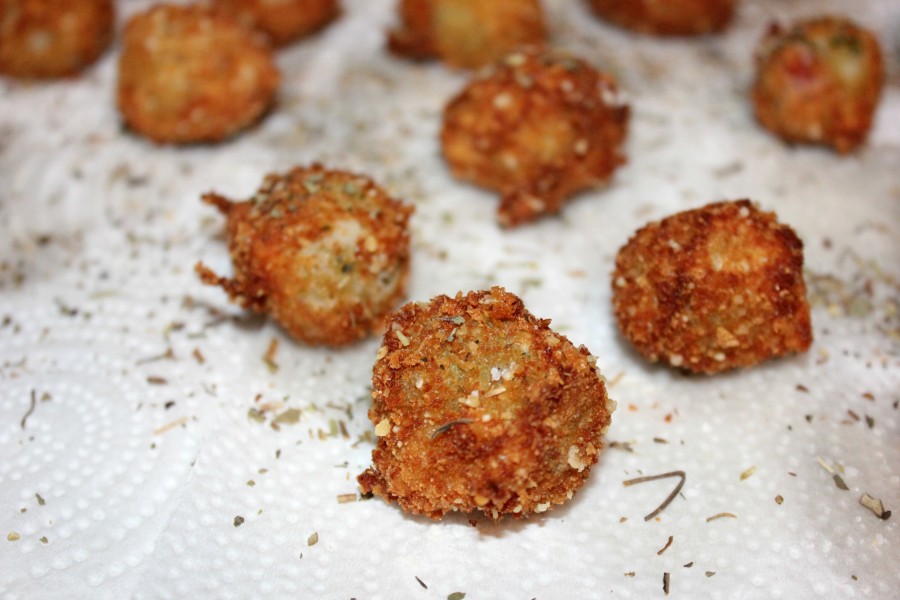 Pile those pretty babies up nice and high…  a cute Martini glass doesn't hurt the presentation at all..lol!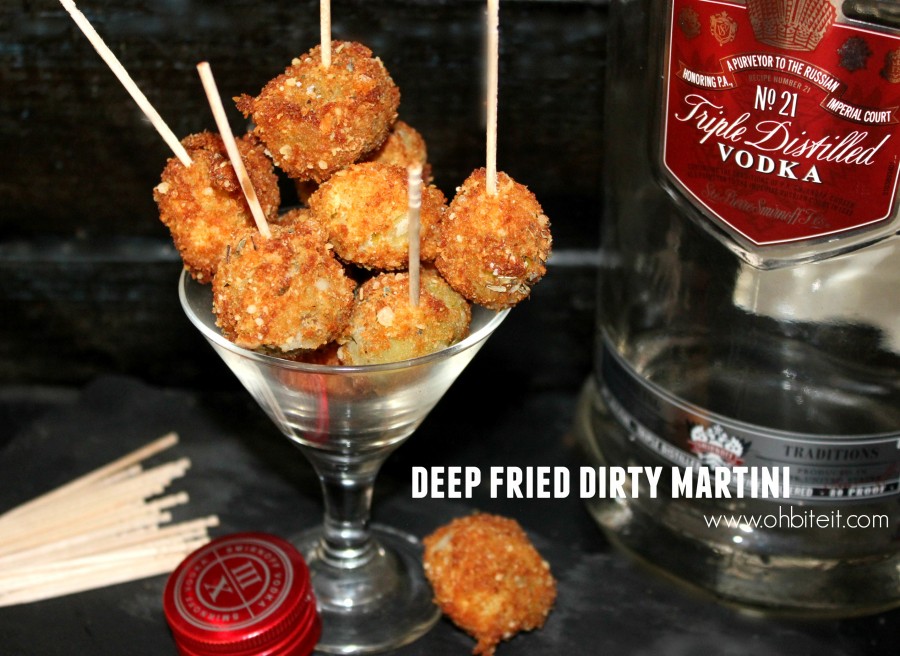 They bring all the people…
Like YOU!  ~Enjoy! 🙂