I think my "food-find good fortune" has struck again!   This time in the form of the most amazing baking/cookie mix Ive ever had..and that's the TRUTH!
"Among Friends"  is a unique brand of baking mixes that offers the most flavorful, quality, variety, and wholesome ingredients, in one simple ready-to-use, incredibly tasty mix.  Their story is so heartwarming and is a great reflection of the awesome products they create!
"Among Friends, LLC, is the creation of two friends, Suzie Miller and Lizann Anderson. Like many such ventures, it began over a cup of coffee (and involved a cookie, of course). This was a mouthwatering cookie, with memorable taste and texture, handcrafted by Suzie. That's when I got out my wooden spoon. (I'm Lizann). I vowed to make Suzie's cookies dense with nutrition without sacrificing great taste.
We know firsthand about the perils of healthy cookies that taste like the cardboard they're packaged in. You see, I was blessed with three boys and the middle one is a bloodhound who sniffs everything before he eats it. I knew if I made a cookie that passed the tyranny of Shane's taste buds, I would have accomplished something. The imp will eat as many Suzie Q. cookies as I can keep in the jar (Needless to say, we're mum with our kids on the benefits of flax and whole grains).
Among Friends mixes reflect our desire to share our baked goods with other discriminating palates. Our goal is simple: we want to help people fill their kitchens with fresh-from-the-oven baked goods made from the best ingredients. Our mixes make baking easy for people on those days when treats from scratch are impractical or well nigh impossible. We all have those days. Our name tells it all. Each of our baking mixes is handcrafted for friends and named for someone we love, a friend or family member."
Now for the incredible and simple twist I put on their cookie mix…
"Double Chocolate Cranberry Cookie Muffins"
So I decided to play around with this mix and have some fun with it, partly to see what I could come up with…but mostly to see if it could stand up to the crazy and wacky things I tend to do to perfectly good food..haha!
..And stand up it did~
In fact, not only diid it stand up to my creation, it went above and beyond and I think I've found a new and fun way to jazz up any and all cookie mixes from now on!
Who knew you could turn cookies into muffins? …Probably lots of you, but this is new to me.  🙂
This was out of my head and into the oven, as I like to say!
All I know is you need to give this a try, they're moist, tender, and the perfect healthy little snack that you can feel good about…morning, noon,…or night!
~Make LOTS! And check out Among Friends on FACEBOOK!
What you'll need:
1-14 oz. bag of Among Friends Cookie Mix
1 egg
1 cup semi-sweet chocolate chips
1/2 cup milk
1 tsp. vanilla extract
A lined muffin pan
Directions:
In a large bowl, combine the cookie mix, eggs, milk, vanilla, and choc. chips.  Mix until well combined and fill each muffin cup 3/4 of the way up.
Bake at 350 degrees for approx. 15 minutes, or until they're golden and slightly puffy!
Serve them nice and warm…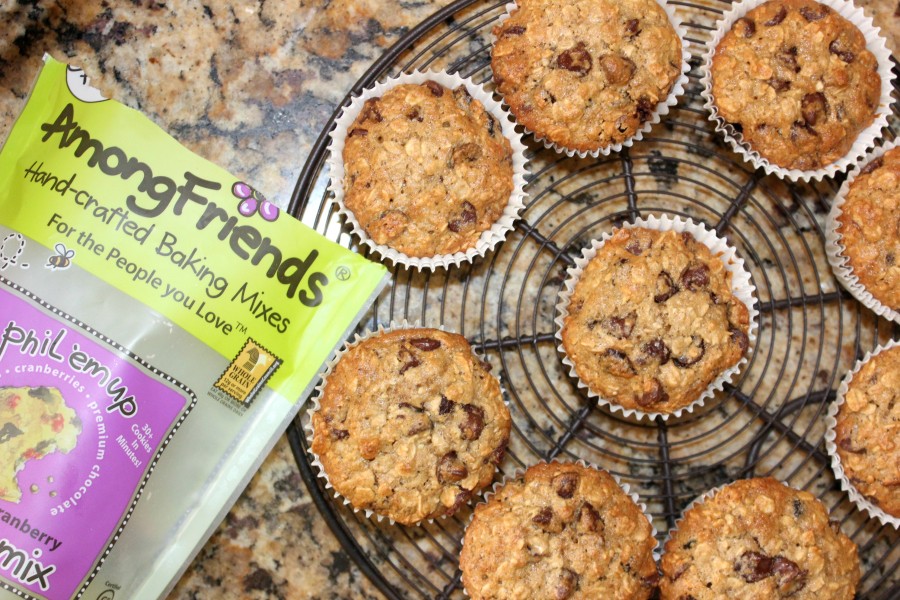 And grab one or 4 for you!  ~Enjoy! 🙂