SOoo, I'm clearly on a Mac n Cheese kick right now.  You might not be able to tell, since I post these recipes at different times, but let me just say..I've been elbow deep in Mac n Cheese creations all week..so stay tuned..lol!  🙂
This time I decided to do what should've been done a long, LONG time ago~  I stuffed some Jalapeños with rich and creamy Mac n Cheese, them wrapped them in bacon..  OOOoohh!
…yep, they were worth the wait!
The roasted, and slightly spicy pepper is beautifully balanced by the warm and gooey mac-n-cheese, giving your mouth a Jalapeño Popper experience like its never known!
~A quick and impressive appetizer/snack that will have everyone loving you like never before..lol! Make LOTS!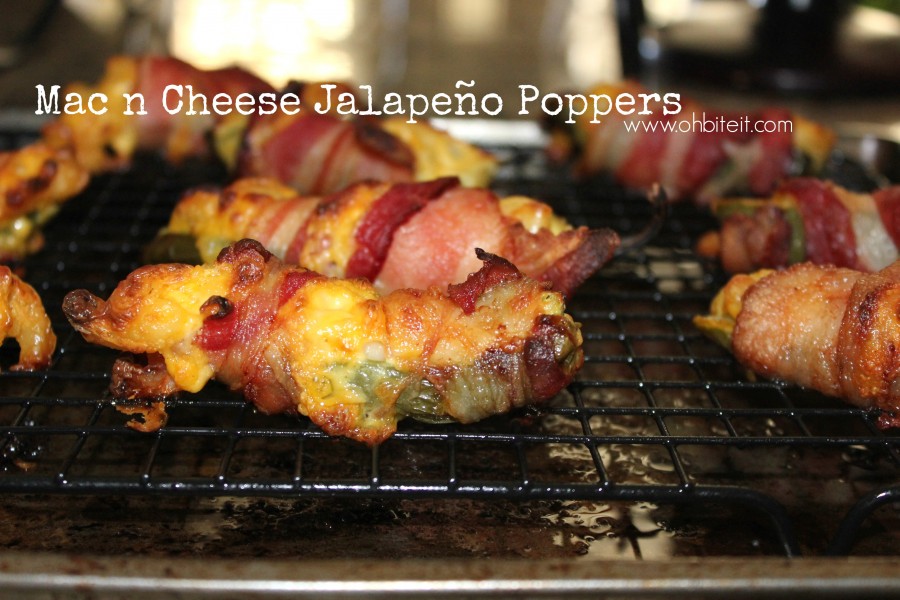 **Make LOTS!
What you'll need for 20 plump poppers:
10 fresh jalapenos
2 cups of prepared mac n cheese
1 lb. bacon..strips cut equally in half
Directions:
Cut each pepper in half lengthwise, gently removing all the seeds and veins.  **THESE PEPPERS ARE HOT..WASH YOUR HANDS AND DO NOT TOUCH ANYTHING THAT YOU'D LIKE NOT TO BURN AND CAUSE YOU HOURS OF PAIN & SUFFERING**
Now simply fill each pepper with some mac n cheese…
..wrap the stuffed peppers with a slice of bacon, and bake them on a rack at 350 degrees for approx. 30 minutes, OR until they're golden and gooey!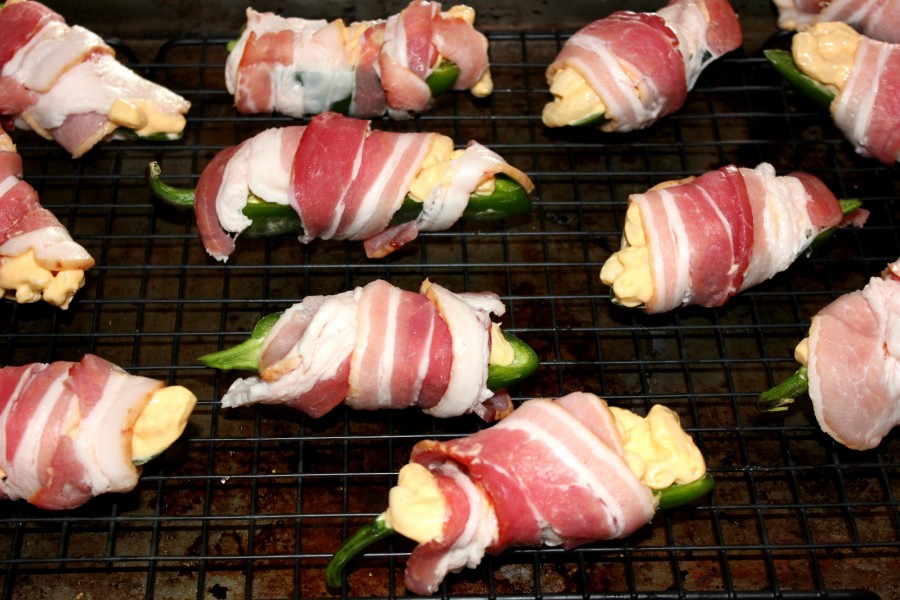 Let them cool just a little!
BUT..serve them nice and warm…
Sooo cheesy!!
I bet they're already gone.. go make more!  ~Enjoy! 🙂