As a former Bennigan's restaurant Hostess, I can tell you firsthand (in case you haven't tried them) just how AMAZING their Monte Cristo sandwich was..or IS, for those of you lucky enough to still have a Bennigan's in your town.  I mean, they're the BEST sandwich creation of all sandwich creations to ever be sandwiched..or created..HAHA!  So, any time I get the chance to make an inspired version, I will!
This time, my love for the good old Monte collided with my latest 'waffle' obsession ..that doesn't seem to be going anywhere soon.  I just could't stop imagining all those Monte Cristo goodies, melty and warm, deep inside a crispy and toasty waffle, held together buy some hot & sticky Red Raspberry Jam and a light dusting of powdered sugar to drive it all home and by "home" I mean into my lips!
These are the visions that keep me awake at night..lol!  But now, it's a reality and what a great reality it is.  Make a nice stack of these and see for yourself~
Oh, and btw~  these are SUPER SIMPLE using NO waffle batter at all..YAY!  You will LOVE them!
What you'll need for 8 monte waffles:
1 container of Pillsbury Flaky Layers Biscuits..(8 count)
(2) American Cheese slices
(2) Swiss Cheese slices
(2) slices of Ham
(2) slices of Turkey
Red Raspberry Jam..seedless is fine too!  ..you'll need about a cup or so, maybe more..lol
Powdered Sugar for dusting
A waffle iron
Directions:
Slice the biscuits in half equally…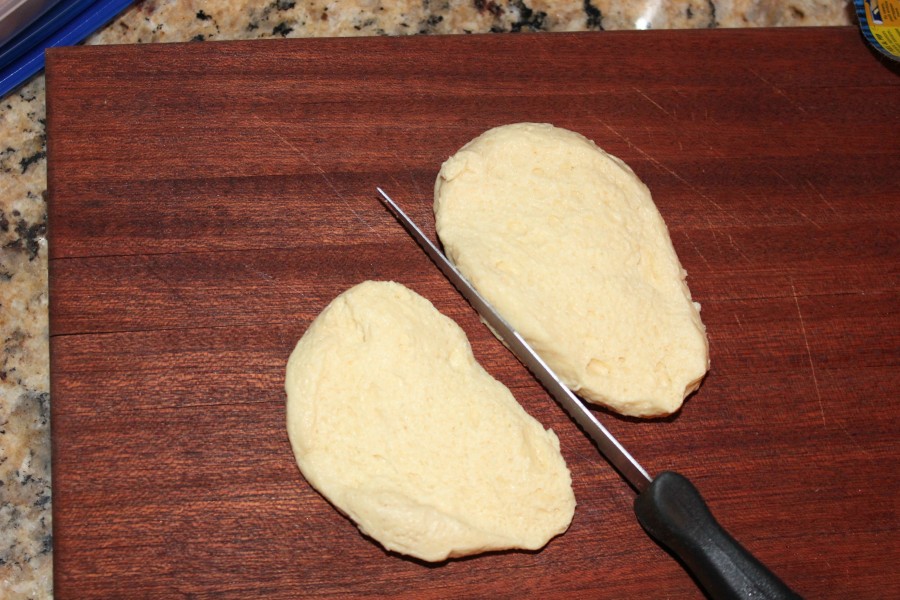 Roll out each biscuit half slightly to increase the surface area.
Now layer one slice of cheese, the meats, and another slice of cheese.  Cut the stack into 4 equal sections…
Smear some Jam onto one of the biscuit halves…
And place a section of the cheese & meat onto it.  Cover it with the other half of the biscuit…
Seal up the edges as best as you can.
Place them into your sprayed waffle iron, and cook them up until they're golden and gooey..
It might get messy from the oozy jam, so if that bothers you, simply don't add the jam into the biscuit, just use it as a dip.  🙂
Let them cool just a bit…
BUT..serve them nice and warm for maximum greatness!
With extra Raspberry Jam for dipping ..of course!
And DIG IN!  ~Enjoy! 🙂