Just when you thought that everything on God's green Earth has been done ..to, with, for, about, and including, the OREO cookie had been done~  BOOM, like magic..here we are yet again with one more insanely good, deliciously decadent, new twist on this old favorite!
I simply stuffed a doughnut hole with a mini OREO..you know, those super cute little, tiny OREOS that have almost no calories and no fat, since they're errr…mini??!!  …yep..those!
And then..OMG..THEN,  I melted up the innards (The 'STUF'..if you will) of some Large OREOS that I shamelessly scraped clean!  I melted it all until it became the most amazing "Stuf" Glaze on the planet.  And ..you. are. welcome!  🙂
While the Stuf was all warm and gooey, and melty and totally irresistible, I proceeded to drizzle it all over those OREO stuffed doughnut holes.  Are you wondering what I did with all those 'empty' OREOS that I scraped clean?  Hmmm..are you??
Here's your answer …  I "zested" them all over that amazing "Stuf Glaze"..that's right~  NO OREO goodness was harmed, wasted, or forgotten during the making of this recipe!
~Now..go makeyasome…Gooo..GO!
What you'll need:
1 container of pillsbury biscuits (8 count)..I used the small biscuits for this. (I only used one container, but you can use as many as you'd like)
Mini OREOS..on per each doughnut hole
The 'Stuf' scraped out of 40 regular sized OREOS… and some of the OREO cookies leftover for the crumb topping
Oil for frying..I used Canola
Directions:
Simply place a mini OREO in the center of the biscuit,…
Roll it up into a tight little dough ball of deliciousness…
Fry them up a few at a time in (350 degree) oil…  just until they're golden and firm.
The 'Stuf' Glaze:
Separate the Stuf from the cookies…
Put all that Stuf into the microwave  for approx. 20 seconds or so..just until it becomes a magical glaze…
Let them cool…
Then, drizzle that glorious goodness all over those OREO Doughnut Holes…
Scrape those leftover and employ OREO cookies ..I used a zester, and turn them into some fine crumbs…
Sprinkle those crumbs all over the glistening glaze…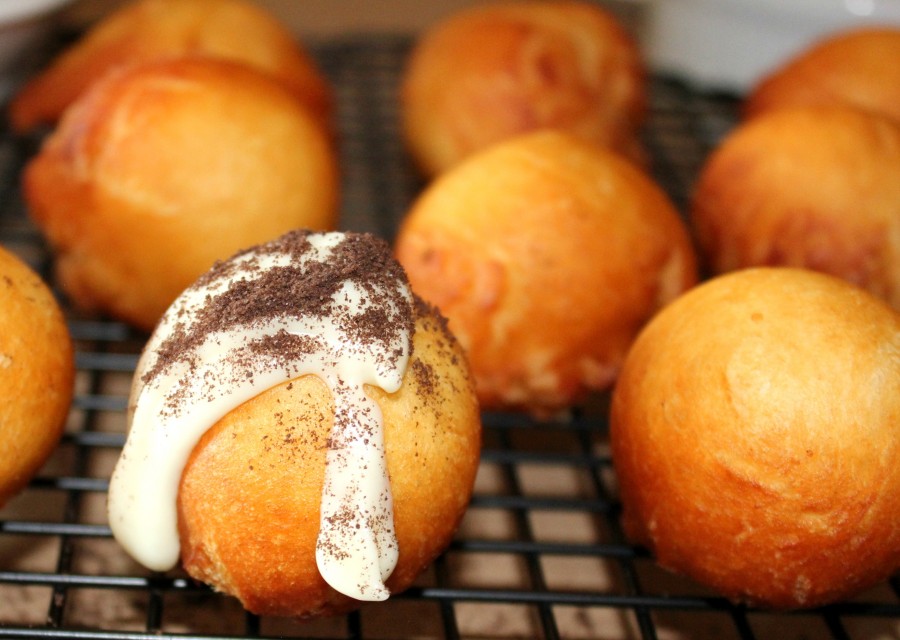 Let them set up for a bit, if you can…
Share them with all the people begging…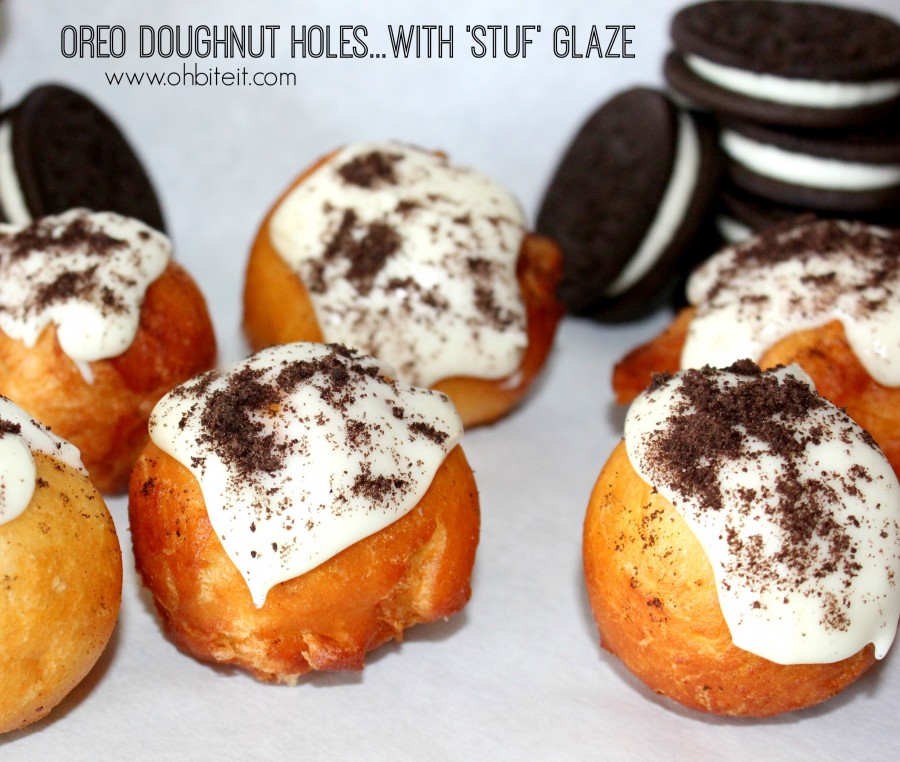 And don't forget about YOU!  DIG IN!  ~Enjoy! 🙂