Well, something called 'National Doughnut Day' is upon us, and out of all the fun food days to be celebrated, I think this one is my FAVE!  Not just because it's doughnuts, and it's an entire day…and um..it's doughnuts, but because  I can't think of a better little treat to dedicate a day to!  ..and it's doughnuts!!
The doughnut brings us such happiness, such pleasure to our palates, that it deserves a day of its own.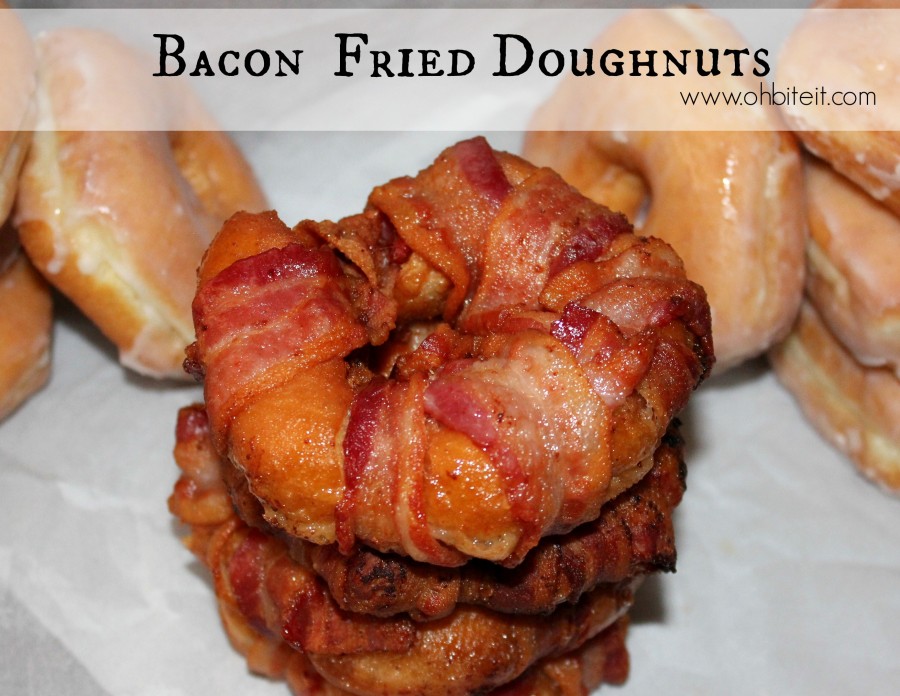 A day when we can eat them with no shame, no fear…no boundaries..lol!  And that's where I come in..I mean, did you really think I wouldn't do this, is anyone surprised?!  Probably not! 😉
I knew that the delicious doughnut could stand up to the all-mighty bacon in the best and most mid-blowing way ever.  I mean seriously..just look at this beauty!  You can almost feel the deliciousness between your lips!
One bite of these sticky, smoky, sweet, delicious disks of heaven and you'll see for yourself.  I don't think there has ever been such a perfect pair of crazy culinary creations, at least not that I've tried!  Each doughnut is snuggled tight with crispy fried bacon that literally self-glazes as it's fried, gloriously gluing itself to each and every moist, sweet, bite of this doughnut!
They melt in your mouth in the chewiest way ever, if that makes any sense?!  Actually, this can't make sense…just eat them and don't try to understand them..trust me!
~There's NOTHING like these at all, your lips will never be the same!
What you'll need:
glazed doughnuts
thin cut maple bacon..about 4 slices per doughnut
oil for frying..I used Canola
toothpicks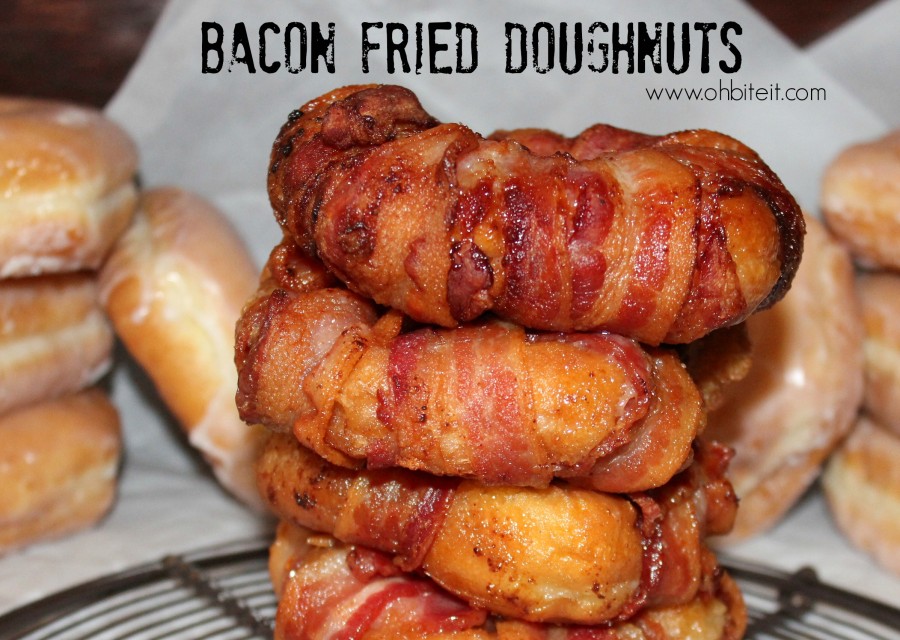 Directions:
Are you ready for the easiest recipe ever?  LOL
Simply wrap each doughnut with the bacon slices, and secure the end with a toothpick…
Fry them up in about 2″ of hot (350 degree oil) until the bacon is golden and crispy…
Let them cool for a minute and they will firm up…
But definitely eat them warm, because…warm & gooey mouth heaven!
And if you're feeling generous, try to share at least one..it won't be easy!
If you can't share, then eat them all before anyone knows about them..lol
You won't be able to resist so, just go for it!  ~Enjoy! 🙂