This spicy little meatball recipe is really just a classic case of one thing leading to another..in a delicious way!!
It started out as a Meatball, but needed some kick, so clearly it needed to be stuffed with a Jalapeno..but what's a Jalapeno without cheese oozing out of it?  So in went the Cheese!  And of course..it needed to be held together…sooooo…DUH, Bacon!!
Just like a normal Jalapeño Popper..that's um, stuffed inside a cheese-filled, bacon wrapped meatball..that's right! 🙂
Not only are these super scrumptious, but they're fun..get your hands involved and grab a popper..yes, pick them up…do it!
What you'll need for 12-15 Poppers: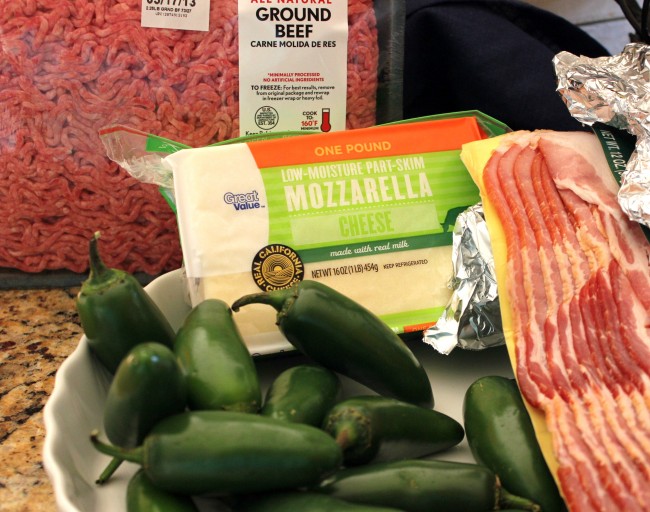 1/2 lb Ground Beef
15 Jalapenos
1/2 Block of Mozzarella
1 lb. Bacon..1 slice per Popper
Directions:
**WARNING** Jalapeno Peppers are HOT, don't touch anything for a LONG time after you've handled them! 🙂
Cut the tip off of each Pepper (NOT the stem end)
With a knife, gently scrape out all the seeds and veins.
Stuff each Pepper with some cubed Mozzarella.
Form a Meatball around the bottom of each Pepper, and wrap it in a slice of Bacon.
Place them Meatball-side down, stem side up (because pretty).. into a baking dish and bake them at 400 degrees for about 30 minutes, then if the bacon and stems are getting to dark, cover it with foil and continue baking for another 10 or so minutes.  Total time in the Oven is approx. 40-45 minutes.  This could vary depending on your Oven and size of Pepper, Meatballs etc..  Bottom line..don't serve raw Meatballs..LOL!  🙂
Grab a cold one and dig in!  ~Enjoy!  🙂