I've been on this HUGE dessert/breakfast morphing kick thingy lately and I have to say, it's TONS of delicious fun!  The possibilities are truly endless when the most important meal of the day is combined with the most fun 'meal' of the day..lol!
Now, deciding exactly what time of day to enjoy these treats is completely up to you.
They're wholesome enough to start your day, and naughty enough to end it..the choice is yours!  Maybe it isn't even a choice and you can indulge more than once, like, maybe all day long?! ..hmmm…sounds good to me.  🙂
These waffles are so incredible you'll wonder why you've never given them a try before.
The cheesecake is a match made in heaven for that toasty, tender waffle and you can literally see all the pockets of creamy cheesecake suspended inside the fluffy, tender waffle ..it's like crazy-culinary magic.
When you drizzle that succulent stack with some warm caramel sauce and a dusting of nutty graham cracker crumbs..um, I don't think you'll ever quite enjoy them separately again!
Make a giant stack and serve them up for Dessertfast err..Breakssert~ OH.. just make them! 🙂
What you'll need:
Waffle mix
Cheesecake filling..I used the pre-made store bought
Caramel sauce for drizzling
Graham cracker crumbs for dusting
Directions:
Mix up the waffle batter according to your box instructions, stir in one cup (or so) of the cheesecake filling…
Leave some lumps in the batter, those will become the delicious pockets of cheesecake throughout the waffles…
Now scoop out about 1/4 cup into each waffle side…
Let them cool…  they smell Ahhh~mazing!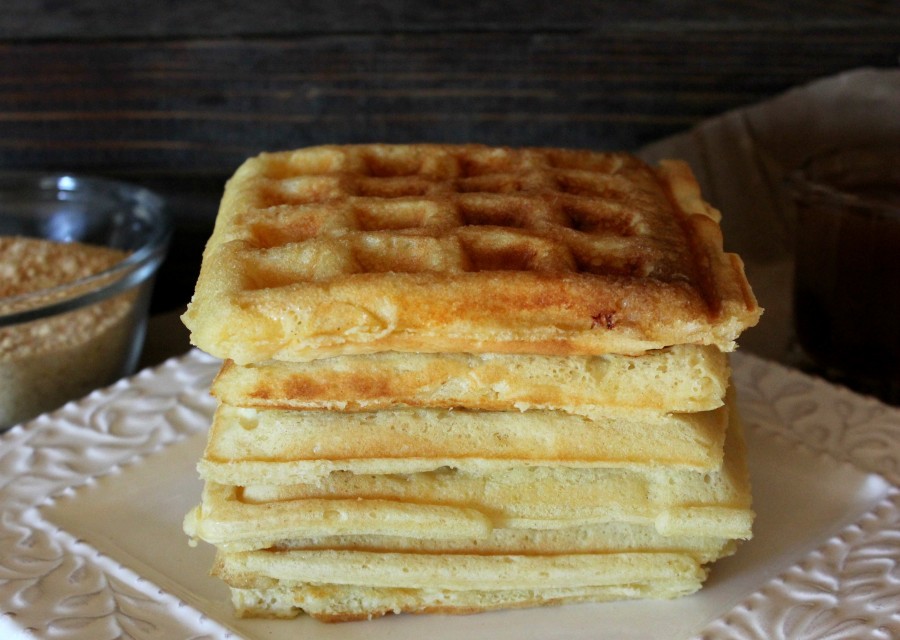 Now the fun part~  drizzle that succulent stack with some caramel sauce…
and graham cracker crumbs…
Serve them to those you love LOTS!
Like..um..YOU!  ~Enjoy! 🙂