I'm so excited to share with you my latest culinary collaboration that I think you're just going to LOVE!  Why will you love it:?  Well..because now, you'll be able to see some of my most popular BBQ recipes come to life in video form, brought to you by the amazing "BBQ Bros."  They're basically going to do what I can't do so well~  and that's make some of my BBQ goodies right in front of your eyes!!  Now, you can get a first hand visual at the process..and at that all important delicious first bite..YUM!
The first recipe that I created for BBQ Bros. to bring to life is this French Onion Burger!
A super simple, succulent take on those classic french onion flavors that we all know and love, but in burger form.  From the grill to your lips in a matter of minutes!
I'm talking about a sweet and smoky grilled onion ring, filled with a french onion seasoned burger and topped with a thick layer of melty swiss cheese, you know..just to hold it all together!  As if that wasn't enough, it's then drizzled with Steve's homemade Raspberry Chipotle BBQ Sauce and nestled inside a buttery Ciabatta roll!  I know~  it's almost too much greatness..lol!
Check out the video here, and scroll below for some step shots and a written recipe!  Please go give  Steve's BBQ Bros.youtube channel some LOVE for bringing some of my recipes to life for you guys!  xoxo
Enjoy!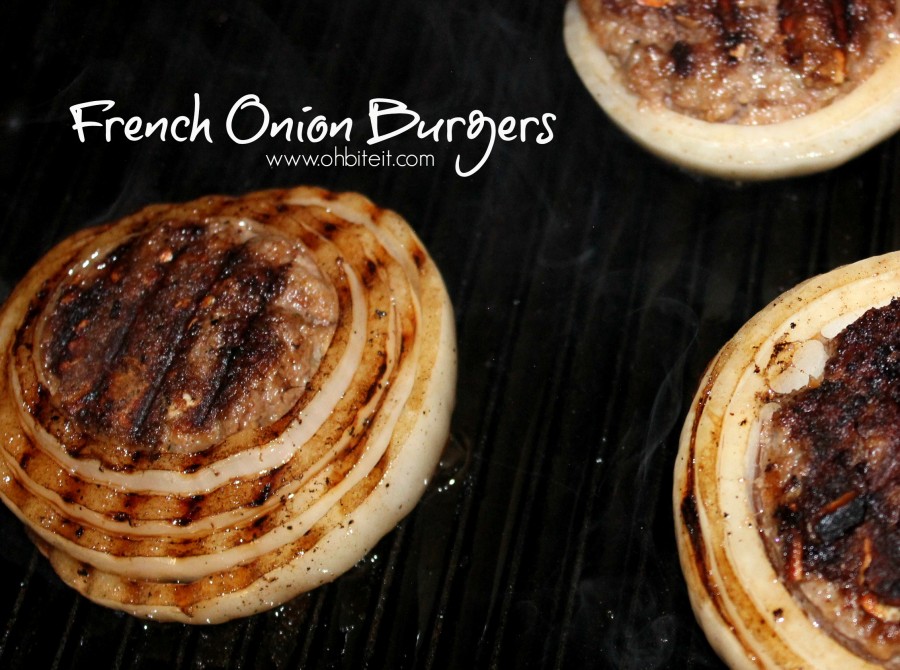 What you'll need:
1 lb. ground beef
2 large white onions
3 slices of swiss cheese per burger
1 packet of lipton onion soup mix
1 egg..optional
1/2 cup bread crumbs …optional
buns of your choice as well as any sauce you may want for a topping!
*And trust me, you'll need napkins for this one!  
Directions:
Slice the onions into approx. 1″ thick rounds…
Season up the ground beef with the onion soup mix…
Adding an egg is optional, I used one just as insurance…lol
Add in the bread crumbs..also optional for flavor…
Fill each onion ring with the seasoned meat and grill those babies up!
Grill those babies UP… I used an indoor grill pan, and it worked just fine!  They smell ahhhmazing!
When they're done to your liking, top them with the cheese…
and let it do what cheese does BEST…
Serve them up on some great bread/buns and top with sauce for extra flavor…
Grab about 50 napkins and dig in!  ~Enjoy! 🙂