Well, Spring has officially sprung and Summer is right around the corner.  That means it's time to dust off that grill and get on out to that patio for some good friends, family and food!  When I think of the grill, I think meat!  Good old, tender and juicy, grilled to perfection..meat!
I've never been the best at grilling meat, and usually always have to leave that job for someone a bit more skilled than me, but thanks to Smithfield Foods, even someone like myself can create an incredibly flavorful, moist and perfectly grilled feast!  This time, I used Smithfield's Marinated Pork Loin and the result couldn't have been any better.
All the work was done for me, and all I needed to do was cook it up.  From the moment I opened the package, I was able to smell the incredible flavors and the quality literally shined through.  The pork was fresh, lean and large!   I was able to feed 8 "starving" adults with one pork loin!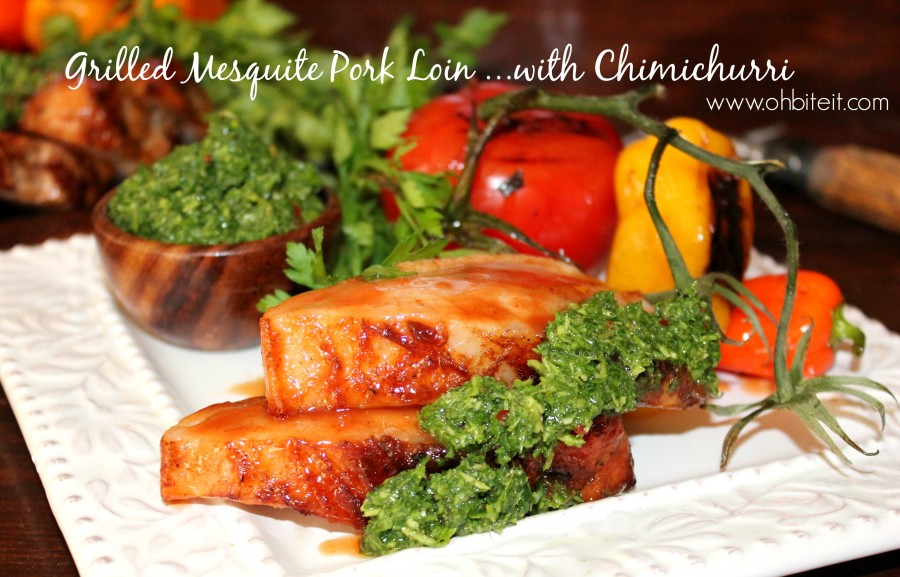 I paired this flavorful cut with some fresh Chimichurri because it enhances grilled meat perfectly with its freshness and vibrant color!
So what exactly is this delicious looking Chimichurri?  Chimichurri or chimmichurri is a green sauce used for grilled meat, originally from Argentina. It is made of finely-chopped parsley, minced garlic, olive oil, oregano, and white vinegar.
In under 30 minutes, you can have this amazing meal as the star of your backyard BBQ, on your table, and into the smiling mouths of your friends and family!
~You will love how Smithfield's Mesquite Marintated  Pork Loin provides a stress free  grilling experience with 5 star flavors!
What you'll need:
The Chimichurri:
Blend the following ingredients together~  set aside in the fridge until you're ready to serve.
1 cup (packed) fresh Italian parsley
1/2 cup olive oil
1/3 cup red wine vinegar
1/4 cup (packed) fresh oregano 
2 garlic cloves, peeled
3/4 teaspoon dried crushed red pepper
1/2 teaspoon ground cumin
1/2 teaspoon salt
Now for the meat!
Pre-heat your grill..I used an indoor stove-top grill pan, and it worked just fine!
Don't put the meat onto the grill straight out of the fridge, take the chill off.
Then simply grill it up…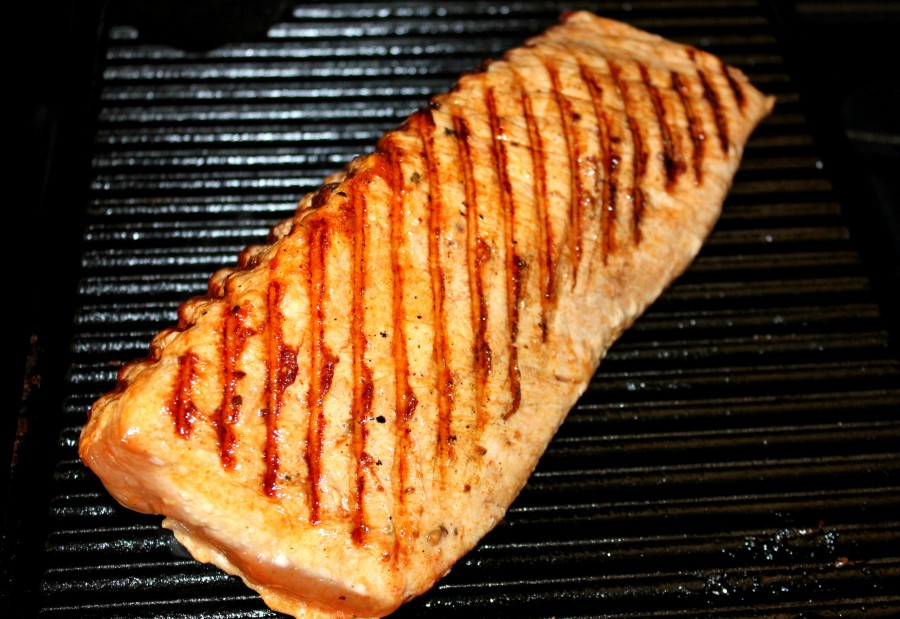 Smithfield Foods has makes sure that you dont need to do anything else!
They've provided the marinade and the pork is perfectly seasoned!  Let it rest for about 10 minutes before slicing into it…
I also grilled up some fresh, colorful sweet mini peppers, tomatoes and lemons for extra flavor and garnish, while the meat was resting…
Now, you can slice it up, and behold the juice…
Just take a look at that glorious pork…
It's SO pretty… just look at that presentation, and the WOW factor gracing your table!
There"s enough to feed a small army of super hungry people!
But be sure to grab some for you, because it does go fAST and remember to add some of that amazing Chimichurri!
One bite and you'll see why!
Smithfield Marinated Fresh Pork made this delicious and simple meal, super impressive and huge winner!! All of Smithfield's quality products are:
Slow marinated in delicious seasonings including Peppercorn & Garlic, Teriyaki, Garlic & Herb, Mesquite and Rosemary & Olive Oil.
Made from 100% fresh pork that you can feel good about serving to your family.
Versatile dinner solution perfect for any night; tastes great grilled, roasted, or sautéed.
Ready in as quickly as 20 to 30 minutes, it is always easy to prepare and full of flavor.
Available in three distinct cuts – tenderloin, loin filet, and sirloin – to suit several cooking styles and dishes.
Tender, a great source of protein and pre-marinated to save time in the kitchen.
This is a post sponsored by Smithfield, however all opinions and content are my own.