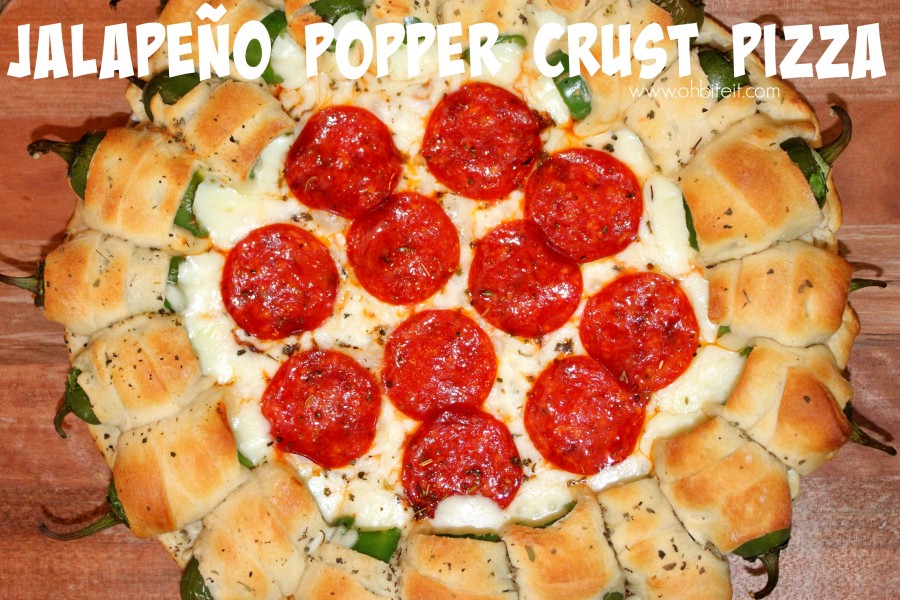 Sooo..it seems as though stuffed crust pizza is ALL the rage at the moment, and why shouldn't it be?  In my opinion, an unstuffed crust is just wasted flavor space..lol!
Being the southwest girl that I am, I just had to spice things up and kick that weenie stuffed crust in the pants..haha!  I mean, hot dogs are good and all, but they don't really take things to the next flavor level, do they?!  NO~  they don't!
The slightly spicy kick of this extra cheesy jalapeño popper crust is the perfect balance for the rich Pizza and gives you two amazing treats in one!
~Now when you have a Ranch dressing dipper for the pizza, it will also be delicious with the spicy poppers…Take that you Hot Dogs!  LOL!
And that weenie stuffed crust is definitely not this pretty..!!  😉
Well, now that the stuffed crust flavor level is so high, not many people will be able to handle it.  It takes a special kind of strength to eat through 20 or so Jalapeño Poppers..that are silently, but strongly guarding that cheesy, oozy-gooey Pizza Pie!
Yes, there's always sharing, but come on..we all know that this pizza will get picked to pieces by all who need their customized 'bite-to-spice-ratio'!
I suggest making more than one.  In fact..make a few, they go FAST!
What you'll need for an 8″ Pizza: 
2 containers of Pillsbury Crescent dough..I used seamless
20 fresh jalapeño peppers
2-3 cups of shredded mozzarella cheese (OR some cheese sticks cut into small pieces…I didn't use this)
1/2 cup of marinara sauce
1 egg beaten with a splash of water
oregano for spice
Directions:
First…Touch, Itch, Scratch, Hug, Slap, anyone or anything you need to, before you handle the jalapeños!
Now..CAREFULLY slice the NON-STEM end off of the peppers, and clean them out completely ..using the end of a thin knife works well…
Stuff those peppers with some cheese, the shredded worked the best…
Roll out one of the containers of dough and slice it into strips, approx. 3″ long by 1″ wide..you'll need one strip per pepper!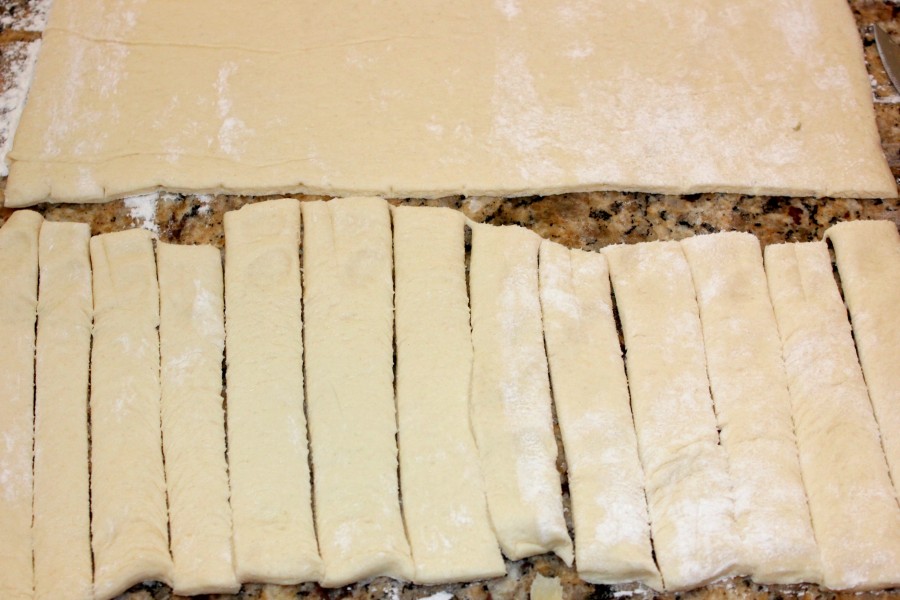 Wrap each cheese-stuffed pepper with a strip of the dough (they wrap themselves nicely around the peppers) …set them aside…
Now,  roll out the other container of dough, and trim it to fit your pizza pan…
Brush the edges of the dough with some egg…
And now for the BEST part…stick those cheesy poppers onto the edge of the pizza, stem-side out, so the cheese melts onto the pie…
Go all the way around the pie, if you have to..a little space in between is fine, they will puff a bit…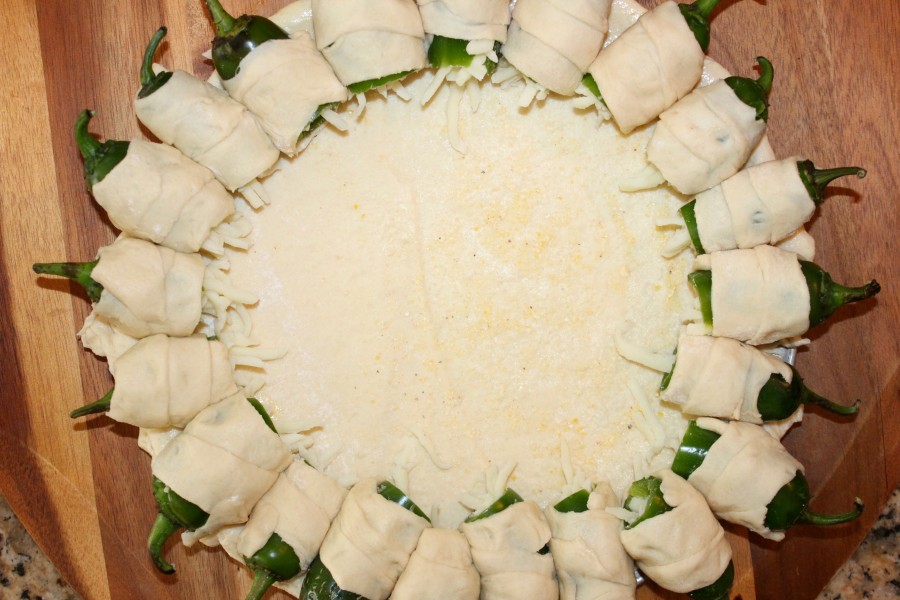 Fill up that pizza center, start with some sauce…
Now some cheese, and ANY other toppings you like on your pizza, with a sprinkle of Oregano for flavor!
Bake it at 350 degrees for approx. 15 minutes, or until it's golden and gooey!!
Serve it up if you can bring yourself to share any..lol
If not..eat it all yourself, it'll be our secret!  ~Enjoy! 🙂
Check out the video below for the fun of it! 🙂