Once again my laziness prevails!!  And it's the tastiest tribute to all things half-assed yet…lol!
Did I want to make a scrumptious lasagna?  ..yes!
Did I want it to have meat in it?  …yes!
Did I want to take the time to cook up the beef, season it, stir it, and let it simmer in sauce for hours?  ..NO!  More like..HECK NO!
So I simply did what any other shortcut-seeker would do..I used prepared meatballs.
~Yep, I know my mom is cringing, but I have no shame!  🙂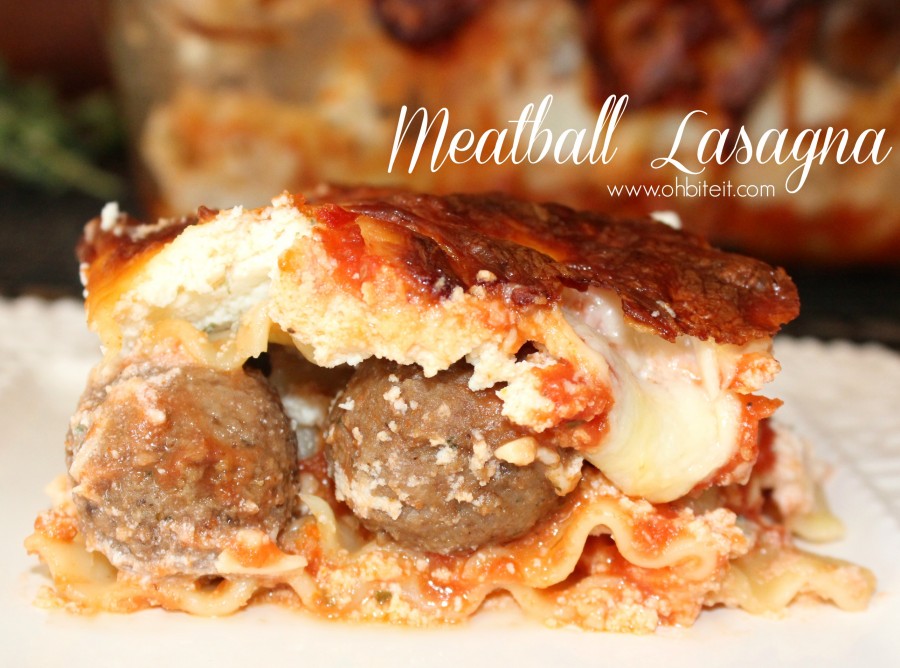 To be honest, this is the second best lasagna I've ever had, Mom's is first of course, but there's something to be said for using pre-cooked meatballs.
First of all, you get nice substantial bites of meat, not that scattering of beef that sometimes gets lost as it melts away in the sauce.  Second, the meatballs are already 'balled' for you, and pre-cooked ..so your prep AND cook time is literally cut in half.
Third, it looks super cute..so, yeah >>  Cuteness!!
Give this lasagna a try, it will never be as good as your Mom's, but what is?!  🙂
What you'll need:
I used a deep pan for this, I like a tall lasagna, but you can use any pan size you like!
1 box of Lasagna noodles
4 cups of pre-made/cooked/frozen meatballs.
4 cups of shredded Mozzarella, or a blend of cheeses is great too!
1 large container or Ricotta Cheese
1/2 cup grated Parmesan
2 cups of sauce
1/4 cup of fresh Oregano..tis is optional, but makes the dish AMAZING!
1 Egg..NOT 2 as shown!
Directions:
Boil your noodles ..don't over-boil them as they need some time to cook in the oven.
In a large bowl combine the Ricotta, egg, Parmesan, Oregano…
..I used a processor to get it super whipped, fluffy, and smooth, but muscles will work too…
Now just start layering.  Add a layer of sauce to the bottom of the pan to avoid sticking.
Then it's just…noodles, ricotta, shredded cheese, meatballs and sauce..as many layers as you have ingredients and room in the pan for…
Top it with shredded cheese and bake it at 400 degrees for an hour or until it's golden, melty and heated all the way through…
Serve it up nice and hot…
With LOTS of sauce…because, sauce…
And make sure to share with those you love LOTS…
Like ..you!!  LOL!   ~Enjoy! 🙂